Do you need web design services in London UK ? Then look no further! Because our web designers and web developers are ready to tackle any type of web design project. Wether is about a simple website, or you need a team of developers to handle a complex project, like a big e-commerce website or an app, we are the team you are looking for. Just get a free price quote from our amazing team of professional web developers.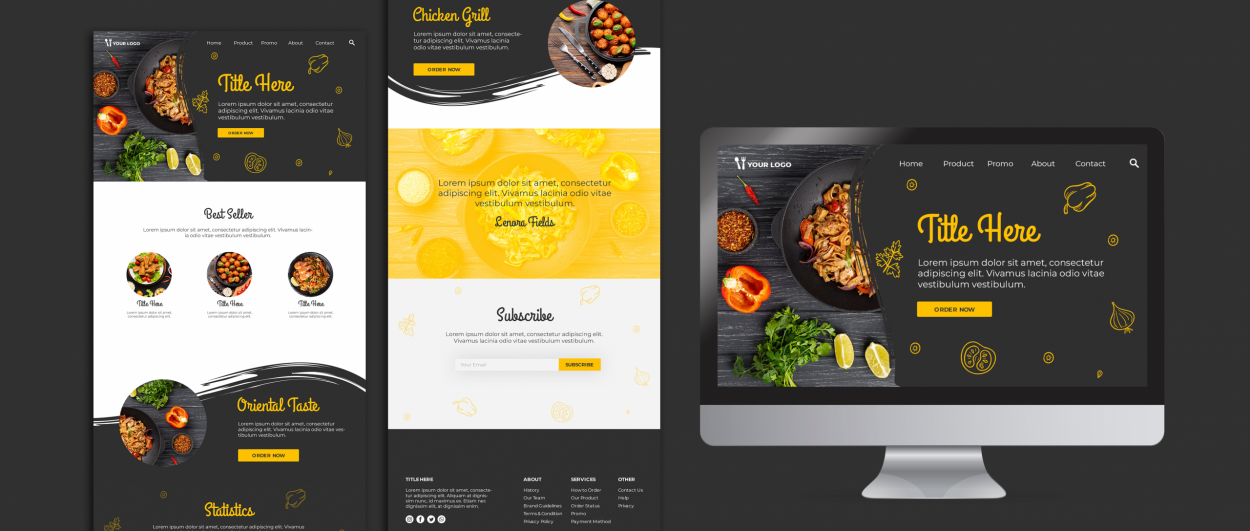 As a web design agency in London, we offer a wide range of services to help businesses build their online presence. And our services include website design, development, and maintenance. And along with that we offer e-commerce solutions and search engine optimization (SEO). Plus our team of expert designers and developers work closely with clients. Creating bespoke websites that are tailored to their specific needs and goals.
We also provide responsive design to ensure that websites are optimized for all devices, from desktops to mobile phones. Our focus is on delivering high-quality, visually appealing websites that are both user-friendly and engaging. So if you're looking for a web design agency in London that can help you take your online presence to the next level, we're here to help.
And on top of that we are very good with WordPress as well. And not only we sell commercial WordPress themes and plugins, but also have a WordPress design agency that you can check out.
Get a free price quote today !
Frequently Asked Questions
How much do web designers charge per hour UK?
Web designers in the UK typically charge between £50 and £100 per hour. However, many web designers prefer to charge per project. For instance, a basic website created by a UK-based freelancer could cost between £700 and £1,500. The cost can vary significantly depending on the complexity of the website, the experience of the designer, and the specific requirements of the project.
How do I find a good web design agency?
Finding a good web design agency involves research, reviews, and referrals. Start by identifying your needs and budget. Then, search for agencies that specialize in your industry or the type of website you need. Check their portfolios to assess the quality of their work and see if their design style matches your vision. Read client reviews and testimonials to gauge their reliability and customer service. Finally, consider getting referrals from business associates or friends who have had a good experience with a web design agency.
How many web design agencies are there in the UK?
As of my knowledge cutoff in September 2021, I don't have the exact number of web design agencies in the UK. The number is constantly changing as new agencies are established and others close. However, the UK is known for its robust digital sector, and there are likely thousands of agencies offering web design services across the country.
What does a web design agency do?
A web design agency creates and maintains websites for clients. They handle all aspects of web design, from the initial concept and design to coding, testing, and launching the site. They also ensure the website is user-friendly, responsive, and optimized for search engines. Some agencies offer additional services like content creation, digital marketing, SEO, and social media management. They work closely with clients to understand their needs and goals, and create a website that effectively represents their brand and appeals to their target audience.
Are web designers in demand UK?
Yes, web designers are in high demand in the UK. As more businesses recognize the importance of having a strong online presence, the need for professional web design services has grown. This demand is expected to continue as e-commerce and digital marketing become increasingly important for businesses of all sizes. In addition, the ongoing advancements in web technologies and design trends require businesses to regularly update and improve their websites, further driving the demand for web designers.
How much should I pay to design a website?
The cost of designing a website can vary greatly depending on your specific needs. A basic website created by a freelancer might cost between £700 and £1,500, while a small business website could range from £1,100 to £4,500. An e-commerce site or a website with advanced functionality could cost anywhere from £1,000 to over £5,500. Remember, these are rough estimates and the actual cost could be higher or lower depending on various factors such as the complexity of the design, the number of pages, and any additional features you require.
How much does a 5 page website cost?
A 5-page website is typically considered a basic website. The cost for such a website can range from £650 to £1,100 if you hire a freelancer or a web design agency. If you choose to use a website builder tool like Wix or Squarespace, the cost could be significantly lower, ranging from free to around £344 per month depending on the subscription plan you choose. However, keep in mind that using a website builder requires you to design the website yourself
How much does a new website cost UK?
The cost of a new website in the UK can vary greatly depending on the complexity of the site, the number of pages, and any additional features required. A basic website might cost between £700 and £1,500, while a more complex site with e-commerce functionality could cost anywhere from £2,000 to £25,000. This includes costs for web design, responsive design, content management system, e-commerce functionality, and database integration. It's important to remember that these are rough estimates and the actual cost could be higher or lower.
Should I pay someone to design my website?
Yes, it's generally a good idea to hire a professional to design your website. While there are many DIY website builders available, a professional web designer has the skills and experience to create a site that's not only visually appealing but also user-friendly and optimized for search engines. They can also ensure that your website is mobile ready, meaning it will look and function well on all devices, including mobile phones and tablets. A well-designed website can help attract and retain customers, and ultimately contribute to your business's success.