Hire the Best App Developer
If you want to hire a mobile app developer today, then we are the solution. Because our experience developing mobile apps, for ios and android is so massive, we think we can tackle any type of project. From the smallest projects (around $5,000) to the biggest ones (over $100,000) our team can tackle anything. And we also develop the backend and admin panels for these apps. So get in touch with us and develop your mobile app with us.
Welcome to the best app development company
At our mobile app development agency, we pride ourselves on being one of the leading app development companies in the industry. Based in the heart of London, we specialize in mobile app development in London and have a talented team of app developers UK-wide. Whether you're looking for app developers near me or seeking to collaborate with freelance app developers, our app agency has got you covered. We offer a comprehensive range of services, from initial concept to final deployment, ensuring that your vision is brought to life in the most effective way possible.
App developers UK
You are here probably because you are are looking for an app development studio, right ? Well , look no further as with the experience we have accumulated in the past 12 years since we are on the market, we can do an amazing job. So why not get the best app developers for your UK, London project ? Get in touch with us, the most amazing app agency out there and get some stuff done. Ah, and the price quote is free of course! So why not contact the best mobile app development service!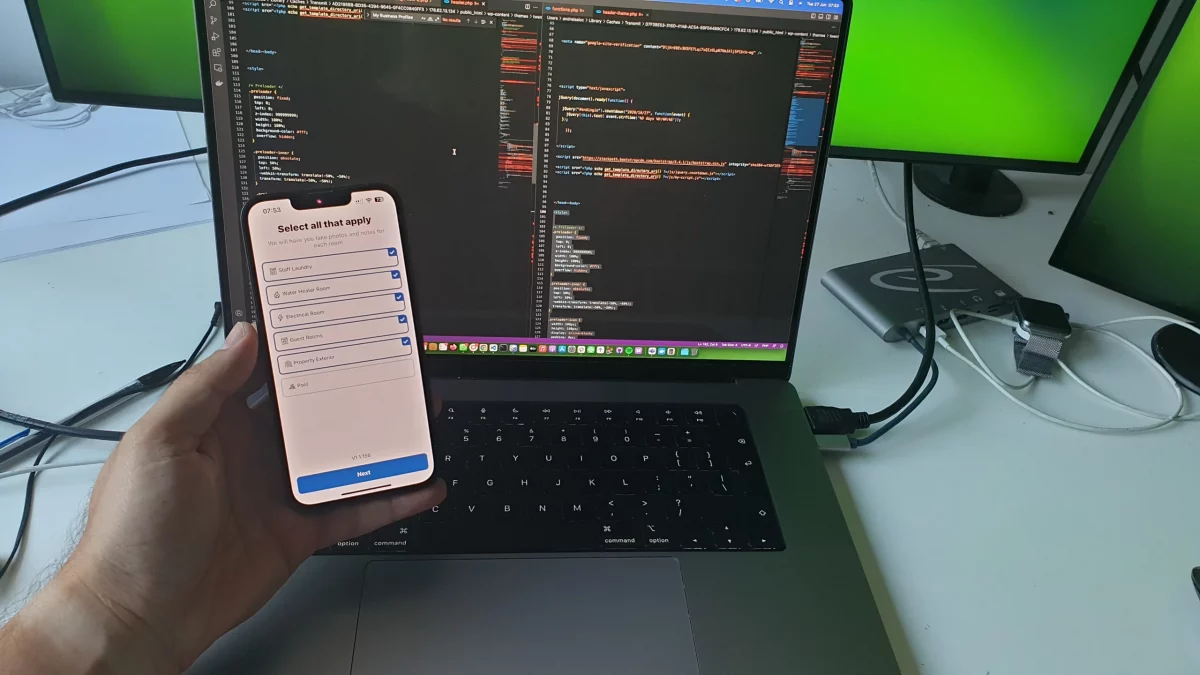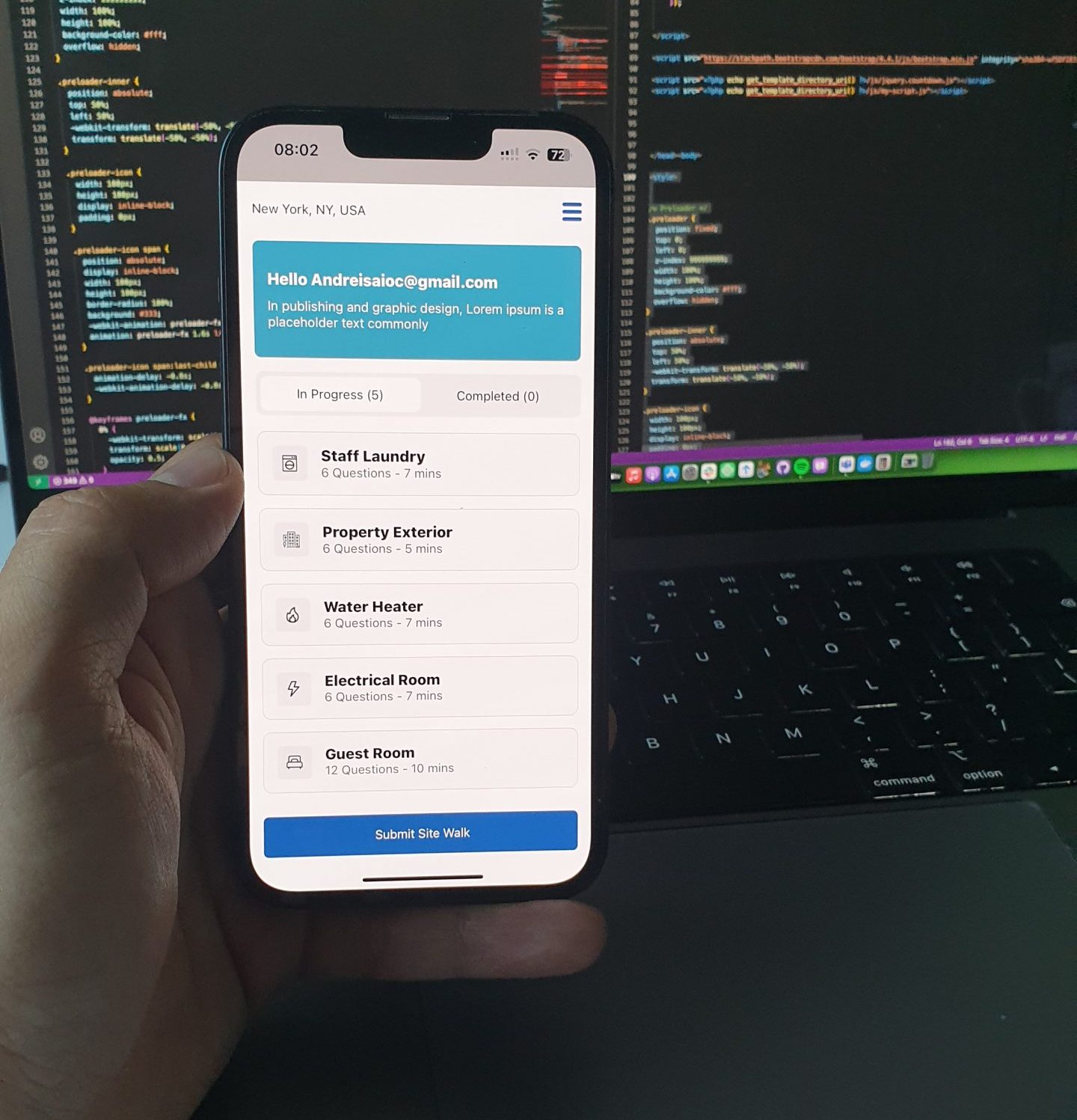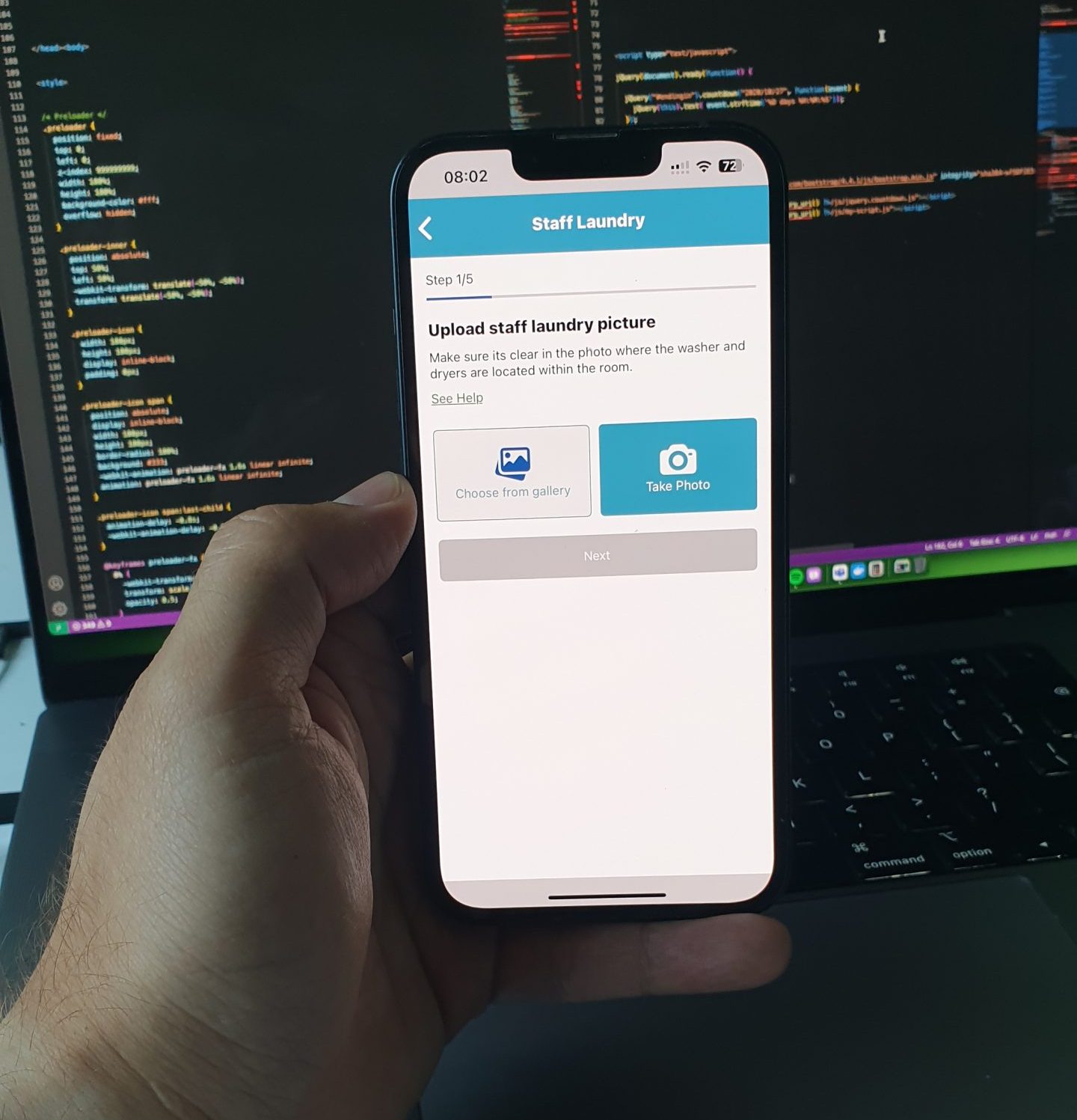 Mobile App Development Pricing
Our app dev pricing is quite affordable, and some might call it quite cheap. But we are proud that we can offer such good quality at good prices. And certainly since we are based in Europe the prices arent like India, but also attention to details and quality is very hight. So our affordable and yet not cheap working app developers are waiting to start work on your next project. Lets schedule the call today!
Your Trusted Mobile App Development Company
As a leading mobile app development company, we pride ourselves on creating innovative, robust, and user-friendly mobile apps that meet the unique needs of your business. Our team of professional app developers use the latest technologies to build custom mobile apps for iOS, Android, and cross-platform solutions. Experience the synergy of creativity and technology by partnering with us for your app development needs.
Experience Excellence in App Design and Development
At our mobile app development firm, we don't just build apps; we craft experiences. By focusing on excellent UI/UX design, we ensure that your app not only looks great but also delivers a seamless user experience. Our app design process is user-centric, designed to convert visitors into loyal customers. Don't settle for less; choose the best in app design and development.
Choose Us for Comprehensive Mobile App Services
We're not just a mobile app development company; we're your partner in success. Our comprehensive app services cover everything from app consultation and development to maintenance and optimization. We're committed to providing you with end-to-end solutions that help your app succeed in the competitive app marketplace. Request a quote today and take the first step towards a successful app journey.

Mobile app development agency London
At our mobile app development agency in London, we specialize in creating innovative mobile applications for various platforms. Our team of skilled developers, designers, and project managers work collaboratively to deliver user-friendly and engaging mobile solutions to our clients. From ideation and design to development, testing, and deployment, we offer end-to-end services to ensure that our clients get the best possible results. We also provide maintenance and support services to ensure that the apps we create run smoothly and stay up-to-date with the latest technology and user trends. At our agency, we are passionate about creating mobile solutions that make a difference in people's lives, and we are committed to delivering excellence in everything we do.
Revolutionize Your Business with Our Custom Mobile App Services
Revolutionize Your Business with Professional App Development
Whether you're looking to create a unique user experience or enhance your digital presence, our custom mobile app development services have you covered. Our team of expert mobile app developers work with you to turn your ideas into reality, creating engaging and user-friendly apps that stand out in the market. Don't wait any longer, request a price quote and transform your business today.
Boost Your App's Performance with Our Quality Assurance
Every successful app requires thorough testing and quality assurance. Our comprehensive app testing services are designed to ensure the smooth functioning of your app, delivering an outstanding user experience. With our expertise in performance optimization and security, you can rest assured that your app will be flawless. Try our services and elevate your app's performance today.
Stand Out in the Crowd with App Store Optimization
Boosting your app's visibility is key to increasing downloads and user engagement. With our App Store Optimization services, we help improve your app's ranking and make it more discoverable. It's time to make your app the star of the show. Request a price quote for our App Store Optimization services and start standing out from the crowd.
Streamline Your Business Processes with Our Enterprise Mobile Apps
Our enterprise mobile app development services are tailored to help streamline your business processes. We specialize in building robust, secure, and scalable mobile apps that improve productivity and efficiency. Get ahead in your industry by leveraging the power of custom mobile apps. Try our services and witness the transformation in your business operations.
App Development Agency London that delivers
Do you have a brilliant business idea and it requires a mobile app ? Look no further! We are the perfect app development agency to turn your idea into a native mobile app. And for both iOS and Android, the most famous mobile operating systems. Our team of app developers and app designers are ready to put your ideas into a mock-up then proceed with the help of our local app developers to transform it into a publishable app. Of course in the AppStore and into Google Play Store. So if you need custom app developers, you can contact our team and get a free price quote. Get the best app development agency services, for your near London, UK, business.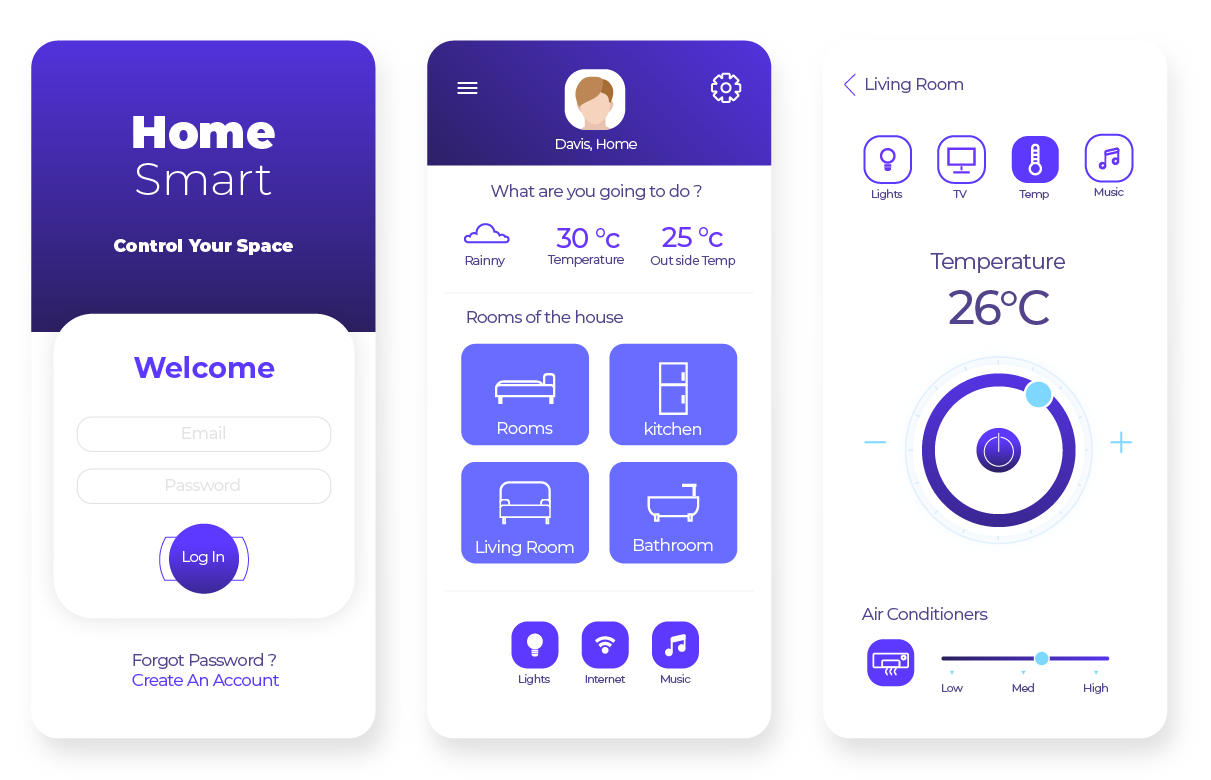 App Development Services
Our team can easily do a complex app from scratch. And that means we will take your idea , transform it into a figma (xd) mobile app design and then adjust where needed after the call with you. This is called app development project plan. After all these we proceed to actually implement the native app development. Thats how each app we develop is quite unique, and that is called custom app development. So get the best mobile software development services from an amazing app company UK.
Mobile app development agency in London, UK
iOS App Development
Specializing in iOS app development, we deliver high-quality, user-friendly apps tailored to your business needs, leveraging the latest iOS features.
Android App Development
Our Android app development services offer robust and scalable apps, designed with a user-centric approach, to help you reach your diverse customer base.
Cross-Platform App Development
We provide cross-platform app development services, ensuring seamless performance and consistent user experience across all platforms and devices.
Custom App Development
Our custom app development solutions are designed to fit your unique requirements, ensuring your app stands out in the competitive digital landscape.
App Design and Development
We offer comprehensive app design and development services, creating visually appealing and functional apps that resonate with your target audience.
React Native App Development
Our React Native app development services deliver high-performance apps with faster development times, providing a native-like user experience.
Native App Development
We excel in native app development, offering apps with optimal performance, superior user experience, and access to all native platform features.
Architecture Building
Our team excels in architecture building, designing robust and scalable app architectures that support your business growth and evolution.
App and Website Integration
We offer app and website integration services, ensuring a seamless user experience across platforms and enhancing your digital presence.
Cheap App Developer UK
We provide affordable app development services without compromising on quality, making us a top choice for businesses in the UK.
Mobile & API Building
We specialize in mobile and API building, creating secure, scalable, and efficient solutions that drive your business forward.
Startup web app development agency
Our mobile app development company offers services to startup web app development agencies. They specialize in creating digital products for startups and small businesses, and are always on the lookout for reliable partners who can help them deliver top-quality software solutions. We can help these agencies tap into this market and build long-term relationships with them.
To succeed in this market, it's important to provide high-quality, reliable services that meet the unique needs of startup web app development agencies. We demonstrate our expertise in mobile app development and our ability to work collaboratively with agencies. And we are a valuable partner for their projects. We offer competitive pricing and flexible engagement models to make our services more appealing to startup web app development agencies, who are often working with limited budgets and resources.
iPad app development company UK
Our iOS app development company is focused on creating mobile apps for iPad and for iPhones alike. Because the best way an app can thrive is to be available on all mobile devices. So our mobile app design agency will take your project, from the business idea, to the design, and to the implementation and going live to market. And we cover all areas and aspects. Because are a one-stop shop for all mobile development services. Request a price quote from the best app design agency.
How much does it cost to develop an app UK
The cost of developing a mobile app in the UK varies a lot based on the amount of work involved in designing and developing the app. Prices start from £4000-5000 but you can easily go even to £50,000 if the process involves a social part, e-commerce part and other complex functionality. Schedule a call with us, and hire app developer.
Mobile App Development Cost
When it comes to the cost of a mobile app, things are treated on a case basis. That is because the cost depends a lot on the amount of hours put to built the mobile app. That means that any app can start from a price of £4000 but can also go even to £50.000 – £100.000. But most mobile apps stay in the range £4k – £15k. The smartest thing you can do is contact us and get a personalized price quote based on your actual idea of the app. But these prices include both iOS app development and Android app development. And they are native apps and not hybrid app development or web view. With our app development company you will get cheap app developers and also very skilled programmers.
Need an app developed ?
Get a price quote from the best app development agency. We answer fast!
Software development company
If you need some bespoke software development uk services, then we are the answer to your queries. Because we design the best mobile apps, and not only we do design but we also do programming and actual coding. So we offer the full package. So get in touch with our team to get the bespoke software pricing today!
Overview of Mobile App Development Companies
Mobile app development companies are the architects of the digital world. They specialize in creating, testing, and maintaining applications designed for mobile devices, such as smartphones and tablets. These companies play a pivotal role in transforming business ideas into digital realities, enabling businesses to reach their customers directly and offer personalized experiences.
With the rise of smartphones and the digital economy, mobile app development has become a crucial aspect of business strategy. Companies like Hyperlink InfoSystem, The NineHertz, and Naked Development are leading the way, providing innovative solutions that drive customer engagement and business growth. Whether it's for iOS or Android, these companies are shaping the future of mobile technology.
Top Mobile App Development Companies in 2023
The mobile app development industry is teeming with talented companies, each offering unique solutions. Hyperlink InfoSystem, for instance, is renowned for its custom app solutions, while The NineHertz is known for its expertise in both native and cross-platform applications. Naked Development, Mercury Development, Goji Labs, Algoworks, BlueLabel, and Zazz are other notable names, each contributing to the dynamic landscape of mobile app development.
These companies have proven their mettle by delivering top-notch applications that resonate with users and meet business objectives. They have demonstrated their ability to navigate the complexities of app development, from understanding user needs to ensuring seamless functionality. Their work is a testament to the power of mobile technology in driving business success.
Services Offered by Mobile App Development Companies
Mobile app development companies offer a wide range of services to cater to the diverse needs of businesses. These include custom iOS and Android app development, where apps are built from scratch to meet specific business requirements. Native and cross-platform solutions are also offered, allowing businesses to reach their customers regardless of the device they use.
Another key service is second platform app development, which involves creating an app for a second platform after the first version has been successful. This allows businesses to expand their reach and tap into a larger customer base. Additionally, these companies also specialize in UI/UX design, ensuring that the apps are not only functional but also visually appealing and user-friendly.
Choosing the Right Mobile App Development Company
Choosing the right mobile app development company is a critical decision that can significantly impact your business. Factors such as the company's portfolio, client reviews, and team size should be considered. The company's portfolio can provide insights into their style and capabilities, while client reviews can give you a sense of their reliability and customer service.
Team size is another important consideration, as it can affect the company's capacity and the attention they can devote to your project. Additionally, it's important to consider the company's communication style, their understanding of your industry, and their technical expertise. A company that aligns with your business needs and goals can be a valuable partner in your digital journey.
Cost of Mobile App Development
The cost of mobile app development can vary widely depending on several factors. These include the complexity of the app, the number of features, the platform (iOS or Android), and the location and size of the development team. It's important to have a clear understanding of these factors and how they influence the overall cost of your project.
While cost is an important consideration, it's equally important to focus on the value that the app will bring to your business. A well-designed and functional app can drive customer engagement, increase sales, andprovide a strong return on investment. Therefore, it's crucial to balance cost considerations with the potential benefits of the app.
Case Studies of Successful Mobile App Development
Case studies provide a glimpse into the real-world impact of mobile app development. They showcase how businesses have leveraged mobile technology to drive growth and improve customer experiences. For instance, a case study might detail how a retail business increased its sales by launching a user-friendly shopping app, or how a healthcare provider improved patient care with a custom medical app.
These case studies not only highlight the capabilities of the mobile app development company but also provide valuable insights for businesses looking to embark on their own app development journey. They demonstrate the transformative power of mobile apps and how they can help businesses thrive in the digital age.
Future Trends in Mobile App Development
The world of mobile app development is constantly evolving, with new trends emerging all the time. Some of the key trends to watch out for include the rise of augmented reality (AR) and virtual reality (VR) apps, the growing importance of artificial intelligence (AI) and machine learning (ML) in app development, and the increasing focus on app security.
These trends are shaping the future of mobile app development, pushing the boundaries of what's possible, and creating exciting opportunities for businesses. By staying abreast of these trends, businesses can leverage the latest technologies and strategies to create innovative apps that meet the changing needs of their customers.
FAQs
How much does IT cost to develop an app with an agency?
The cost of developing an app with an agency can vary greatly depending on the complexity of the app, the number of features, the platform (iOS, Android, or both), and the agency's expertise. On average, a simple app can cost between £16,000 to £50,000, while more complex apps can cost £50,000 to £250,000 or more. It's best to consult with the agency for a detailed quote.
How much does it cost to make a small app?
The cost to develop a small or simple app, typically with basic functionality and fewer features, can range from £8,000 to £30,000. This estimate can vary based on the specific requirements, platform choice, and the agency's rates. It's recommended to get a personalized quote for the most accurate estimate.
How much does it cost to build an app in 2023?
As of 2023, the cost to build an app can range widely based on its complexity, features, and the development agency's rates. A simple app might cost between £10,000 to £30,000, a more complex app could range from £30,000 to £60,000, and a high-end, feature-rich app could cost £60,000 to £250,000 or more. Always consult with your chosen agency for a precise quote.
What is an app development agency?
An app development agency is a company that specializes in creating software applications for various platforms like iOS, Android, and the web. These agencies have teams of professionals, including designers, developers, project managers, and testers, who work together to build, test, and launch apps. They can handle all aspects of app development, from initial concept and design, through to development, testing, launch, and post-launch support.
Extra information: we provide app development Leeds services too.