Overview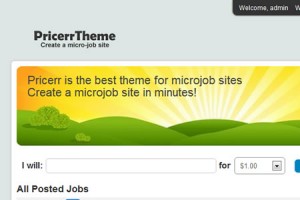 Hello sitemile customers and potential customers. The biggest news of this month is here: we just released the greatest update of the WordPress Micro-Job Pricerr Theme, v1.2.1. This makes the Pricerr Theme, the best and most affordable micro-job script/app on the entire market. Not only we eliminated all the bugs in the previous version, but we improved very much the flow of job purchase, of users and everything that is tied up to users (balances, payments, withdrawals, deposits, etc), and most importantly the new features in backend admin.
We also want to point out that from v1.2 we eliminated the sitemile framework from the pricerr theme. We felt people didnt understand it, and the theme is much better as a standalone theme and is easier to install by novice users. This opens even more the gates of setting up and using the theme by starter entrepreneurs and enthusiasts. Also the new pricerr is totally compatible with the new wordpress 3.4 "green".
What is new in this version?
We first fixed some bugs from the old v1.1.8, then spiced things with some new great features (specially in the admin area) and then eliminated the need of sitemile framework from the pricerr theme. This opens you to create child themes for the new pricerr theme. See below, a complete list of changes in Pricerr:
new feature: fixed the need for nice permalinks enabled
new feature: totally new admin area with lots of options
admin feature: control over 10 email templates, plus use of shortcodes
admin feature: new pricing options, currency select, and many more
admin feature: paypal, moneybookers, payza come as standard integrated
new feature: change from 5 different layout styles for the front page
new feature: change colors with color picker tool
new feature: advertising spaces, over 8 advertising spaces places around the site
new feature: all orders can be now visualised from admin side (closed, active, delivered)
new feature: user reviews can now be visualised from admin side
new feature: private messages can now be visualised from admin side
new feature: shipping module added
bug fix: job extra services feature fixed
If you already have purchased the sitemile Pricerr Theme, you can download it straight from your customer account. If you havent purchased it yet you can do it from here. Also the new update comes free for all customers that have the membership subscription. You can purchase your own subscription from here.