A new version of the classified theme has just been released as of today 29 April, making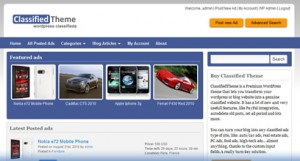 the sitemile wordpress classified theme, one of the best classifieds theme out there. Classified Theme serves a lot of websites around the world, from small businesses to big businesses like the site: onandgone.ie . In this article you will find what this minor version brings new. For other queries you can write us, at sitemile[at]sitemile.com , or use the contact form page , or use the support forums.
We ensure the full support of this new version of the classified theme, with the latest version of WordPress, which is v3.1.2. The theme has been tested with the latest version of wordpress and is working smoothly.
Here you have a list of new features and fixes:
compatible with latest version of WordPress, v 3.1.2
no more mysql direct calls, using only the WordPress API (eg, wpdb->get_results)
fixed ad price and ad location
tested and working under multi wordpress website
working under multi wordpress, with subdomains and subfolders
How can I get this update?
In order to get the new version of the Classified Theme you must log into your sitemile account, and download it from there. If you did not purchase this theme yet, you can purchase it from here, the official Classified Theme page. After installing this new update simply go to your wordpress admin side, deactivate the theme and reactivate this new version of it.