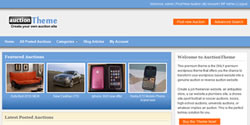 As from today, 16 April 2011, a new version of the WordPress AuctionTheme has been released.We think now this is the best and only WordPress auction theme out there and we consider its the best option if you want to run a small or mid size auction website without any effort at all. However our theme supports having hundreds of thousands of entries, even millions of entries in the database, but if you plan a big auction website you should contact us to advice you what server, and what hosting you should choose so the site is perfectly optimized.
The new release does not include yet the big updates expected, but fixes a lot of small glitches and bugs that appeared during tests in different environments like, using the theme on latest version of wordpress, 3.1.1, which now is 100% compatible, or running the theme on an IIS windows server, which had small glitches on urls, now this update fixes that too.
Here is a complete list of the fixes in v4.2.0.4 :
total WordPress 3.1.1 compatibility, tested on a Linux(Cent OS) server
working under wordpress multi blog facility, subdirectories and subdomains
no more external MySql calls, everything is done now through WordPress $wpdb object
links fixed under Windows IIS, as this does not support mod_rewrite
fixed price displaying in admin for auctions
How to get this update?
In order to get this new update you need to login into your sitemile account and download the latest version from your account. If you do not have this theme into your account you
can purchase it from here.
After you download the zip archive with the theme you need to update your files from your website. But be careful! If you have done custom changes to the theme then you need to take each file separately and merge them with your older version.