So you want to add an auction on your wordpress website. This article will teach you how you can add auction functionality to your website using WordPress. We will present you the way to choose the best wordpress auction plugin on the market. We will try to present you the woocommerce auction theme and woocommerce auction plugin that we have in our portfolio. Many people are looking for an auction plugin for wordpress, but sometimes a theme can be good too.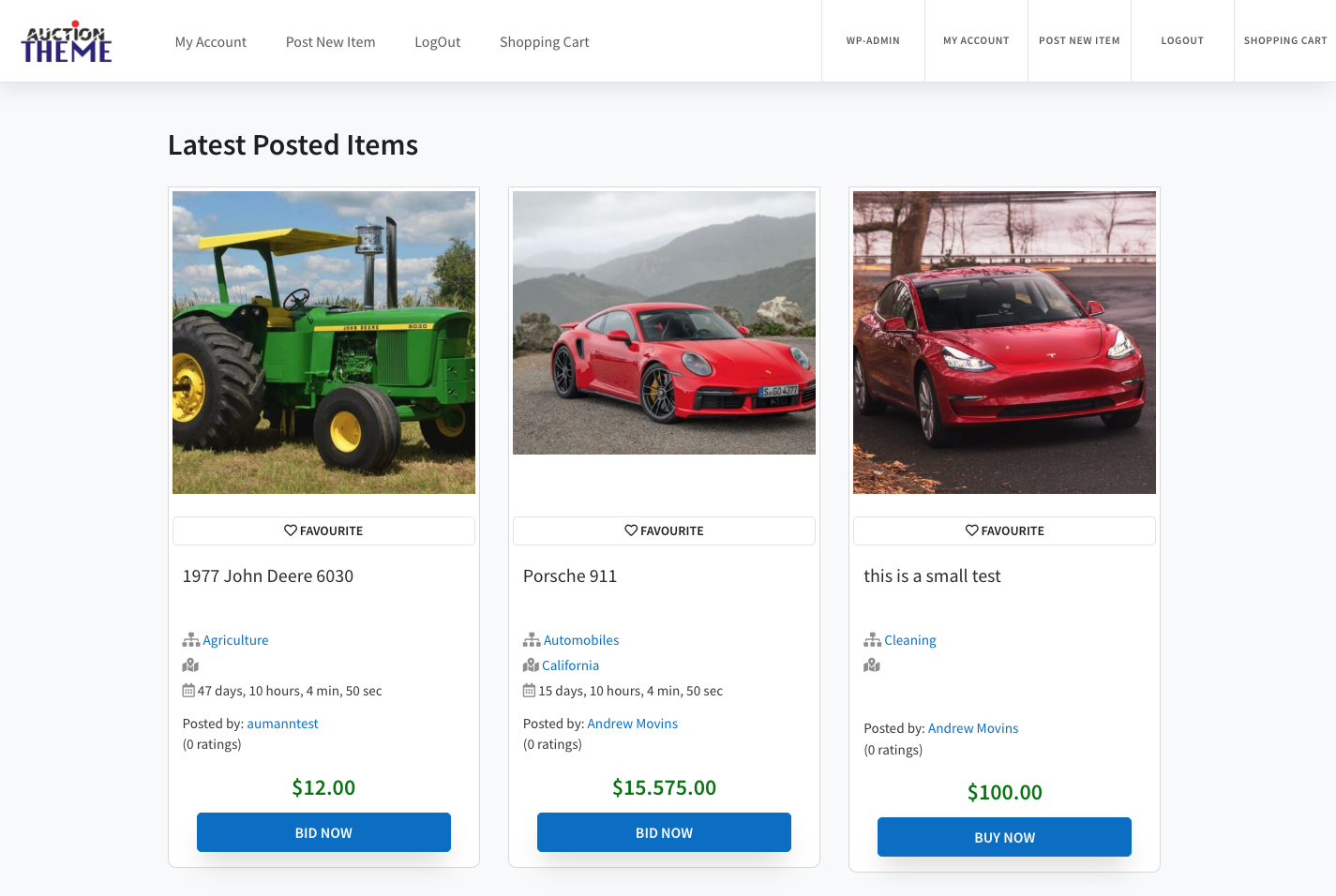 What is WordPress and what sites can we build with it ?
WordPress is a free cms system and open source that lets you build basically any type of website if you have the right wordpress theme. Most people try to search for free wordpress themes. Although is very good to have wordpress themes free, most of the themes that offer cool functionality are paid themes. And the free plugins are about the same idea.
So the good thing is that wordpress themes are not that expensive as regular php scripts or other solutions. They are the perfect way to create the mvp for your online business. Basically with wordpress, you only need the hosting account and domain name, and the proper theme (either paid themes or free themes). And of course wordpress free plugins or wordpress paid plugins. If you are looking for an auction plugin for wordpress then look no further: woocommerce auction plugin.
How can I add an auction feature on WordPress ?
When it comes to the online auction functionality for your wordpress website, you have a few choices. All choices are paid . Because you will not find any free wordpress theme or free plugin that does a great job. You will want a paid theme or plugin, because of the proper support you will get from a paid web agency.
Below you can see the seller area from the auction wordpress theme: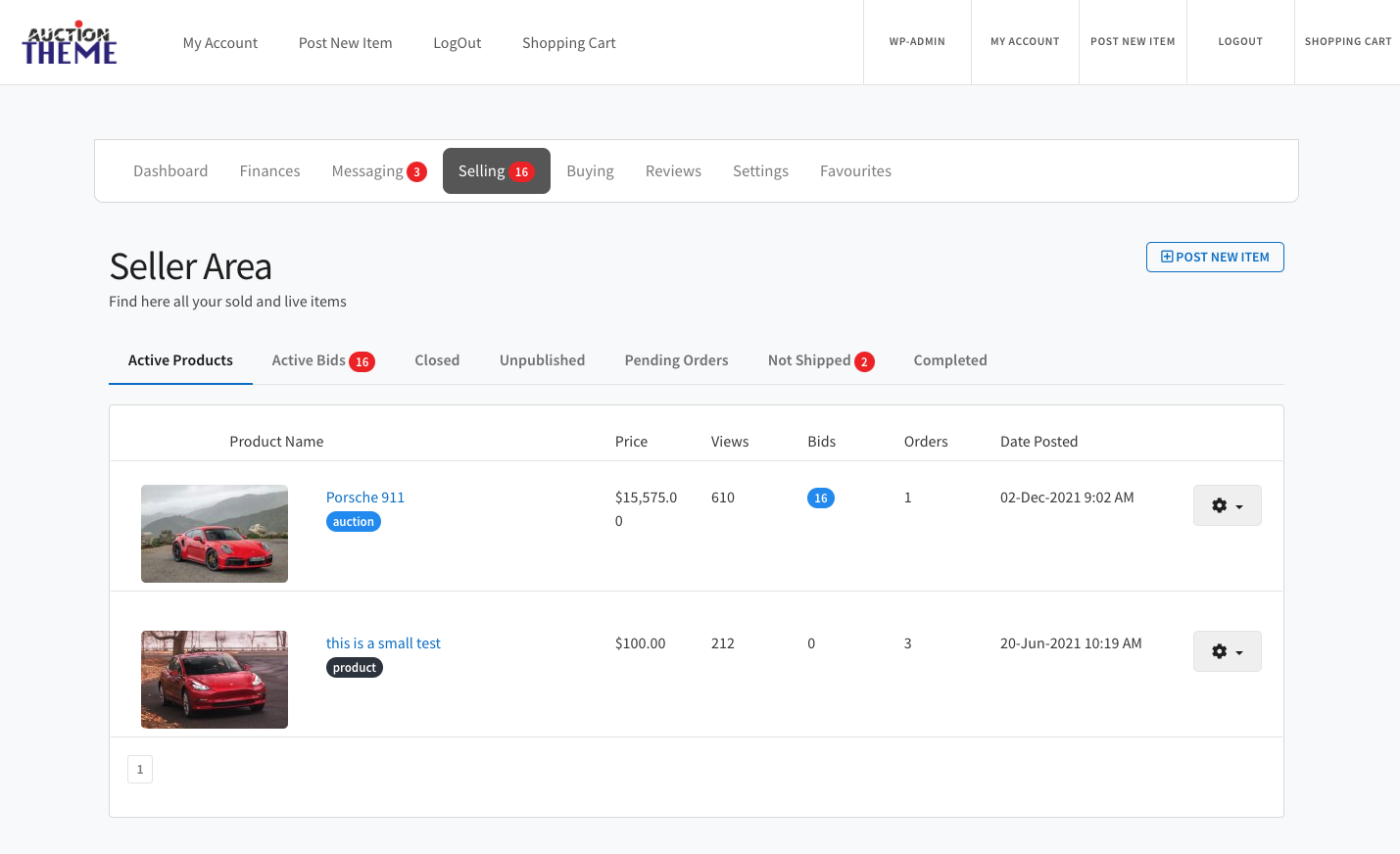 Adding this functionality to your wordpress website will be easily done through our woocommerce auction theme or the woocommerce auction plugin. These solutions are full featured and ready to market with all functionality you can imagine. Here are some of the functions of our premium theme and premium plugin:
themed login and register pages
themed buyer and seller dashboard
bidding functionality replicating the wordpress bidding plugin
review after each item buying
private messaging
payment gateways: stripe, paypal, credit cards, payfast
25 currencies all over the world
page builder for elementor, divi, beaver builder
e-wallet and credits system
shipping options and panel
escrow feature
integration with social login (google, facebook, linkedin)
auction website template bootstrap framework
Does this work for big sites too ?
Many people think wordpress is just for blogs and will not withstand big websites , like marketplace website or a multi seller marketplace. Not to mention an online auction website. So thats why the wordpress auction software must be built well. But we are happy to tell you that our wordpress auction theme and wordpress auction plugin work on big sites too. For example we have a customer that has over 450.000 users in their website, and the website works very good. Also it depends on the hosting space too, so do not think that you can have 450k users with a 10$ hosting per month. If you want to learn more about wordpress hosting or setting up a wordpress website, please read this article.
What kind of design css framework do you use ?
In the auction theme, we use the css framework called bootstrap. We have used v4.0 and v5.0 through the years. We think that bootstrap is a really good and easy to use css framework. That makes our auction template with bootstrap a great solution to create an auction website. Plus the bootstrap css framework is free. But that doesnt make the wordpress auction theme free to download. That is because our product is supported and updates are released regularly.
Does it have sealed bidding too ?
Yes the theme has also sealed bidding of course, and that means the users will bid the true price they want for the product or item. This helps the other bidders to now know other people's bids. But this is more on the reverse auction side than the regular eBay type of auction. And yes, this can be used as a silent auction software. And is a similar solution to bidding owl.
Can this be used for charity auctions ?
Yes, that is true, and yes, it can be used for charity auctions or any other ngo type of auctions. Or even fundraising online auctions. Basically it can be used for any type of auction as the options of our auction software are very vast.
Conclusion
Giving that wordpress is a very easy to use system and very easy to install, you will have no issues launching your own wordpress auction website. Adding auction functionality to wordpress will be easy with our auction plugin or auction theme. They both come with all needed features and woocommerce support (in the pro version).