Are you looking to launch a upwork clone website ? When we are talking about freelancer directories, we have a few names in mind. Through which one of them is upwork. In this article we will explain how to create a website like upwork using a freelancer wordpress theme. And this is because in the last few years, wordpress has become a very complete framework. And it powers over 30% of the websites in the whole world. We are going to use a wordpress freelance theme to create this upwork clone. And normally you would think that wordpress is just for blogs, but that is not true anymore. The way wordpress paid themes have evolved and the wordpress engine in general its amazing. And this is truly a upwork clone script.
Do you need a fully featured upwork clone type of site ?
Get in touch with our team and we can develop the most amazing custom tailored website for your upwork type of site. Prices start from $4,500 USD and we also can do mobile app development if needed for your project.
About the most amazing wordpress upwork clone
Firstly, the script allows you to easily create a platform where freelancers can showcase their skills and find work opportunities. You can create a user-friendly interface where freelancers can create profiles, upload their portfolios, and bid on projects.
Secondly, the script enables employers to post job opportunities and review proposals from freelancers. They can easily manage their projects, communicate with freelancers, and make payments securely through the platform. And that is based on escrow, project milestones. And bidding is through tokens – connects.
Lastly, our script offers customizable features such as different pricing models, commission structures, and project categories. You can easily modify the script to suit your business needs and branding requirements.
Overall, your "Upwork clone script" based on WordPress offers a comprehensive solution for creating a freelance marketplace. With its user-friendly interface, robust features, and customization options, it can help you create a successful platform for freelancers and employers alike.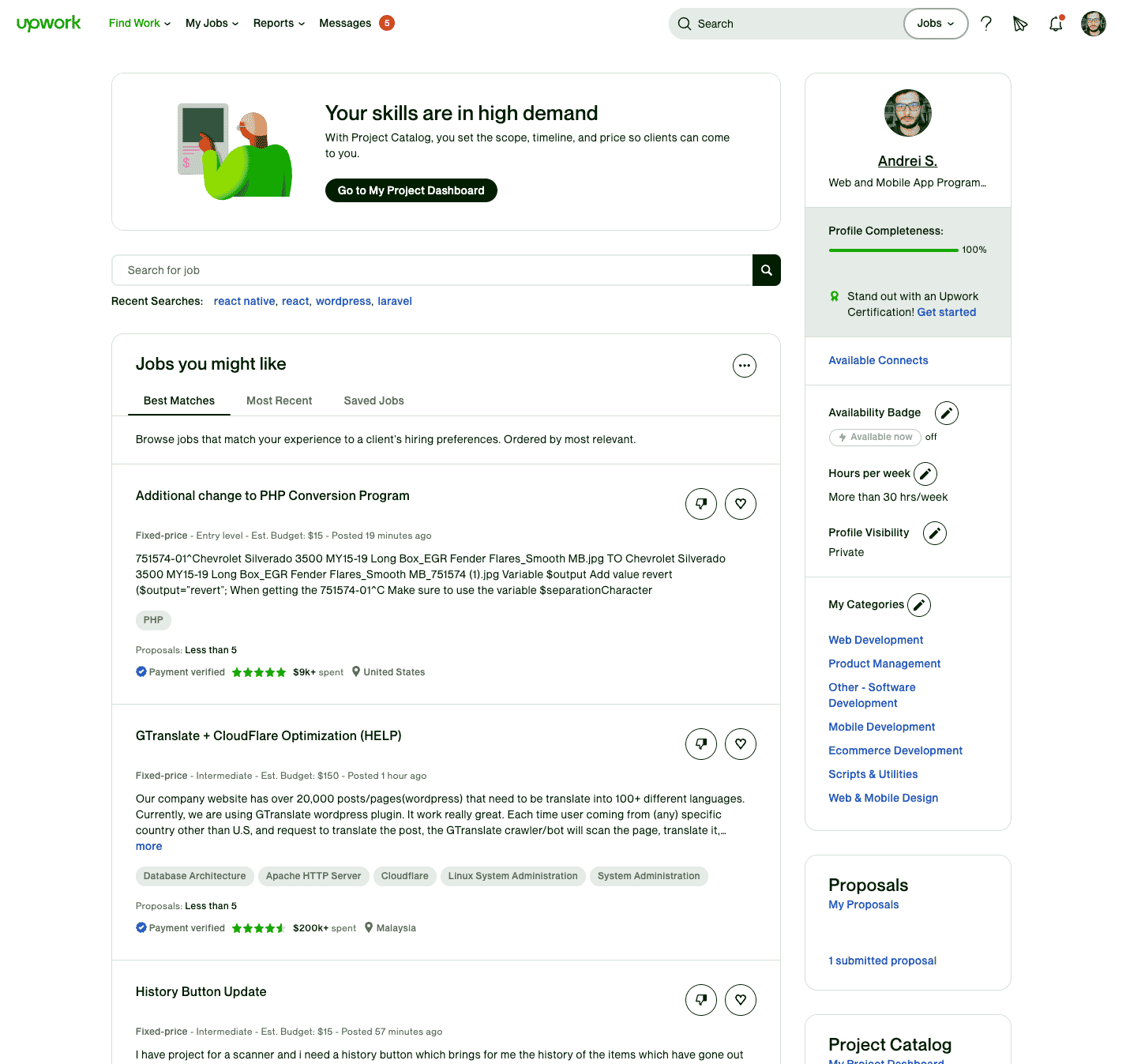 What is WordPress anyway ?
WordPress is a free content management system, or cms in short. It is open source, and anyone can install it in their web hosting package. We have detailed a lot more in another article on how to create a wordpress website in 7 steps. In fact is very easy to install it and have a wordpress website as most hosts will allow you to do that with just a few clicks. And from there using a freelancer wordpress theme, you be able to create an upwork similar or alternative website.
What is upwork ?
To be short at first, upwork is a reverse auction type of platform, where customers post a quote request, and the service providers will bid or place offers for that request. When we are talking about freelance platforms we know a lot of names, like upwork, fiverr, people per hour, guru, freelancer.com and many other alternatives and niches. The flow of upwork is as follows, and it implies customers and freelancers. Basically is like any buyers and sellers marketplace website. Where the sellers are the freelancers selling their services and buyers are the customers. So this is the flow:
freelancers will create a profile inside the website
freelancers can signup through a custom form
customers signup to the platform and post a project or a task
freelancers will post bids or quotes for the project they are interested in
freelancers also need to buy some bid tokens or connects
each project requires a connect or a token, or even multiple to be bid on
the customer will choose the project winner
freelancer is notified and work begins
money is placed into escrow until the project is done
freelancer will complete the project
customer releases the escrow and rates the user
What is a freelancer wordpress theme for upwork ?
A freelance wordpress theme, or a project bidding theme is a niched wordpress theme that lets your website to act like an upwork clone. And it gives you all the options to run a fully featured upwork like website.  Also the freelance wordpress theme allows the freelancer to set a portfolio page too. That also will let them create a freelancer portfolio page for free with this theme. The theme we are proposing here to create this upwork clone is called wordpress freelance directory marketplace. And you can find more details there about this amazing upwork clone script.
How can I launch this marketplace website for freelancers ?
You will start by actually getting some hosting and a domain name. And once you have the website ready to go, you can just install wordpress and the freelancers theme. There are alternatives like workreap, appthemes hirebee, or avada freelancers theme, but they are not as good, and their support is lacking. And you cannot have a mobile app also. So its better to start with the sitemile freelancer theme instead.
This clone script works similar to upwork ?
The process in Upwork starts with customers posting job opportunities on the platform. These can range from small tasks to complex projects that require specialized skills. Freelancers can then browse through the available opportunities and submit proposals to the customer.
The customer can review the proposals and select the freelancer they want to work with. They can then establish a contract and agree on the scope of work, timelines, and milestones.
Once the project is underway, the freelancer can submit their work for review and feedback. They can communicate with the customer through the platform and make any necessary revisions.
When the project is completed, the customer can release the funds from escrow, which is held by Upwork for security purposes. This ensures that the freelancer is paid for their work and the customer is satisfied with the outcome.
The bidding process in Upwork is competitive, and freelancers often need to showcase their skills and experience to win projects. They can use their profiles to highlight their expertise, portfolios, and reviews from previous clients.
Overall, Upwork offers a streamlined process for freelancers and customers to connect, collaborate, and complete projects. With its secure escrow system, communication tools, and project management features, it can help facilitate successful outcomes for all parties involved.
So yes, our WordPress theme works very similar to upwork, and its a ready made solution, ready to be deployed within minutes from purchase. Additionally we can do web development for anyone wanting to expand with their own features.
upwork clone app
Yes, our WordPress upwork clone theme comes with an app as well. And that way you have a complete upwork clone app. All you have to do is get in touch with us and get a free price quote for the app as well. because we offer ios and android apps and also publish to the appStore. Launch today your amazing upwork clone website. And you check here our mobile app development services page.
Also if you are looking to launch apps like fiverr, then you might try our pricerr theme, which is the service marketplace theme for WordPress. Works exactly like a fiverr clone.
Introduction: Launch Your Dream Freelance Marketplace
Do you dream of launching a successful online job marketplace, just like Upwork? Look no further, our Freelancer Theme is the perfect solution. Not only is it an ideal Upwork clone, but it also doubles as a freelancer clone, encompassing all the features that make these platforms a hit.
Essential Features: Upwork Clone Script Perfected
Freelancer Theme stands as our best Upwork clone script, offering you access to all the essential features to kickstart your freelance platform. With this freelance job site script, clients can post jobs, freelancers can bid on projects, and both parties can communicate effectively within the platform. It's like having Upwork, but with your branding and unique touch.
Customization and Flexibility: Your Upwork Clone, Your Way
Ever wondered, "Is this Upwork clone open source?" The answer is a resounding yes! We believe in customization and flexibility. Our Freelancer Theme isn't a rigid Upwork clone; it's a flexible, customizable Upwork clone. From the user interface to the backend functionality, our freelance platform script can be tailored to suit your unique needs and market demands.
More Than Just a PHP Upwork Clone: A Comprehensive Freelance Management System
Our Freelancer Theme is more than just a PHP Upwork clone. It's an all-encompassing freelance management system script. This powerful Upwork clone WordPress theme allows you to administer every element of your freelance marketplace without breaking a sweat. You're in control, whether it's managing projects, handling disputes, or overseeing transactions.
Our Promise: Quality and Customer Satisfaction
What sets us apart from other Upwork clone scripts in the market? It's our unwavering commitment to quality and customer satisfaction. We offer not just an off-the-shelf Freelancer Theme but also custom Upwork clone development. We leave no stone unturned to ensure perfection, whether it's tweaking the freelance bidding script or adding a new feature to your Upwork clone site.
Try Before You Buy: Freelancer Theme Demo
Want to see the product in action before making a purchase? We offer a Freelancer Theme demo for those curious to experience the product firsthand. Plus, our Upwork clone pricing is not only affordable but also transparent, providing you with excellent value for your investment. You can see exactly what you're paying for and how it will benefit your business.
Conclusion: Your Dream Freelance Marketplace is Within Reach
In conclusion, if you're aiming to create a site like Upwork, our Freelancer Theme is an ideal choice. For those seeking a comprehensive solution, we offer custom work to build a complete and fully featured Upwork clone site. With our solutions, starting a freelance marketplace or launching an Upwork alternative script has never been more straightforward!
Get in touch with us and build your upwork clone type of website. Prices for a fully customised website can start even from 4500$
Do you need a fully featured upwork clone type of site ?
Get in touch with our team and we can develop the most amazing custom tailored website for your upwork type of site. Prices start from $4,500 USD and we also can do mobile app development if needed for your project.