When we are talking about freelancer directories, we have a few names in mind. Through which one of them is upwork. In this article we will explain how to create a website like upwork using a freelancer wordpress theme. And this is because in the last few years, wordpress has become a very complete framework. And it powers over 30% of the websites in the whole world. We are going to use a wordpress freelance theme to create this upwork clone. And normally you would think that wordpress is just for blogs, but that is not true anymore. The way wordpress paid themes have evolved and the wordpress engine in general its amazing.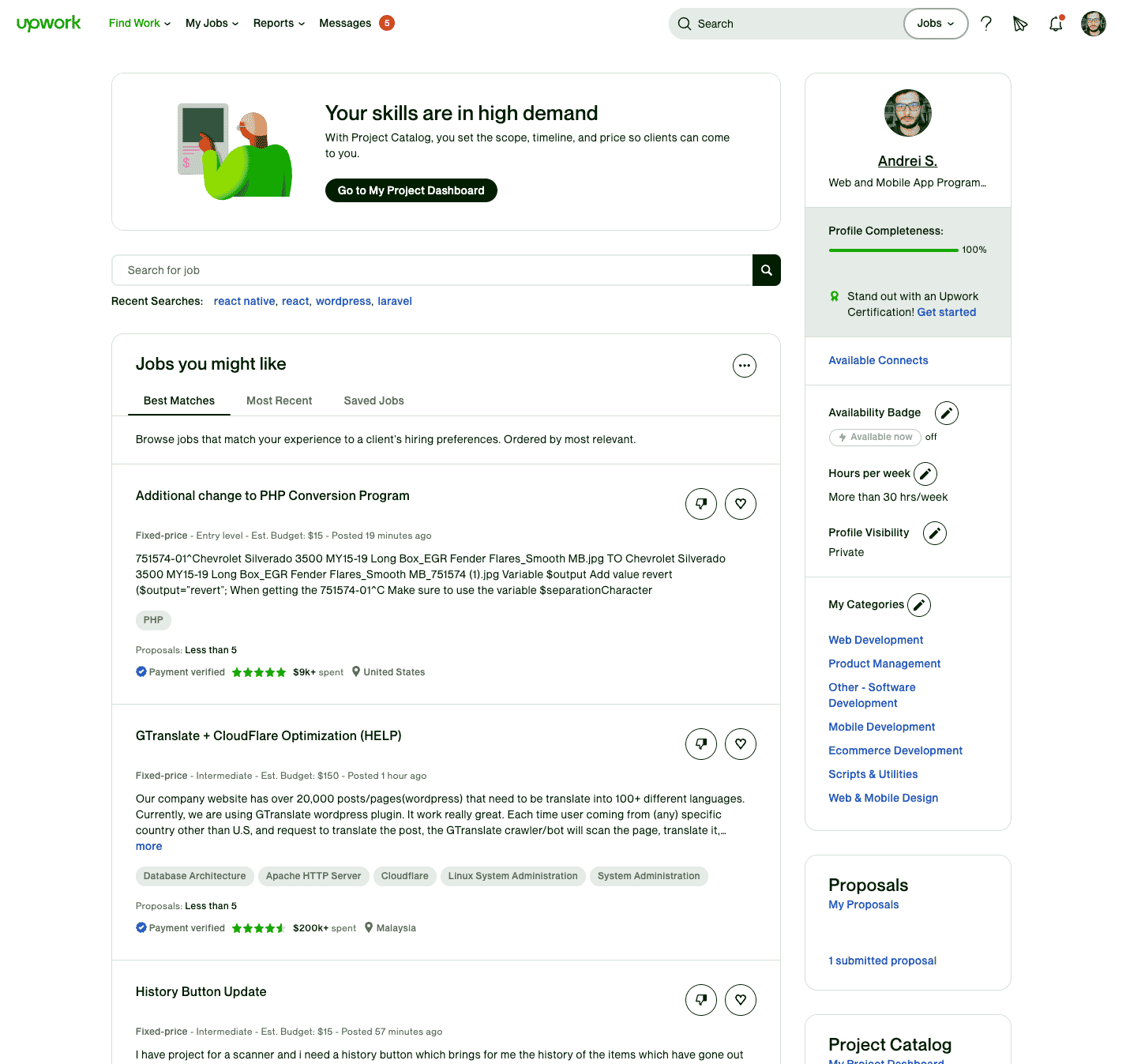 What is WordPress anyway ?
WordPress is a free content management system, or cms in short. It is open source, and anyone can install it in their web hosting package. We have detailed a lot more in another article on how to create a wordpress website in 7 steps. In fact is very easy to install it and have a wordpress website as most hosts will allow you to do that with just a few clicks. And from there using a freelancer wordpress theme, you be able to create an upwork similar or alternative website.
What is upwork ?
To be short at first, upwork is a reverse auction type of platform, where customers post a quote request, and the service providers will bid or place offers for that request. When we are talking about freelance platforms we know a lot of names, like upwork, fiverr, people per hour, guru, freelancer.com and many other alternatives and niches. The flow of upwork is as follows, and it implies customers and freelancers. Basically is like any buyers and sellers marketplace website. Where the sellers are the freelancers selling their services and buyers are the customers. So this is the flow:
freelancers will create a profile inside the website
freelancers can signup through a custom form
customers signup to the platform and post a project or a task
freelancers will post bids or quotes for the project they are interested in
freelancers also need to buy some bid tokens or connects
each project requires a connect or a token, or even multiple to be bid on
the customer will choose the project winner
freelancer is notified and work begins
money is placed into escrow until the project is done
freelancer will complete the project
customer releases the escrow and rates the user
What is a freelancer wordpress theme for upwork ?
A freelance wordpress theme, or a project bidding theme is a niched wordpress theme that lets your website to act like an upwork clone. And it gives you all the options to run a fully featured upwork like website.  Also the freelance wordpress theme allows the freelancer to set a portfolio page too. That also will let them create a freelancer portfolio page for free with this theme. The theme we are proposing here to create this upwork clone is called wordpress freelance directory marketplace. And you can find more details there.
How can I launch this marketplace website for freelancers ?
You will start by actually getting some hosting and a domain name. And once you have the website ready to go, you can just install wordpress and the freelancers theme. There are alternatives like workreap, appthemes hirebee, or avada freelancers theme, but they are not as good, and their support is lacking. And you cannot have a mobile app also. So its better to start with the sitemile freelancer theme instead.