Great news everyone: from today 22 April 2011 we are happy to announce you the release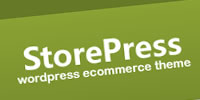 of the WordPress Ecommerce Theme version 2.0.0.2. We think is one of the best WordPress Shopping Cart themes on the market, and is aimed to the whole range of businesses, from small companies, to very big companies. If the info provided in this article is not clear enough you always have the support forums or you can directly contact us. You have below a list with all the new things in StorePress v2.0 and some more info about what can you do with this theme.
This new release has been tested and developed under the latest version of wordpress, version 3.1 with the latest subversion of wordpress, the 3.1.1 version. We also offer wordpress hosting for this theme if you dont have a place to host your theme.
Here is a complete list of features of v2.0.0.2
WordPress 3.1.1 , 100% compatible, and tested on Linux and Windows Server
products are stored as custom post types under wordpress
host blog articles along products thanks to wordpress custom post types
no more external mysql database calls, everything is done through wordpress api
product quantity feature added, from now you control how many products you have
custom fields for products, eg: color, size, weight, etc
shipping feature based on locations and distance done with Google Maps latest API
support for digital goods, sell digital goods like ebooks, prints, vector logos, etc
coupon code features, set different coupon codes, vouchers, promotions
support for Google Analytics and Google AdSense
new payment gateways: PayPal, MoneyBookers, AlertPay, Google Checkout, Authorize.net
advanced order management, easily manage your orders and shipping
very advanced search facility, very useful search feature for your customers
multi currency support, like USD, CAD, EUR, AUD, GBP and others
multiple widgets, like related products, featured products, etc
homepage carousel with images controlled from admin page
advanced shopping cart facility, very easy to use
How can I get this update?
In order to get the new version of StorePress you must log into your sitemile account, and download it from there. If you did not purchase this theme yet, you can purchase it from here, the official StorePress theme page. After installing this new update simply go to your wordpress admin side, deactivate the theme and reactivate this new version of it.
Can I use this theme in a multi wordpress site?
Yes you can use this theme in a multi site wordpress installation, it has been fully tested and working in a multi site installation. Is either under subdomains, like http://shop.mysite.com or under a folder in your site like http://mysite.com/shop
What else do I need to run an ecommerce site?
The StorePress theme is the only thing you need to run an ecommerce website. You dont need anything else, you dont need any plugin at all. This theme is packed with all the features you need to run a successful website.