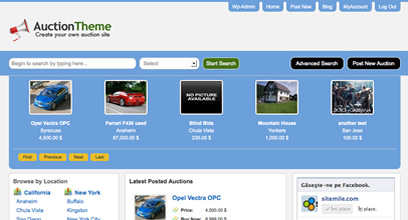 Hi everyone,
another exciting update (v4.3.7) has been released for the WordPress Auction Theme. This new update brings some pretty nice new features to the theme making it, or confirming the leader position on the market for the Sitemile Auction Theme. Along with the new features we have fixed some tiny bugs we had in the previous version. You will find a full features list, a demo site and a picture gallery with the theme in action on the Auction Theme official web page.
Below you will find a list with all bug fixes and additions for v4.3.7:
coupons and vouchers new feature added
quantity feature for each listed product (sell more items of the same product)
show all locations, duplicate location, bug fixed
show all categories, duplicate category, bug fixed
some translation words updated on the language file
crop image bug in auction single page, fixed
You can download v4.3.7 from your sitemile account. If you didnt purchase the theme yet, you can buy it from here: https://sitemile.com/p/auctionTheme. You can also purchase our membership subscription, which not only gives you access to the AuctionTheme but to all current and future themes and plugins we offer. Get more info here: https://sitemile.com/sitemile-membership-club/.
Also when you download the theme, do not forget we have update the sitemile framework as well. Download the new framework (v1.0.7) from your account as well.
Thank you,
Andrei from www.SiteMile.com