Finding the best classified ads website template is the ultimate goal for anyone wanting to create a classified ads website the fast way. But this process might be a bit complicated specially for beginners just wanting to have their own listing directory website. When in fact getting your own classified ads template is very simple to realise and actually build your own site. We are looking at website templates because thats most common type of php script to build a classifieds site. Most of these templates are bootstrap, and they are based on wordpress. Because wordpress is very popular and free for everyone. You just need a hosting package and the best classifieds plugin for wordpress.
What kind of sites can I launch with the classified ads website template ?
Using our theme you can easily launch all kinds of listing sites, like a craigslist clone type of site and other directory sites. It can be used to create automobile listing websites, classified ads personal sites, real estate ads and anything you might want. It comes with many customisation options in the backend, and you can change any element with page builder and options.
Is this the best classified template ?
We really think this is the best on the market because we do have the best support: which include livechat, email, tickets. And we do have a service to offer you a native app for your website/business. Plus the possibility to do custom work. And with our template options you can create a good stream of revenue from your customers as seen in the monetising a classified ads website article.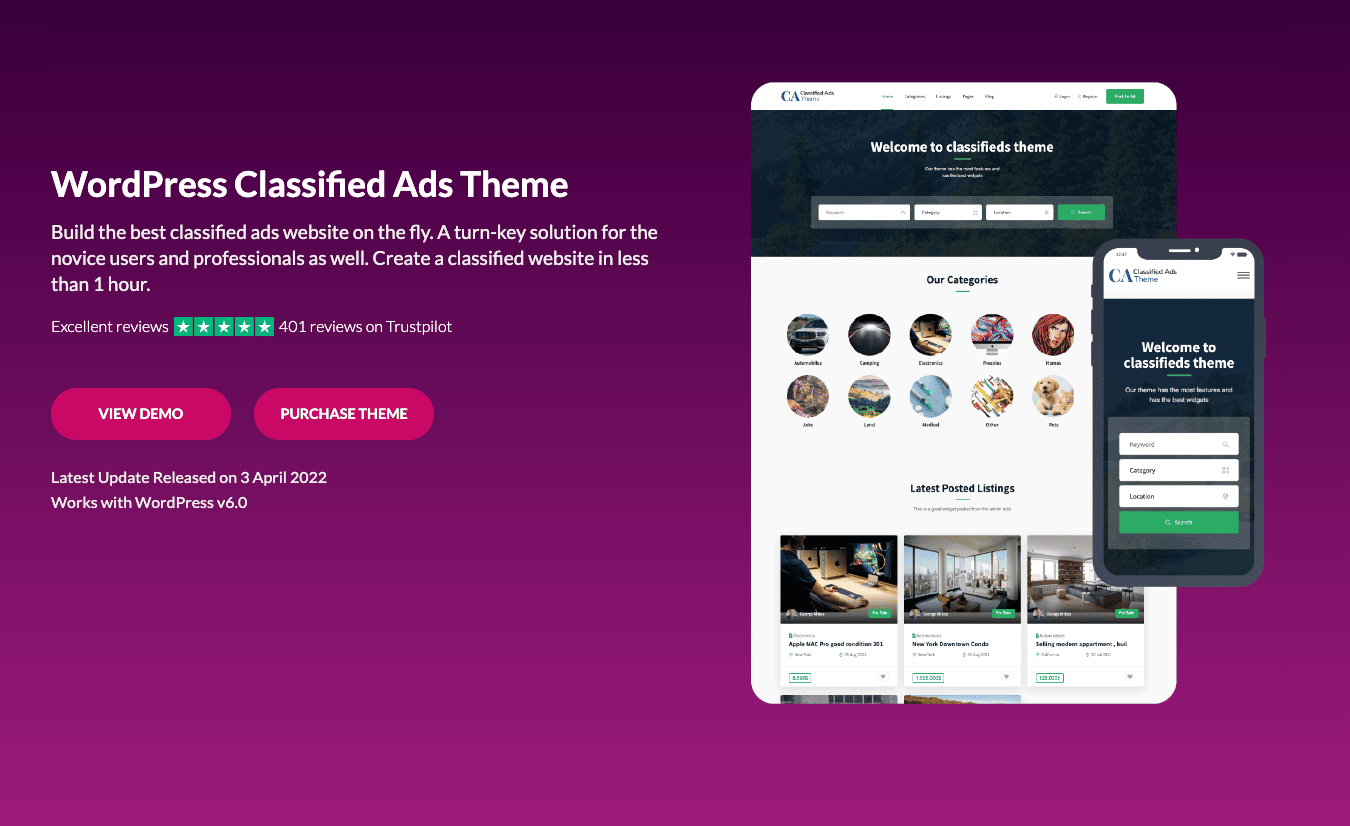 Here are some of the best features that it comes with:
themed dashboard for buyers and sellers
themed login/register pages for users
rating system for sellers
private messaging and chat system for users
report an ad feature
search page to find any item
find a car, find a contractor, find a product search pages
integration with location and google maps
radius search
payment gateways: credit card, stripe, paypal, payfast, 2checkout and others
And if you are looking for the best classified php script do not hesitate and try our classified theme. And yes it comes with a html bootstrap template as well in it. It is indeed based on php and the code is open, and you can do any kind of changes you wish. Or you can hire us to do further changes on it. Our team is at your disposal to help you with all any type of custom work out of this.
And if you want to make money with your classified ads website, after you have built it then you check that article. We describe in detail what are the monetization approaches that you can take when getting value out of your classified ads website. Plus you have some information if you want to start creating a classified site