When it comes to automobiles or auto auctions, we have two websites in mind "bring a trailer" (bringatrailer.com) and "cars and bids" (carsandbids.com). Thats because they are the most famous websites in the world for this type of auctions. And we think they have something amazing. They are made originally (or at least bringatrailer is) based on WordPress. Additionally in this article we will explain our view on how we can build something similar. And if you are looking for launching bring a trailer auctions then we can build a great alternative.
Let's talk
Schedule a discovery call with our team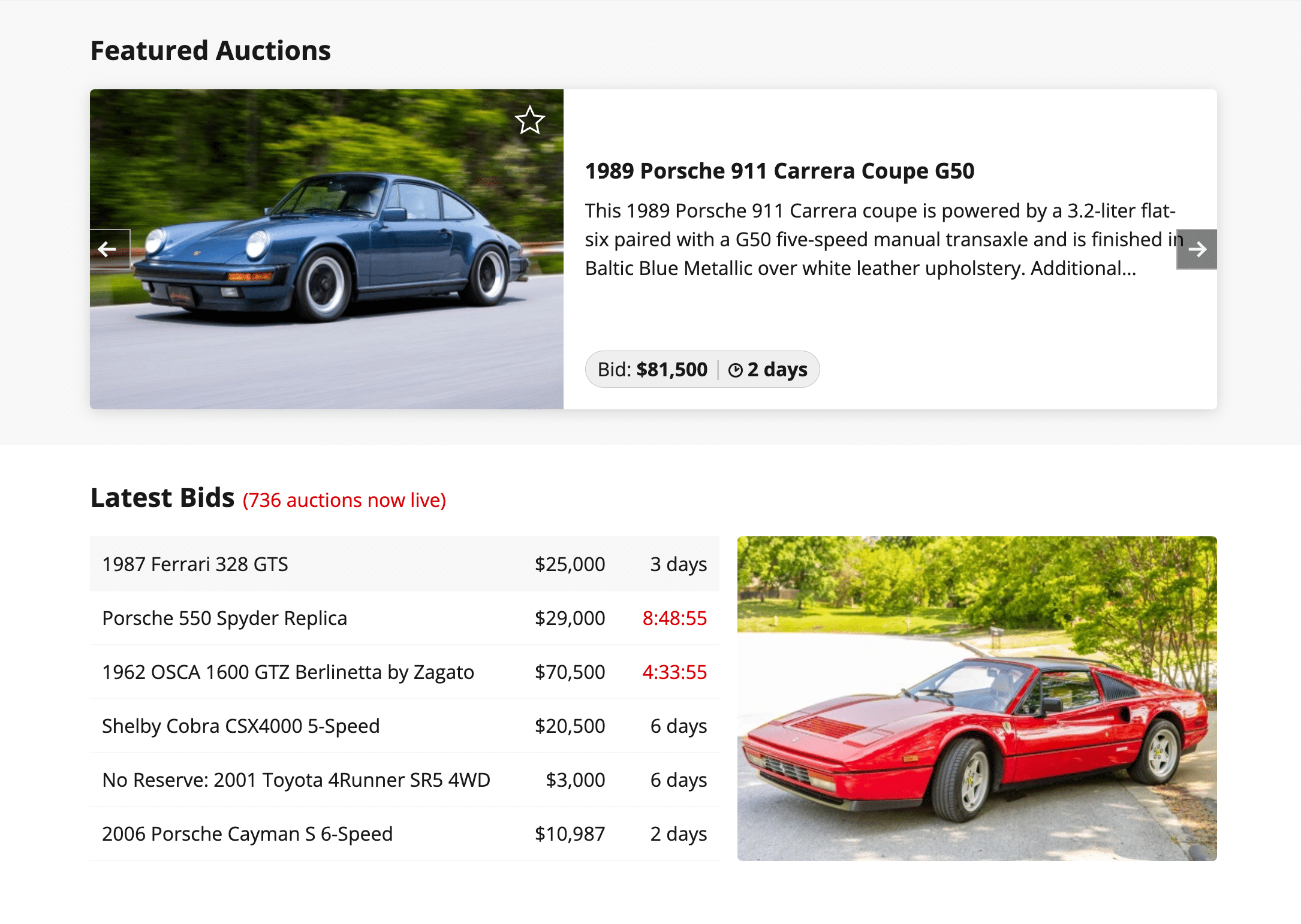 What is bringatrailer
Bring a Trailer (BaT) is an online auction website that specializes in vintage and classic vehicles. The site features a wide range of vehicles from various makes and models, including Porsche, BMW, Land Rover, and many others. Users can bid on vehicles, with listings providing detailed descriptions and images of the cars up for auction.
In addition to auctions, the site also provides resources such as a podcast, event calendar, and a gear store. The website is designed to cater to car enthusiasts and collectors, offering a platform for buying and selling unique vehicles.
Some of the featured auctions at the time of your query include a 2006 Ford F-550 Super Duty 4×4 EarthRoamer XV-LT, an 11k-Mile 1989 Ford Mustang Saleen SSC, a Safari-Style 1997 Porsche 911 Carrera Coupe 6-Speed, and a 1972 Maserati Ghibli SS 4.9, among others.
Bring a trailer and cars and bids features
Bring a Trailer (BaT) is a specialized online platform that focuses on auctions for vintage and classic vehicles. Here are the main features of the website:
Auctions: The core feature of the site is its auction platform. Users can bid on a wide variety of vehicles, from classic cars to modern sports cars and unique custom builds. Each auction listing provides detailed descriptions, images, and sometimes videos of the vehicles up for auction.
Vehicle Submission: Users can submit their own vehicles for auction. The submission process includes providing detailed information about the vehicle, including its history, condition, and any modifications or restorations.
Makes and Models: The site features a broad range of vehicles from various makes and models, including but not limited to Porsche, BMW, Land Rover, Ford, and Maserati. This diversity caters to a wide range of car enthusiasts and collectors.
Categories: Vehicles are categorized based on type, make, model, and other factors. This makes it easier for users to find specific types of vehicles they are interested in.
Charity Auctions: BaT also hosts charity auctions, where proceeds from the sale of certain vehicles go to specified charities.
Alerts: Users can sign up for alerts to be notified when certain types of vehicles are listed for auction.
Resources: The site provides various resources for car enthusiasts, including an event calendar, a podcast, and a gear store.
Community Engagement: BaT has a strong community of car enthusiasts. Users can comment on listings, providing a space for discussion, questions, and shared knowledge.
Relevant keywords include: online car auction, vintage cars, classic cars, vehicle submission, car makes and models, charity auctions, car alerts, car enthusiast resources, community engagement.
Bring a trailer auctions for different niches
Our web development services include different types of website building skills. And we have replicated bringatrailer or cars & bids for a few times for our customers. Plus our development prices arent high. So for a website like that we could charge around 15-25k$ with all the bells and whistles. You have an example about an auction firearms website that we recently built here.
So along with our auction engine, which is the wordpress auction theme, we are able to build a similar website to bring a trailer, or cars and bids. So do not hesitate to get in touch with us for a free price quote.
Want to build an alternative to these sites ?
Are you passionate about cars and looking to create an online platform that brings together car enthusiasts from around the world? Our web development agency specializes in building websites similar to Bring a Trailer and Cars & Bids. And our auction software is amazing. We can help you create a dynamic online auction platform for vintage, classic, and unique vehicles, complete with features like detailed vehicle listings, user submissions, categorized browsing, alerts, and community engagement tools. We understand the nuances of the automotive industry and can tailor the platform to meet your specific needs. Don't miss this opportunity to drive your passion into a thriving online community. Contact us today for a price quote and let's shift your vision into high gear!