Introduction to the Transportation Marketplace
In the fast-paced world of logistics, the transportation marketplace has emerged as a revolutionary concept. This platform serves as a digital bridge, connecting customers with drivers or transporters to facilitate the movement of packages. Our WordPress theme, Shipme, is specifically designed to help you build a robust and efficient transportation marketplace, akin to popular platforms like uShip or Shiply. Launch an online shipping marketplace with our fantastic theme and system and get even a mobile app developed.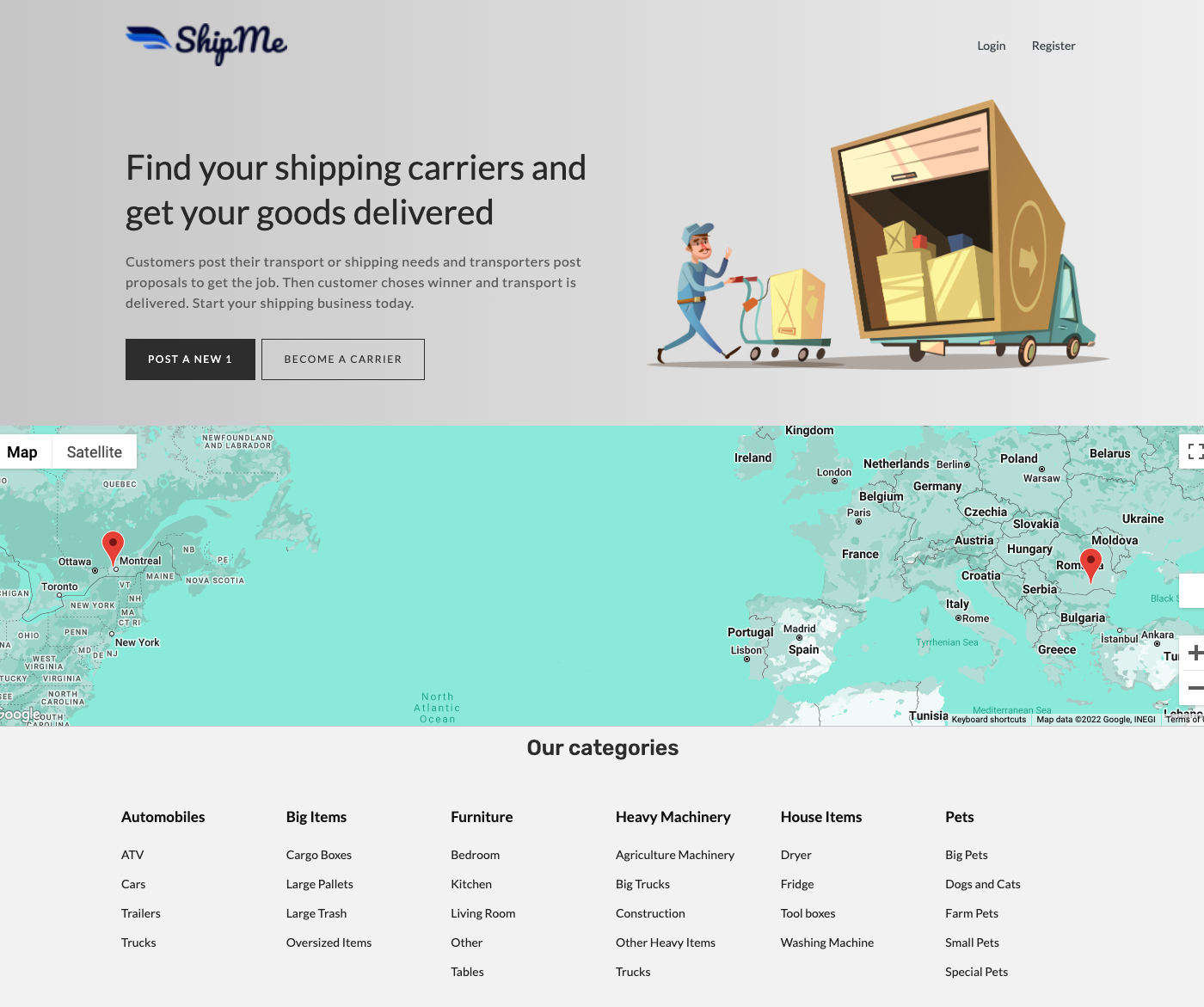 Build the best Digital freight marketplace with our software solution. Contact our team for further chat and build the best trucking marketplace. And this doesnt stop on trucking, but can also be done for: Air cargo marketplace or Ocean freight marketplace.
The Emergence of Transportation Marketplaces
Transportation marketplaces, including trucking marketplaces and freight marketplaces, have transformed the logistics industry by bringing together customers and transporters under one digital roof. This innovative solution simplifies the process of finding reliable transport services, making it a win-win for all parties involved. With our Shipme theme, you can create a platform that caters to this growing demand.
The Benefits of a Transportation Marketplace
A transportation marketplace offers numerous benefits. For customers, it provides a wide range of transporters to choose from, ensuring competitive pricing. For transporters, it offers access to a larger customer base, leading to increased business opportunities. Our Shipme theme is designed to maximize these benefits, providing a seamless user experience for both customers and transporters.
Why Choose Our Shipme Theme
Our Shipme theme is a comprehensive solution for creating a transportation marketplace. It's user-friendly, customizable, and packed with features that facilitate easy connections between customers and transporters.
User-Friendly Design
The Shipme theme is designed with user experience in mind. Its intuitive interface makes it easy for users to navigate the marketplace, whether they're customers looking for transport services or transporters looking to expand their business.
Customizable Features
The Shipme theme offers a high degree of customization. You can tailor the theme to fit your brand's aesthetic and meet the specific needs of your users. From color schemes to layout options, the Shipme theme allows you to create a marketplace that truly reflects your vision.
Advanced Features
Our Shipme theme comes with a suite of advanced features designed to enhance the functionality of your marketplace. These include a robust search engine, a secure payment gateway, and a comprehensive rating system, among others.
Building Your Transportation Marketplace with the Shipme Theme
Creating a transportation marketplace is a straightforward process with our Shipme theme. From installation to customization, we've got you covered.
Installing the Shipme Theme
The Shipme theme is easy to install on your WordPress site. It comes with a comprehensive guide that walks you through the installation process, ensuring you can get your marketplace up and running without any hiccups.
Setting Up Your Marketplace
Once the Shipme theme is installed, setting up your marketplace is a breeze. The theme comes with a step-by-step setup guide that helps you configure your marketplace, from setting up payment options to defining user roles.
Customizing Your Marketplace
The Shipme theme offers a wide range of customization options. You can modify the color scheme, layout, and other visual elements to align with your brand. You can also customize the functionality of your marketplace to meet the specific needs of your users.
Taking Your Transportation Marketplace to the Next Level
For those looking to expand their transportation marketplace beyond the capabilities of the Shipme theme, we offer customweb development and mobile app development services.
Custom Web Development Services
Our team of experienced web developers can help you enhance your marketplace with custom features and functionalities. We work closely with you to understand your specific needs and deliver solutions that align with your business goals.
Mobile App Development Services
In today's digital age, a mobile app can significantly enhance the reach and user engagement of your marketplace. Our mobile app development services are designed to help you create a seamless mobile experience for your customers and transporters.
Leveraging the Power of SEO for Your Transportation Marketplace
Search Engine Optimization (SEO) is a crucial aspect of any online platform. By using relevant keywords and optimizing your content, you can improve the visibility of your marketplace on search engines.
Identifying Relevant Keywords
Optimizing Your Content
Optimizing your content involves using your identified keywords in strategic places like titles, headers, and body text. It also involves creating high-quality, relevant content that provides value to your users. Our Shipme theme is designed to make content optimization easy, with features that guide you in creating SEO-friendly content.
The Future of Transportation Marketplaces
As technology continues to evolve, so does the potential of transportation marketplaces. By staying ahead of the curve and continuously innovating, you can ensure your marketplace remains competitive.
The Role of AI and Machine Learning
Artificial Intelligence (AI) and Machine Learning (ML) are set to play a significant role in the future of transportation marketplaces. These technologies can help improve the efficiency and effectiveness of your marketplace, from enhancing search functionality to personalizing user experiences.
The Impact of Blockchain Technology
Blockchain technology is another trend that could significantly impact transportation marketplaces. It offers potential benefits like enhanced security, transparency, and efficiency in transactions. As the technology matures, it could become a key feature of future transportation marketplaces.
Conclusion
Building a successful transportation marketplace involves more than just having a great idea. It requires the right tools and resources, like our Shipme theme, and a commitment to continuous improvement and innovation. With our custom web development and mobile app development services, we're here to support you every step of the way.
Remember, the success of your transportation marketplace depends on your ability to meet the needs of your users. By focusing on providing a seamless, user-friendly experience, you can ensure your online shipping marketplace thrives in the competitive logistics industry. And why not, develop a better online freight platform with us, and add a freight cost calculator to it. Contact us for a price quote. Build the best digital freight matching platform with us.