Instead of introduction
Creating a website like uShip or Shiply is achievable with the right tools and guidance. It's about having a platform that connects transporters with customers who need items shipped, commonly referred to as a "uShip clone" or "Shiply clone". A viable and user-friendly solution for this is the SiteMile ShipMe WordPress theme. Here's a guide on how to get started.
Firstly, you'll need a WordPress website. If you haven't already set one up, there are countless guides available to help you do this. Once your WordPress website is ready, the next step is to install the SiteMile ShipMe theme. This theme is designed specifically to help create uShip or Shiply clone websites and comes with many of the necessary features built-in. The idea of the site is similar to one on upwork clone or fiverr clone.
After installing the SiteMile ShipMe theme, you'll want to familiarize yourself with its features and settings. This theme offers a range of options for customizing your shipping marketplace. For instance, you can adjust the settings to suit the specific needs of your business model, whether you're facilitating local deliveries or international shipping.
Importantly, the SiteMile ShipMe theme supports a range of payment options, so you can ensure that transactions on your site are smooth and secure. It also offers a rating system, allowing users to rate transporters based on their experience. This feature encourages quality service and trust within your marketplace.
A noteworthy feature of the SiteMile ShipMe theme is its auction functionality. Like uShip and Shiply, your users can post their shipping needs and have transporters bid for the job. This competitive bidding system can help drive down costs and ensures that users get the best deal possible.
In conclusion, creating a uShip or Shiply clone is straightforward with the SiteMile ShipMe WordPress theme. The theme's robust features and customizable settings make it a versatile solution for building a successful shipping marketplace. Remember, the key is to understand your users' needs and adjust your website accordingly. With careful planning and execution, you could be the next big player in the shipping marketplace industry.
What is uShip or shiply system ?
THese systems or platforms allow moving companies to place price quotes for moving things around. So customers will want to ship items and they will find your online marketplace. They either pay subscription fees and truck drivers will be able to place bids or price quotes for transporting these items. Very similar to auto auction.
So as said the truck drivers or transporters will find shipments in the search area. The drivers will be individuals or any transport company. Then they will place price quotes. On top of that these companies or drivers will have to have cargo insurance and everything for dlivering the auto transport.
Furthermore down the road of uship clone type of website
When it comes to transportation freight marketplaces, we all think of uShip or other companies like uship. In this article we want to see how to create a website like uShip using wordpress. And for that we will need a theme that has a logic flow, of a reverse auction, or a uship auction type of logic. Where the customers will post transportation jobs and the carriers will bid like in an auction with their best offer for that particular transportation job. All these jobs have a starting and a destination point. Of course this guide can be used to create a website similar to shiply too, like a shiply clone site. And there is not big difference between shiply vs uship, but both can be obtained with our shipme theme and some custom web development which we offer.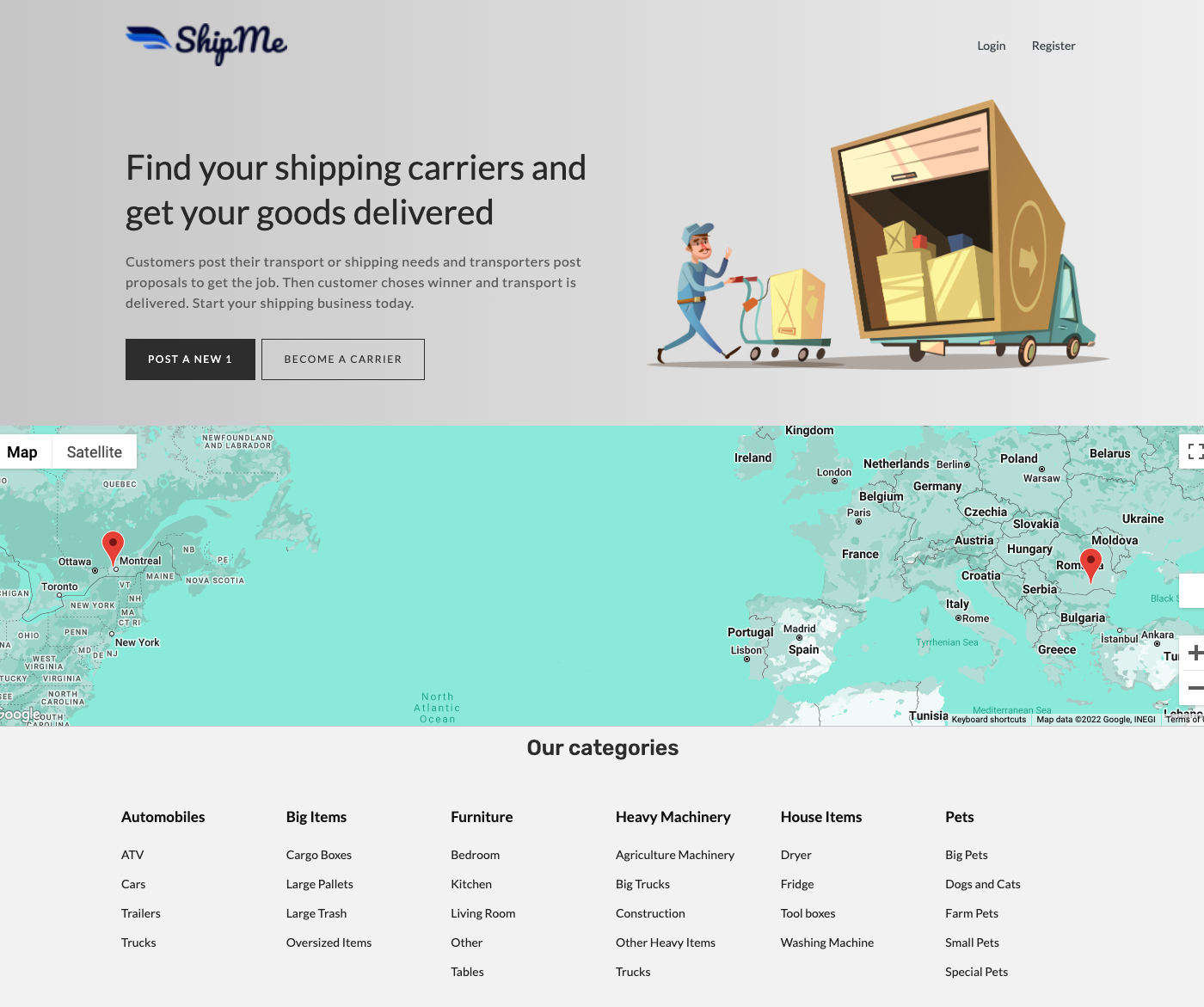 What is uShip ?
Well, uship like other shipping companies like uship is a website where a customer can post a quote request to transport an object (like an appliance) or a pet from a starting location to a  destination location. He will receive numerous quotes from various carriers that are on the platform. He will choose the best price he thinks is ok for him and transportation job begins. Payment is held into escrow and only released when deliver is complete. At the end the customer can rate the carrier with a 5 star rating. Basically uship is a freight marketplace website.
Also in this system, the drivers will have the ship load board, and uship loads where they need to transport. So the question on shiply vs uship, the thing is that they are very similar.
What wordpress theme can I use for the uship clone ?
When it comes to wordpress cms, we all know it uses themes. You could use free wordpress themes or paid wordpress themes. Right now we are talking about a paid wordpress theme. And the name of that theme is Shipme WordPress Theme. Because we have created this theme specially for this use case, of shipping freight marketplace type of website. This can be also used with some customisation we can provide for extra cost as a truck load board or as freight management. Logistics management and more.
What if i need a custom load board or freight management ?
The theme already comes with some features out of the box, but if you want us to do a custom app or web app for a truck load board or freight management, then we can do for you. You just have to tell us the custom specification of your project. Please do not hesitate to get a free price quote from us and contact us for one. Or maybe you need a system to bid on small freight loads or bid on hauling loads, we can offer you that of course. Just use the contact us button and get in touch with us. And you can either monetise this, or provide a free load board. Our prices range between $5,000 – $50,000, depending on the complexity of the system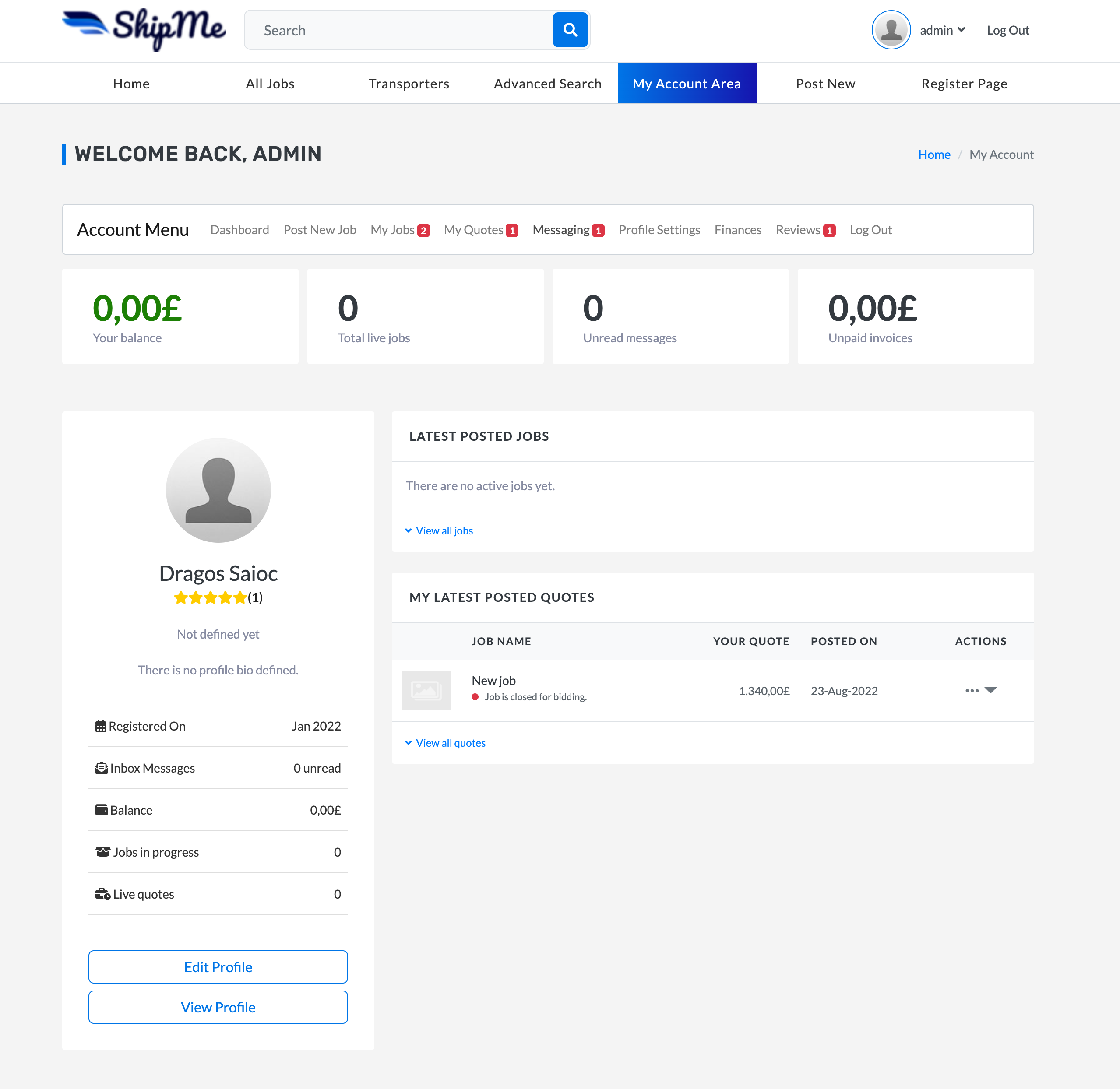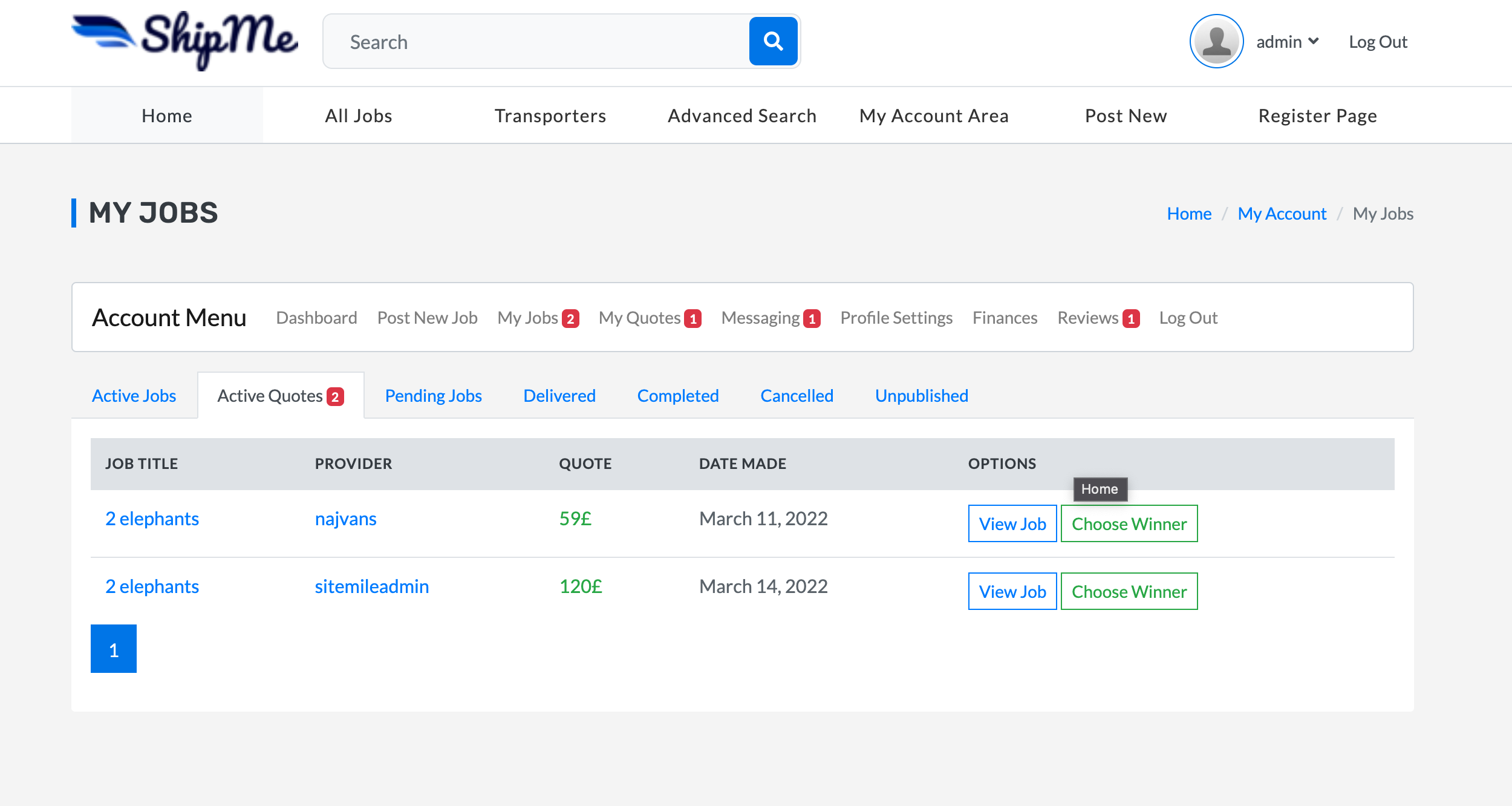 What about a system for truck load brokers ?
Yes we can do that too, imagine any system in the world or any option you might want for your freight bidding system, and we can do it. We can do in form of a website (or web app) and in form of a mobile app for your freight management business. Contact us today to plan the launch of your next big freight management project. Or just get in touch via the livechat widget (we are usually online).
Book shipments online ?
This system allows customers to book shipments online or create some specialized shipping solutions or custom shipping solutions. With this you can launch a free courier services, or even hassle free courier services. We are open to implementing any working model. And you can read more about transport marketplace here.
Also you can read more about our courier management software solution and offer.