When it comes to construction work or house renovation, we have a few key concepts. First the customer must find a way to get in contact with contractors. Normally thats done through some construction bidding software. In this web app or software, the customer will post up a project or a task they need done and the contractors will bid on that task. After some time, the customer, when he thinks he has enough offers, will choose the winner bid. Basically he will choose the contractor or subcontractor that will do the project for him.
What is construction bidding software ?
This is a computer program or a web app like a service where the customer can request a price quote for various house chores. Contractors then post bids on the things they can do and depending on the website quantity of materials along with them. The construction bidding software will offer a dashboard for both the customer and contractor. In the dashboard they will be able to see their projects, bids, reviews, private messages and personal information. This is very similar with any contractor software out there.
How is the bidding process ?
Depending on the website/service or the software used, the bidding process will be easier or more complex. In some platforms contractors will have to submit a series of documents and be verified manually by a professional before being part of the network. That way the platform ensures that all contractors that bid on projects are legit and they know what they are doing. This aspect gives credibility to the platform.
In some platforms the bidding can be straight forward, where the contractor will place a bid for the whole project while others offer a way to bid individually for each subtask and provide a price for materials and labour.
What is a good construction bidding software ?
When it comes to the actual bidding software, we have a few choices. There are more complex scripts than others. Our suggestions is to go with something thats easy to use, has all features that you need and doesnt imply an upfront cost of thousands of dollars. We have a project bidding theme which is based on WordPress. Because wordpress is a free and light weight and also very popular cms system. Think of this as any contractor software program out there. Our bidding theme comes with the best bare bone structure for creating a project bidding website. You could easily label it as the best construction estimating software.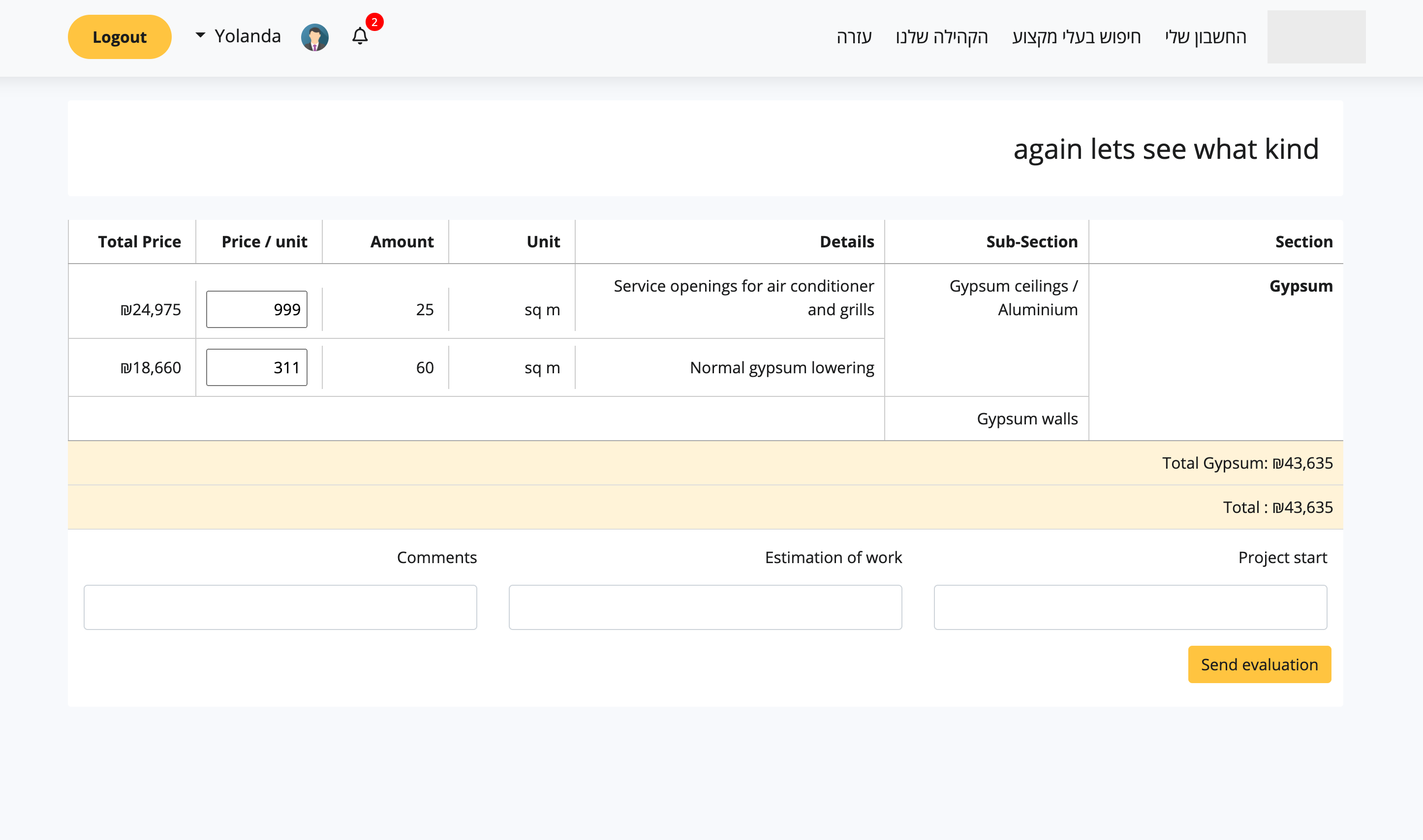 Can this be used for something else ?
Yes this bidding plugin can be used for many things that implies a reverse auction. Some customers want a remodeling estimating software and this can be a solution too. Some want commercial construction estimating software or residential, and this can be used for that as well. Our platform was used on all residential and commercial areas.
Can this be used as contractor software ?
Yes, with some modifications as we did for that particular customer, we can have a true software for contractors, and it will be an all in one solution. The contractors can generate invoices for customers, generate list of materials and labour work, and many things like that. Just ask us a price quote for getting this to the exact level that you want.
Revolutionize Your Bidding Process with Freelancer Marketplace System
In the cutthroat landscape of construction, securing a winning bid is paramount. That's where sitemile web development agency steps in. We've developed an innovative construction bidding software – Freelancer Marketplace System. This tool is specifically designed to provide you with a competitive edge in a crowded market.
Freelancer Marketplace System: A Game-Changer in Construction Bidding
What sets Freelancer Marketplace System apart? It's a blend of powerful features and user-friendly interface, specifically tailored for the unique challenges of the construction industry.
Automated Bid Generation
Manually creating detailed and accurate construction bids can be a painstaking process. Freelancer Marketplace System transforms this with its automated bid generation feature. Simply input your project details and let our software take care of the rest. You're left with professionally crafted, comprehensive bids in a fraction of the time.
Real-Time Cost Estimation
In an industry where cost variables fluctuate rapidly, staying ahead is crucial. With Freelancer Marketplace System's real-time cost estimation, you'll never be caught off-guard. Our software is consistently updated with the latest market prices to ensure your bids are not only competitive, but also profitable.
The Power of a Cutting-Edge Construction Estimating Software
Estimating costs for a construction project can be complex and time-consuming. To streamline this process, Freelancer Marketplace System integrates a powerful construction estimating software. This feature lets you calculate costs accurately and efficiently, thereby helping you make informed decisions for your bids.
Cloud-Based Collaboration
Construction bidding is often a team effort. Freelancer Marketplace System's cloud-based platform allows for seamless collaboration, no matter where your team members are. Share, review, and refine your bids collectively, promoting efficient collaboration and ensuring your bids are the best they can be.
Streamlined Project Management
Beyond bidding, Freelancer Marketplace System also provides robust project management capabilities. Track timelines, manage resources, and monitor budgets all in one place. This integrated approach eliminates the need for multiple tools and brings greater efficiency and control to your projects.
Freelancer Marketplace System: Your Comprehensive Solution for Construction Bidding
At Sitemile, we recognize that winning construction bids is about more than just the lowest price. It's about presenting a professional, comprehensive, and competitive proposal. Freelancer Marketplace System is designed with these principles in mind. It simplifies the bidding process and equips you with a powerful tool that enhances your bid management, improves your project execution, and ultimately helps you secure more projects.
Take the Next Step with Freelancer Marketplace System
Ready to revolutionize your construction bidding process? Try Freelancer Marketplace System today. Experience the benefits of streamlined bidding, real-time cost estimation, and seamless project management firsthand.
Conclusion
If you want to create a service or a website where people can post their projects and contractors can bid for them, and you need the construction bidding software, then our project bidding theme is the solution for you. And we do customisation work too, in case you just need something slightly tweaked. This construction bidding app is the best in the game. Do not hesitate to asks us a price quote.
Let's talk
Schedule a discovery call with our team