Understanding Fiverr Clones
A "Fiverr clone" refers to a similar platform to Fiverr, but developed independently. And its from the website clones category. This platform will follow the same freelance marketplace model as Fiverr, where people can offer and purchase services, often referred to as 'gigs.' With a Fiverr clone script or a Fiverr clone WordPress theme, you can set up your own micro job site with ease.
With our microjobs pricerr theme you will get similar features to the fiverr idea and you will be able to build a similar website. And of course we can do custom web development and mobile app development too. Prices start from $4500 for a custom website.
Choosing the Best Fiverr Clone Script
To build a successful site, your first step is to find the best Fiverr clone script. This is essentially the backbone of your website, so it's crucial to get this right. Look for features that align with your goals and audience needs. Fiverr clone script reviews can offer valuable insights. Also, consider exploring open source Fiverr clone options. These scripts can be customized to your specific needs and are often more affordable.
Setting up Your Fiverr Clone Site
Using a Fiverr Clone WordPress Theme
WordPress is a powerful tool that can help you set up your Fiverr clone site. With a Fiverr clone WordPress theme, you can easily design your website to mirror the familiar structure of Fiverr, making it user-friendly and easy to navigate. Themes also come with built-in features that can help your site run smoothly.
Customizing Your Fiverr Clone
It's crucial to differentiate your Fiverr alternative script from Fiverr itself. Customization helps you stand out in a crowded market. Whether it's adding unique features, changing the design, or integrating a unique payment system, customization can help you create a Fiverr competitor script that truly stands out.
How to Clone Fiverr Successfully
Understanding Your Target Audience
To launch a successful Fiverr clone, you need to understand your target audience. What are their needs? What services are they looking for? Answers to these questions can help you tailor your platform to meet their demands. By creating a site that resonates with your audience, you enhance the chances of your Fiverr clone site's success.
Creating Valuable Content
After setting up your Fiverr clone, it's time to populate it with valuable content. This includes creating clear, concise descriptions for the services on offer, as well as crafting engaging content for your blog. This can help improve your SEO rankings and draw in more traffic.
Preparing Your Fiverr Clone for Launch
Before you launch your Fiverr clone, ensure it's ready for the public. Test all features thoroughly, ensuring all scripts are working perfectly. A PHP Fiverr clone, for instance, requires specific server settings to run smoothly. Make sure everything is in place before the big launch.
Marketing Your Fiverr Clone Site
After launching your site, the real work begins. To attract users to your platform, you need a robust marketing strategy. This can involve SEO optimization, content marketing, social media advertising, and more. Use relevant keywords naturally throughout your content to improve your SEO rankings. Words such as "Freelance Marketplace Script," "Micro Job Site Script," "Fiverr Alternative Script," and more can help users find your site.
Conclusion
Creating a Fiverr clone site can be a lucrative venture if done right. With the right script, a solid understanding of your target audience, and a strong marketing strategy, you can create a successful platform that rivals Fiverr. It's a journey that requires effort and dedication, but the rewards can be significant. So# I'll continue from where I left off.
Now, let's finalize the conclusion.
"start your journey today and build your own Fiverr site. Remember, the success of your Fiverr clone site lies in your hands. Make it count!"
Lets face it, you are here because you are looking for a service marketplace wordpress theme. Something like a micro job wordpress theme. And you should be glad because you are in the right spot. With our fiverr clone, pricerr theme you will be able to do all these. And even much more. Read below the rest of the article to find out the best fiverr clone you can release with this theme. Amazing prices even for the discount campaigns we have in each period of the year. This also to not be confused with upwork clone wordpress theme. Which that is a totally different thing.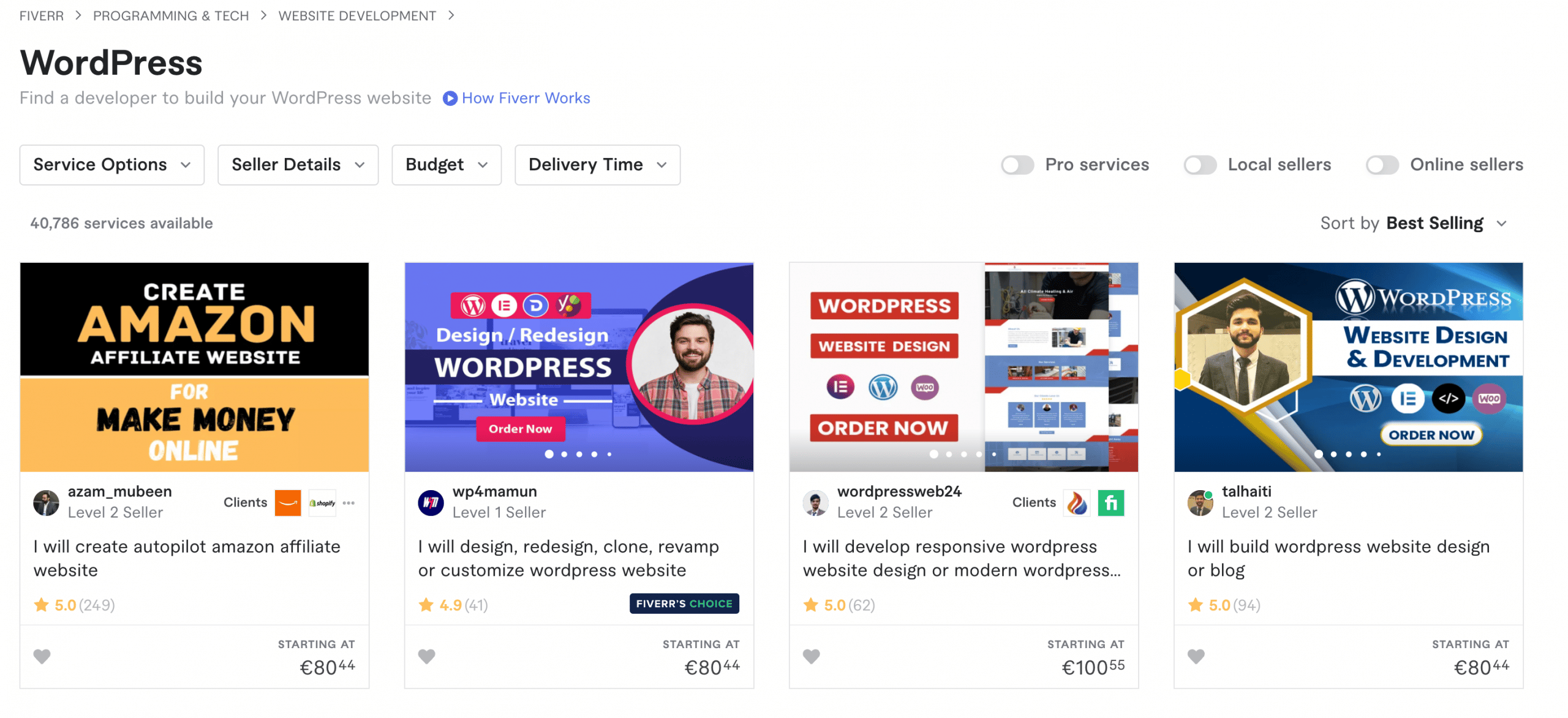 Another alternative would be to have a fiverr wordpress plugin which is very similar in functions to our pricerr theme. And you can read a more comprehensive guide about fiverr clones. And along with these if you are here for a freelance marketplace wordpress theme then do not hesitate to check out the freelancer theme and buy it today.
And even launching a marketplace website in the traditional way is easy to do with the help of wordpress. Check this marketplace article out.
With our website template like fiverr you will be able to get your own multi seller marketplace for services and even for physical goods in no time. And start making money out of commissions.
Looking for an upwork clone script ? Please do not hesitate to contact us and get a free price quote. We do everything and we have an amazing website cloning service.