Before the pandemic, the popularity of services websites like Fiverr, guru, upwork.com, freelancer.com and other sites like that was high , but this has grown over the pandemic even more. So you are here because you want to build
websites similar to fiverr. The amount of business these companies make has increased a lot in the past 2 years. More and more people want to offer their services remotely, and also more and more people need fast services like SEO, website setup and programming, app designing and implementation, article and content writing, and so on. This article will summarise how to create a website like fiverr using WordPress. This can literally be a fiverr wordpress solution.

Most likely you are here because you want to launch a multi seller marketplace or a freelancer marketplace like fiverr yourself. There are so many niches these days, as you cannot exhaust all the ideas you can do in this area not in a million days. In order to learn how to do this, we will walk you through what each concept means in the rest of this article.
What is Fiverr ? What are these multi seller marketplaces ?
Websites like fiverr and upwork offer a way for processionals to display their work and services for a cost. The buyers and interested people browse through these services and pick and buy the one they need. Then the work starts, and the service provider/programmer will deliver the service. There is also an internal way to communicate inside of the platform through private messages and chats. You would want people to remain inside of the platform, as payment happens through the platform, otherwise the users will avoid the commission fee. You will monetise your service marketplace website by taking a percent commission out of each sale. You can also read more about marketplace websites in general.
How can I use wordpress ?
You are probably wondering how can you use wordpress for this purpose. Some people live with the idea that wordpress is a very limited tool, when in fact its a very capable cms. In the past 10 years things have evolved so much , that you can do almost anything with it. Thats why using the proper theme can transform your website 100%.
What theme can I use for a multi seller marketplace?
We propose the usage of our Pricerr theme, which covers exactly the case presented here, meaning it will allow people to post their services, offer them a profile/shop page, and sellers will be able to view the services they offer, and actually buy them. The transaction happens in the website, and all users have complete themed dashboards and can control and see their sales. On top of these you will have a comprehensive and fully featured admin dashboards, which will let you control and visualise all the orders and users in the website. And this theme is a true fiverr wordpress alternative.
And with the pricerr theme that we offer, you can create a true and fully functional fiverr clone for your niche. And that type of site, is more like malt, if you are familiar with that.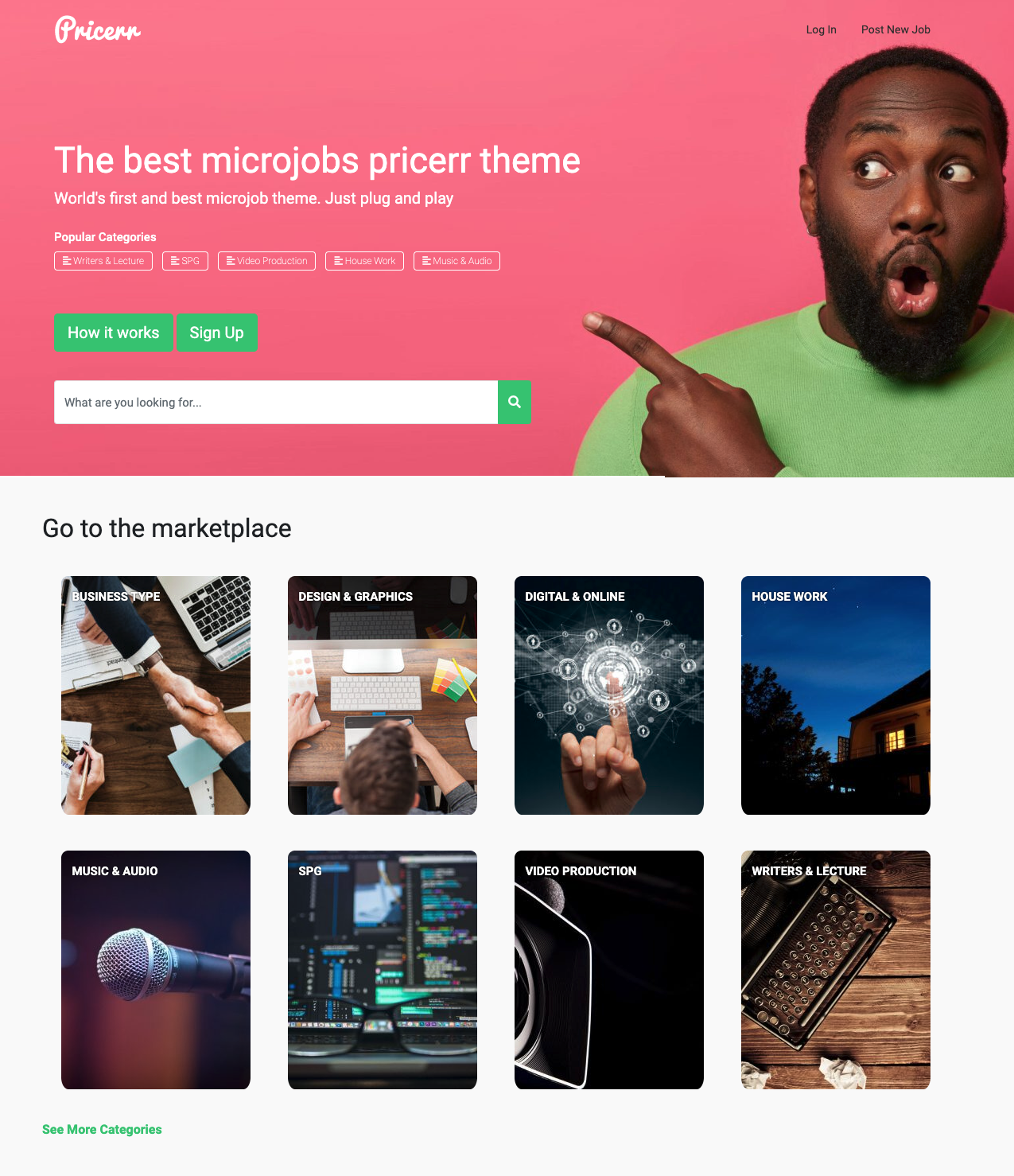 As you see here below, the themed account and earnings area.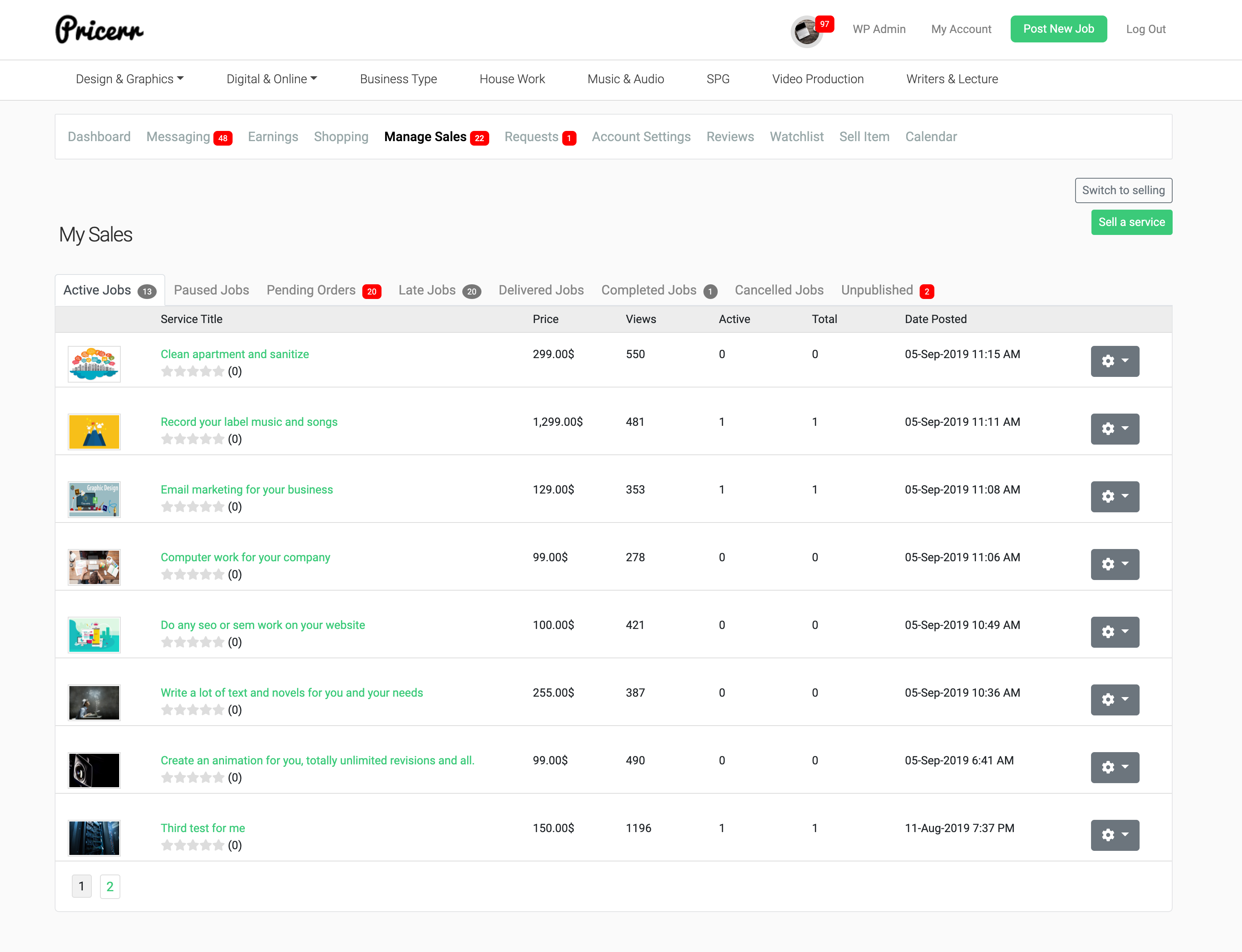 What other sites like fiverr there are ?
There is a big list of websites trying to replicate the model of fiverr for different niches, and each has know success in its own special way. Here is a list of other famous websites that are like fiverr:
upwork
99designs
toptal
freelancer.com
truelancer
peopleperhour
Besides these there are so many alternatives to fiverr, or alternatives to up work, or anything like that, and we do not have the time and space to list them all. But all are unique in their own way. Similar sites that you can build are taskrabbit clone alternatives.
What are the main features of this fiverr like wordpress theme?
Seller and Buyer dashboards – provides themed dashboards for all users
Profile pages – each seller has their own profile page, showcasing all their services
Credits and eWallet system – purchase everything through the site
Monetisation tools – various way to make money out of your website
Payment gateways – tons of payment gateways available like paypal, stripe, authorize
Themed login and register screens
Supports page builders like elementor or divi
Booking Calendar – sell bookable services
Woocommerce Support – higher tier versions support woocommerce
And if you want to read more about a revised tutorial on how to launch a fiverr clone, or a site like fiverr, then read this article.