The cost to make a website for a small business can vary greatly depending on several factors, but generally, you can expect to spend between $2,000 to $9,000. This range includes costs for domain registration, hosting, design, development, and initial website maintenance. However, additional features, complex designs, or e-commerce functionalities can increase the cost. It's important to note that these are estimated costs and the actual cost can be lower or higher based on your specific needs and choices.
Read below the article and costs breakdown, and get in touch with us and lets discuss your project. And we will use a website design cost calculator and give you a price. Choose us and get the best web designers and developers and see our website builder services.
Introduction
The Importance of a Website for Small Businesses
In today's digital age, a website is a must-have for any small business. It's your digital storefront. It showcases your products or services to the world. It helps you reach new customers and grow your business.
Understanding the Costs of a Website
Creating a website involves various costs. These can range from domain registration and hosting to design and development. It's crucial to understand these costs before you start. This way, you can budget effectively and avoid any surprises.
Factors Influencing the Cost of a Website
Several factors influence the cost of a website. The complexity of the site, the number of pages, and the specific features you need all play a part. In the following sections, we'll break down these costs in detail. This will help you make an informed decision about your website investment.
Why Your Small Business Needs a Website
Because the online world and having an online presence will give you so many opportunities, having a website for your business its vital. Here are the main reasons why your small business will need a website. Read below a number of reasons why your business will need a website and increased online presence:
Types of Websites and Their Costs
Small Business Websites
Small business websites typically consist of up to 16 pages. These include home, about, services or products, contact, and perhaps a few blog posts or case studies. The cost for such websites usually ranges from $2,000 to $9,000. This cost includes domain registration, hosting, design, and development.
Corporate Websites
Corporate websites are more complex. They can have up to 75 pages or more, including multiple product pages, a blog, a news section, and perhaps a careers page. The cost for these websites typically ranges from $10,000 to $35,000. This cost reflects the increased complexity and the additional time required to design and develop these sites.
E-commerce Websites
E-commerce websites are online stores where transactions occur directly. They require additional features like product pages, shopping carts, and secure payment gateways. The cost of an e-commerce website can vary greatly depending on the number of products and the complexity of the site. However, you can generally expect to spend anywhere from $5,000 to $55,000 or more.
Remember, these are average costs. The actual cost of your website could be lower or higher depending on your specific needs, the web designer or agency you choose, and the complexity of your site.
You Can Make Sales at any time and place
Because your website will be all the time online, you will be able to sell your products at any time or place. Because the in-person sales need to be supplemented by online sales, having a website is a great opportunity for any business. But not only just a site, but an e-commerce website. So that is essential these days to have.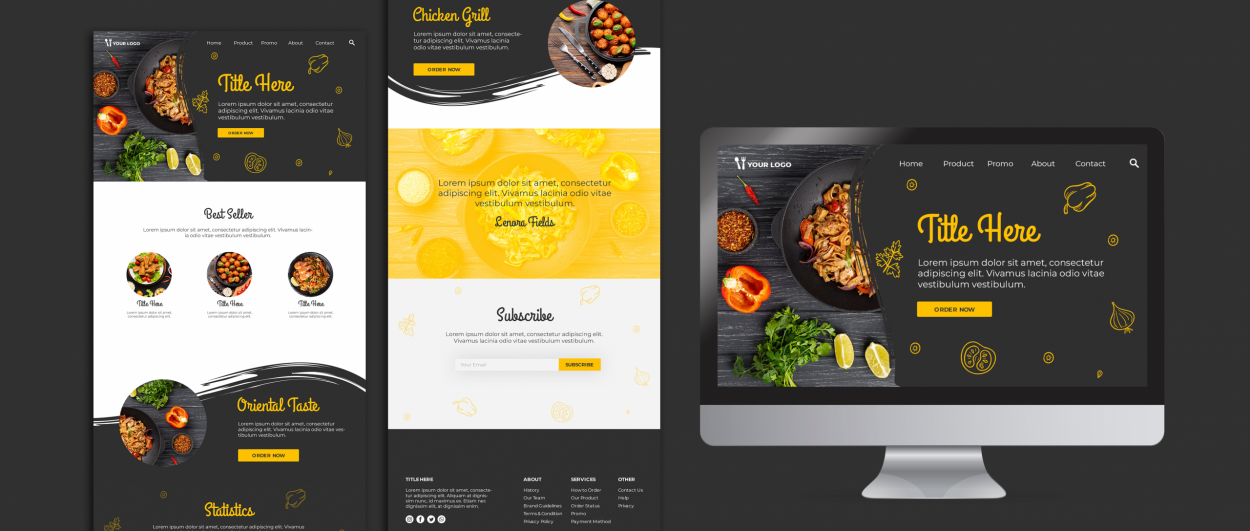 So small business owners are mandated to think on expanding their sales, but getting online sales and succeeding. So for that they need a web site built, preferably e-commerce, and of course digital marketing, content built, copywrite and other things like that.
You Have Space to Show off Your Products and Services
Finally with an online website, any business big or small, has a place to show off their products. And that gives you the opportunity to meet your potential customers. So seeing all the products in an online site, might influence to take a buying decision quite fast, or just come back for more insights. But the important thing is that you will have the site up for them all the time.
Or you can collect newsletter applications or mailing lists, into a CRM. And email them later for discounts or promotion offers. So your website landing page will be one of the most important marketing tools you can have at your disposal. That is why your landing page should be stunning.
You get the Opportunity to Be Found by New Customers
Building the website itself, and having it online is not the only thing you need. And in order for your potential buyers to find you, then your site must show in search engines. That is why you need to have SEO done to your website. Thats where a digital marketing agency will come into place. They will give you all the correct content and create copy for your website, and research keywords and everything needed for the site.
SEO freelancers or consultants usually charge you 50$-100$ per hour but that cost can vary a lot if you are using a good agency. And they vary also based on how many keywords you optimize for, and content quality. Plus for SEO you need to wait a few weeks or even months to see the results actually working.
You Have a Home for Your Best Testimonials and Reviews
Having online reviews for your services and business is getting very important these days. And although word of mouth recommendations remains a good driver for any business, you still need to think on online reviews. And where better place to display it other than the website of your business. You could use also Yelp and Facebook or even trustpilot to gather online reviews. But also you can show it on your site.
Breakdown of Website Costs
Domain Name and Hosting
The first step in creating a website is securing a domain name and hosting. The domain name is your website's address on the internet, while hosting is where your website files are stored. Domain names typically cost around $10-$15 per year, while hosting can range from $3 to $30 per month, depending on the provider and the plan you choose.
Website Design and Development
The design and development of your website are where most of your budget will go. This includes the layout, graphics, color scheme, and functionality of your site. Depending on the complexity of your website, the number of pages, and whether you hire a freelancer or an agency, this can cost anywhere from $1,000 to $10,000 or more.
Website Maintenance and Updates
Once your website is live, it will need regular maintenance and updates to ensure it continues to function properly and stay secure. This can include updating your content management system, plugins, and making sure your site is compatible with the latest browsers. The cost for maintenance can range from $50 to $500 per month, depending on the complexity of your site and the frequency of updates.
Remember, these are estimated costs and the actual cost can vary based on your specific needs, the professionals you hire, and the complexity of your website.
How Much It Costs to Build a Website
Wether you are building a custom website or a bespoke website, or getting a prebuilt template, you still need someone to do it. That is either a freelancer website designer or a web design agency. But how much is that going to cost ? well that will depend on the features and the type of website that your business needs.
If you are just showcasing just some services you offer, like a service based website, then the website will have no more than 10 pages.  But depending on your plans, either build it yourself, or hire an agency to do it, the costs are around $500 to $5000. And for an e-commerce website, the average cost is somewhere around $2000 and $100,000. And yes, that is a huge interval of minimum and maximum amounts, but all comes down to features and customer support. Your business model will determine the features that you need.
Before diving into build your website, you need to evaluate the kind of site you need. And of course a list of features you want to have in your site. A small business website will not have too many features, but you still have to make a plan. Because this will be different than a 5 page website price.
If you go with the do it yourself route, you have to have in mind that web development can take a lot of time. And to be honest if you are not an expert, the result will not be good for a serious business. Thats why you should always think on hiring a web design agency for web development and web design. They have specialised professional developers that can design your website professionally.
Get web design services for small businesses.

Additional Costs to Consider
SEO Services
Search Engine Optimization (SEO) is crucial for improving your website's visibility on search engines like Google. This involves keyword research, on-page optimization, link building, and more. Depending on whether you do this yourself or hire an SEO expert, this can add an additional $300 to $1,500 per month to your website costs.
Content Creation and Marketing
Your website needs high-quality, relevant content to attract and engage visitors. This can include blog posts, videos, infographics, and more. Depending on the volume and type of content, this can cost anywhere from $50 to $500 per piece if you hire a professional content writer or marketer.
Social Media Integration
Integrating your website with social media platforms can help increase your online presence and reach more potential customers. This involves adding social media buttons, feeds, and sometimes even a chat feature to your website. While some of these features can be added for free, others may require premium plugins or custom development, which can add to your costs.
Remember, while these additional costs can increase your initial website budget, they are investments that can help increase your website's visibility, attract more visitors, and ultimately grow your business.
FAQs
How much does it cost to pay someone to build a website for you?
The cost of hiring someone to build a website can vary widely depending on factors like complexity, features, and expertise. On average, a basic website may cost around $1000-$5000, while more complex sites with e-commerce functionalities can range from $5000 to $20,000 or more.
How much does it cost to maintain a website for a small business?
The cost of maintaining a website for a small business typically includes expenses like domain registration, hosting, updates, and backups. On average, it may cost around $300-$1000 per year, but this can vary depending on the website's size and requirements.
How much does it cost to run a website for 1 year?
The annual cost of running a website depends on factors like hosting, domain renewal, security measures, and any additional services or plugins. On average, it may range from $500 to $5000 per year for small to medium-sized websites.
What is the minimum cost of a website?
The minimum cost of a website can be as low as $100 for a simple one-page site using a DIY website builder. However, this basic option may lack customization and professional features. For a more functional and customized website, hiring a freelancer or using a web agency may cost around $1000 or more.
How long does it take to build a website for a small business?
The time to build a website for a small business can vary depending on its complexity and the developer's workload. Simple websites can be completed in a few weeks, while more intricate ones may take 2 to 6 months or longer for extensive e-commerce or custom features.
Is a website good for small business?
Yes, having a website is essential for small businesses. It provides a digital presence, enhances credibility, and increases visibility to potential customers. A website enables businesses to showcase products, services, and contact information, facilitating customer engagement and growth.
How much does it cost to develop a small business website with WordPress?
The cost of developing a small business website with WordPress can vary based on customization, features, and complexity. Using a pre-designed theme and basic features, the cost may be around $500 to $3000. However, for more personalized designs and advanced functionalities, it can range from $3000 to $10,000 or more.
How much does it cost to have a 5-page website?
The cost of a 5-page website can vary based on several factors. A basic 5-page website, with standard design and essential features, may cost around $500 to $1500. This typically includes the homepage, about us, services or products, contact us, and one additional page.