Let's face it, taskrabbit clone type of website is a very desired website. Because the business model, based on a multi seller marketplace for services, makes money! And who doesnt want to make money. If you are wanting to build a site like that, read below and lets dive in!
A little overview about our Taskrabbit clone service
If you are wanting to build a Taskrabbit clone website, then this is the article to read. Because along with our wordpress themes and apps, we do offer proper web development services to build a taskrabbit alternative website. And along with these amazing themes we use as a base , we do bring in mobile app development too. So we offer the complete package to develop a fully featured taskrabbit clone site. And on top of that our prices are nowhere near the big and pretentious agencies out there, which charge you $50,000 – $100,000 for a similar type of site. So with us you can go as little as $5,000 – $10,000 for the website version, and around 15-20K$ for the one that includes native phone apps.
Build a taskrabbit clone type of website with our web development team, for just $6500 USD. And add an app (native ios and Android, complete package) on top for just $15.000 USD.
Contact us today!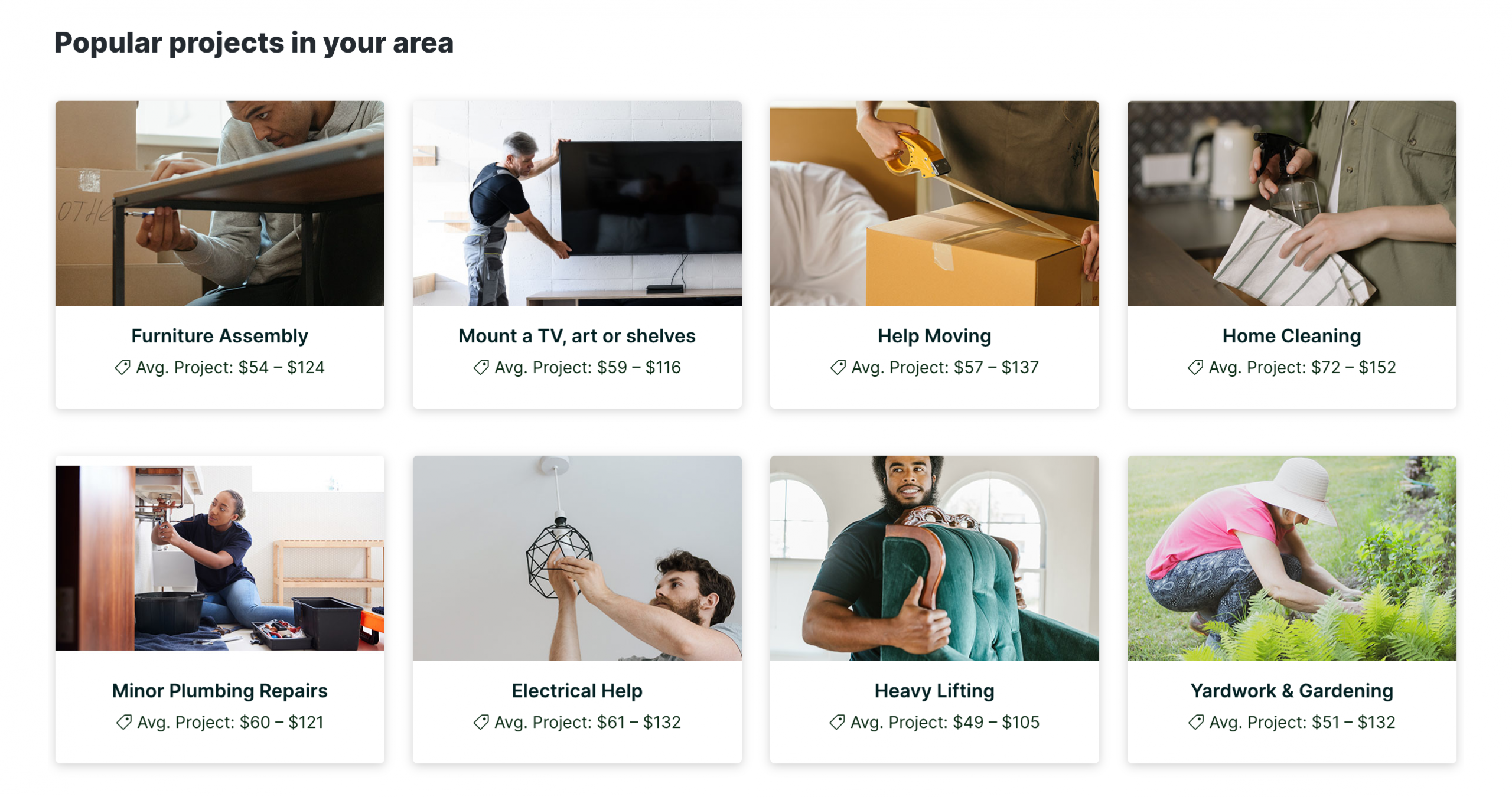 App clones specialists
Our team specializes in doing app clones and custom development. So get in touch with us and have the confidence we can build it. And we do the similar with other popular platforms like thumbtack clone.
Launching your site with the taskrabbit clone script
We consider our pricerr – service marketplace theme, which is the service marketplace a real script to launch your taskrabbit clone website. But will need some custom development from our side to match 100% the taskrabbit website. This is not something off the shelf completely, but the advantage is that you will be able to choose design, choose functionality features that you want to be different and so much more. So get in touch with us today and get the best clone app development company!
Looking for doordash clone ? Build one today with us and WordPress. And we even do taskrabbit clone app , because we do app development as well. Plus when we hand over the project, we will give you taskrabbit source code too.
About taskrabbit service marketplace
TaskRabbit is an online and mobile marketplace that matches freelance labor with local demand, allowing consumers to find immediate help with everyday tasks, including cleaning, moving, delivery, and handyman work. Founded in 2008 and headquartered in San Francisco, the company has become a key player in the gig economy.
Users of TaskRabbit access the platform to find "Taskers" – independent contractors who offer their services in various fields. After creating an account, users can browse through a list of tasks or search for a specific task they need help with. They can then view profiles of Taskers who are qualified to perform the task, see their hourly rates, read reviews from previous clients, and hire them directly from the platform.
Once a Tasker is hired, the user can communicate with them through the platform to provide further details about the task. Payments are also handled through TaskRabbit, providing a secure method of transaction. The platform benefits both parties: users get their tasks done without the need to commit to a long-term contract, and Taskers have the flexibility to work on tasks that match their skills and preferred schedule.
Looking for grubhub clone ? no worries, we do that too and even if you are looking for gojek clone or Rappi clone we can do that too.
What is taskrabbit
TaskRabbit is an online and mobile marketplace that matches freelance labor with local demand. Users of the platform can find immediate help with everyday tasks, including cleaning, moving, delivery, and handyman work. It was founded in 2008 and by 2021 it operated in cities in the United States, the United Kingdom, Canada, France, Germany, Spain, and Portugal.
TaskRabbit allows users to find "Taskers", individuals who are willing and able to perform tasks. Users can browse Taskers in their area, check out their reviews and rates, then hire them directly from the app or website. Taskers can set their rates and work schedule. TaskRabbit takes a service fee from tasks booked through its service.
Do you need a lyft clone ? of course we can do that too.
How does it work ?
TaskRabbit operates through a relatively straightforward process:
Post a task: Users begin by describing the task they need help with. They choose from a list of categories that include things like handyman services, cleaning, delivery, moving help, and more. They provide details about the task and when they'd like it completed.
Choose a Tasker: After posting a task, the user is shown a list of potential "Taskers" – people in their area who have skills that match the task requirements. The list includes information about each Tasker's hourly rate, reviews from previous clients, and skills. The user then chooses the Tasker they want to hire for the task.
Get it done: The Tasker comes at the scheduled time and completes the task. Users and Taskers communicate through the TaskRabbit platform to coordinate details.
Payment: Once the task is completed, the user pays through TaskRabbit's secure payment platform. The payment includes the Tasker's hourly rate and a service fee that goes to TaskRabbit.
Review: After the task is complete, users and Taskers can leave reviews for each other. This helps other users when choosing a Tasker and helps Taskers improve their service.
Main Features of taskrabbit clone
TaskRabbit, as a pioneering platform in the gig economy, offers several key features that make it attractive to users and have served as inspiration for many "TaskRabbit clone" apps. Here are the main features:
Wide Range of Services: TaskRabbit offers a broad variety of services, from cleaning and handyman tasks to personal assistance and moving help. This versatility makes it a one-stop-shop for many types of tasks.
Geolocation: The platform uses geolocation technology to match users with local Taskers. This ensures that the help is always nearby, saving time and reducing logistical complications.
Secure Payment System: TaskRabbit includes an integrated payment system, making transactions seamless and secure. The platform holds the payment until the task is completed, providing protection for both users and Taskers.
Transparent Pricing: Before hiring, users can see Taskers' hourly rates, which Taskers set themselves. This transparency helps users make informed decisions and manage their budgets effectively.
Review and Rating System: TaskRabbit includes a review and rating system, allowing users to provide feedback on Taskers they've hired. This helps build trust within the community and guides users in selecting reliable help.
Real-Time Communication: The platform allows users and Taskers to communicate directly, facilitating coordination and ensuring clear understanding of the task at hand.
Scheduling: Users can schedule tasks in advance, making it easier to plan and manage their time. Taskers also set their own availability, providing flexibility for both parties.
Insurance Protection: TaskRabbit offers insurance protection, providing peace of mind for users and Taskers alike.
Mobile and Web Accessibility: TaskRabbit's user-friendly mobile app and website make it easy for users to post tasks, review Taskers, and manage their tasks from anywhere.
These features collectively provide a comprehensive and user-friendly experience, making TaskRabbit a popular choice for those seeking help with tasks. They also serve as a blueprint for anyone looking to develop a "TaskRabbit clone" or similar service marketplace app.
It's important to note that all Taskers are independent contractors, not employees of TaskRabbit. They set their own rates and choose their own schedule. TaskRabbit provides the platform for connecting Taskers with people who need tasks done.
Looking for an airbnb clone ? Read that article because we do that clone script too.
Frequently asked questions
What is similar to TaskRabbit?
There are several platforms similar to TaskRabbit that also connect individuals needing services with freelancers willing to provide them. These include Thumbtack, Fiverr, Handy, and Upwork.
What happened to TaskRabbit?
As of my knowledge cutoff in September 2021, TaskRabbit was still operational. It was acquired by IKEA in 2017. For the most recent updates, I would need to check the current status online.
Can TaskRabbit be trusted?
TaskRabbit is generally considered a reputable platform. All Taskers must undergo an identity check and a background check. However, as with any platform, the quality of service can vary between individual providers. It's always a good idea to check reviews and ratings before hiring someone.
What is the difference between thumbtack and TaskRabbit?
Both Thumbtack and TaskRabbit are platforms that connect service providers with clients, but they operate slightly differently. On TaskRabbit, you can browse through a list of Taskers, see their hourly rates, and hire them directly. On Thumbtack, you describe the job you need done, and then professionals can send you quotes for the work. You can then choose the professional you want to hire based on their quote and profile.
How much does it cost to make an app like TaskRabbit?
Our cost starts somehwere from $4500 usd for the web version and you can easily get to $15,000 if you want to get the app version as well. But its better to get in touch with us to have the exact price quote sent to you based on what your needs are. Because depending on your niche you might want to have extra features, and other features not present.
How do I make a tasker app?
Its the same as the others, you just have to contact a web development or an app development agency and request a price quote. Sitemile is a great agency and can help you develop any kind of custom tasker app, or clone scripts that you might wish.
How to make an app like TaskRabbit?
To build an app like taskrabbit you will have to hire a web design agency, like sitemile and they can build an app. But building an app isnt enough. You will have to have an idea about marketing, building a website and everything else business related.
What languages do we use: React JS for the front end, Node JS for the backend (or PHP for wordpress), and jQuery, html + css and javascript, and mysql for database. And we do the mobile app development with React Native, obtaining a taskrabbit clone app for iOS and Android. Plus we even help you to publish into the app store and google play store. The version with the app is around $15,000 (includes website, app for ios and app for android)
We are building all these sites from scratch for you as the customer, and we do not intend or want to clone these sites 100%, but use the same idea or general flow, and customise it to fit your custom needs (maybe a different niche, like events, painters, lawn mowing services). So contact us for a customised multi-seller service marketplace website. And in the process of creating these sites we are not going to copy any trademarks of the respective sites.
Get in touch with our clone app developers today and choose from the Clone apps for sale that we have!
Launch a taskrabbit competitor
Why not launch a taskrabbit competitor, or similar site ? Well if you want to do that, our service for development, is at your disposal. So get back to us and lets discuss developing the best niche service marketplace website.
Contact us to build this clone site because many people ask about this clone website in our presale forums.