In this small article we want to see if we can launch a thumbtack clone website using wordpress. Why wordpress ? Because wordpress is inexpensive, and it has tons of support, and also is a free open source cms. And this makes it the perfect solution for an MVP of thumbtack clone project. Also wordpress can be used for any kind of marketplace or service marketplace directory website you have in mind. The thing can go insane and literally you can realise anything with it. You just have to find the proper developer and the proper theme to start with. So lets dive in.
This guide will explain how to create an app similar to thumbtack, but also services like thumbtack. So this thumbtack site model is very similar to another idea we did implement for another customer, and that was contractor software. The construction bidding platform or the contractor software is explained in another article. So read below to find out more about the thumbtack clone and the thumbtack clone script.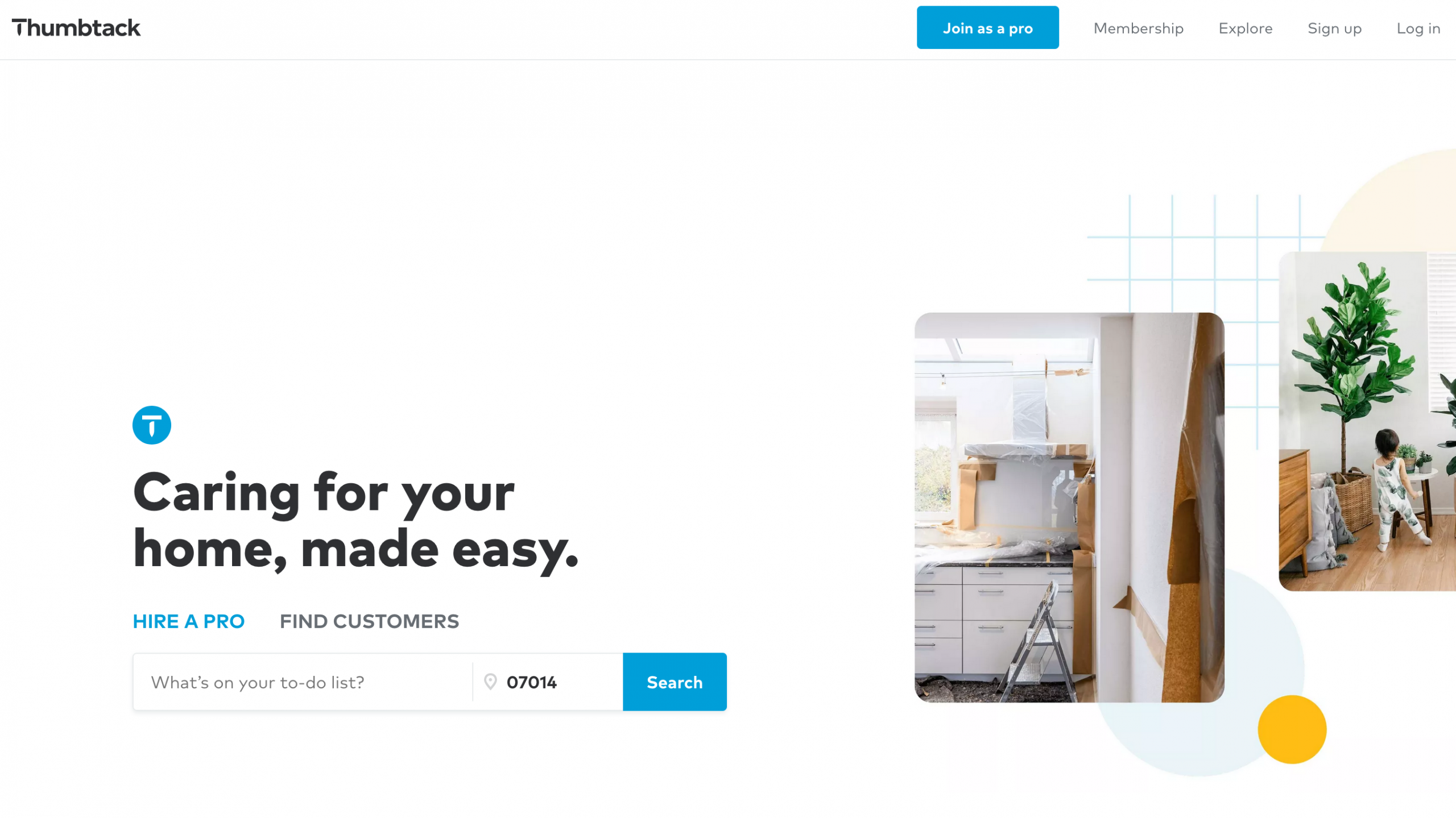 What is thumbtack ?
Thumbtack is a home services websites. A place where you can post a task you need and service providers will do that task. Mainly home chores and tasks around the house. The services include home improvement , financial and legal services, events planning and other stuff.
The thumbtack website is very similar in the same idea as bark.com from the UK (originally). It has the same idea, where the user writes what task they need to do, and they are given a list of service providers that can do this job. The service providers will signup beforehand on the website and create their profiles based on their experience. Also after each successful job they will receive a rating. This rating will help us land new jobs from other people.
We have also covered the case of bark clone in this post. And also basically is the same idea as construction contractor estimation software case, which we have covered here.
How to make a website like thumbtack?
You should start with something cheap like a ready made script or a custom solution that is cheap, like a wordpress theme or a php script. And from there after you get the MVP then start developing even futher. And obviously add your unique features to make a difference from the real thumbtack website. You also should hire a web agency or a software agency to get these things setup with minimum cost. We can be available to offer services for custom or bespoke projects. Just contact us.
Hire service providers from the local market
With a marketplace website like a thumbtack clone app , service providers will create a profile and mark the services they can offer. Then when someone as a customer, comes to the site and searches for a certain service they want to get done, they get recommendation with the service providers and their prices. And within that specific category. Thats how this online service marketplace works. And its great for the local service marketplace where you can hire a plumber, a mechanic, an electrician, an event planner or a freelancer and so on.
How many apps are in the thumbtack clone script ?
When we design the thumbtack like website for you, we do 3 areas. First one is the service provider app (as in the case of bark app) where the companies can accept requests or see the scheduled tasks, the second one is the customer app, that the customer will search for service providers for their task. And the third one is the admin dashboard for the platform owner. And by the way, we offer you real native apps that will be launched into AppStore and Google Play Store. That is way better than what other offers are on the market where for a low fee, you end up buying literally junk. And with no support on top.
Can a clone of thumbtack be launched with WordPress ?
As we talked before, you can pretty much do anything with wordpress. We have covered here a basic wordpress setup and how you can start with your own wordpress website. That guide will tell you how you can start with wordpress.
Giving that, you can be confident that you can create a thumbtack clone with wordpress and launch it. Even if you do as an mvp , there is still the best option to do. Because its easy to use and it inexpensive. And if you want a mobile app too, like the thum btack app, we can offer a native iOS and Android apps. Contact us for an exact price quote to include the thumbtack app clone too.
What theme do I use ?
As you know, wordpress will need one theme to run. The wordpress theme you will use, will give the functionality of your entire website. There are so many themes in the world, both free and paid. We are offering both, but today we are talking about a paid wordpress theme. The theme that can create a thumbtack clone is called the project freelancer directory. You can find more information about it on this page. We know this will require a bit of customisation, but we are sure that our packages seen in the pricing list, can cover everything (we actually need to propose a custom work that is done on top of the default theme). You need to contact us for obtaining a price quote for the thumbtack clone. So if you do wish to have a thumbtack clone or similar, be sure that you can do this with wordpress and we have the solution. We can say if you want to know bark vs thumbtack then, they are pretty similar, and all can be done with our theme.
As described in another post, where we check how you can create an upwork clone with the wordpress freelancer theme, we can see that this theme is pretty versatile. And we can also add a booking scheduler feature as seen in the article.
Conclusion
The shortest and more concise conclusion for this article is that the wordpress cms is very powerful and in the hands of some professional people it will shine, and you can do pretty much everything with it. If you have an idea of any type of website or a website clone, please contact us. And we will give you a free price quote for custom development. We do think a clone of this type of site can be between 2500-5000$ with all that is needed. This because we offer services of web design agency. So you should build a thumbtack clone app with us.
Also we have refreshed this article as of 2023 and written a fresh new article about releasing a thumbtack clone website with wordpress.
Do you need a thumbtack clone app ?
Do you need a thumbtack clone app and website ?