In this small article we want to see if we can launch a thumbtack clone website using wordpress. Why wordpress ? Because wordpress is inexpensive, and it has tons of support, and also is a free open source cms. And this makes it the perfect solution for an MVP of thumbtack clone project. Also wordpress can be used for any kind of marketplace or service marketplace directory website you have in mind. The thing can go insane and literally you can realise anything with it. You just have to find the proper developer and the proper theme to start with. So lets dive in.
Buy the Thumbtack Clone – starting $2,199
Creating Your Powerful Thumbtack Clone Script
In the bustling digital world, creating a Thumbtack clone has become a popular trend among entrepreneurs. A Thumbtack clone script is a powerful tool that supports you in creating an outstanding service marketplace industry. It's like building a website like Thumbtack, but with your unique touch. The best part? You can even build an app like Thumbtack, extending your reach to mobile users.
Catering to Service Needs with Your Thumbtack Clone
Your Thumbtack clone app is not just a replica; it's a platform designed to simplify service needs today. From being a service booking app to an open-source Thumbtack clone, the possibilities are endless. Whether you're a startup business looking for a robust solution or an established company aiming to expand, a Thumbtack clone can be your next big step. Remember, the best Thumbtack clone is the one that caters to your audience's needs while reflecting your brand's identity.
Leveraging WordPress for Your Thumbtack Clone
WordPress isn't just for blogs anymore. With its extensive range of plugins and themes, you can build a Thumbtack clone with WordPress. It's all about using the right resources and strategies to create a Thumbtack clone that stands out in the all-in-one cluster of online service platforms. So, are you ready to embark on your journey to create a Thumbtack clone? If that's so, then get in touch with our web development team and lets build a service marketplace website for you with all the bells and whistles.
Thumbtack clone wordpress
This guide will explain how to create an app similar to thumbtack, but also services like thumbtack. So this thumbtack site model is very similar to another idea we did implement for another customer, and that was contractor software. The construction bidding platform or the contractor software is explained in another article. So read below to find out more about the thumbtack clone and the thumbtack clone script. Because these days many want to build thumbtack apps.
And with this script you can launch a multi-vendor marketplace in the true sense of the word. Meaning the service providers can sell their own services.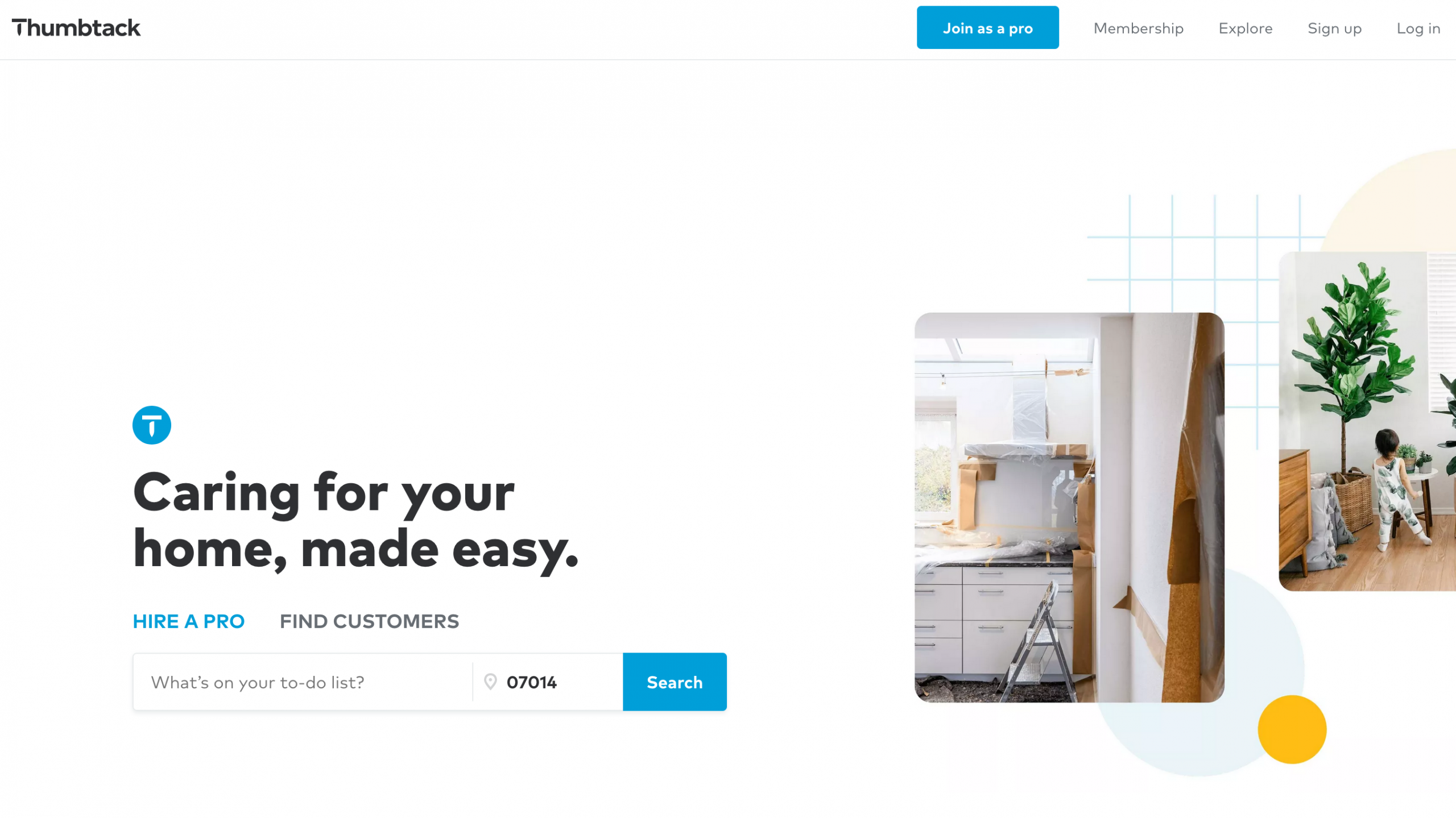 What is thumbtack ?
Thumbtack is a home services websites. A place where you can post a task you need and service providers will do that task. Mainly home chores and tasks around the house. The services include home improvement , financial and legal services, events planning and other stuff.
The thumbtack website is very similar in the same idea as bark.com from the UK (originally). It has the same idea, where the user writes what task they need to do, and they are given a list of service providers that can do this job. The service providers will signup beforehand on the website and create their profiles based on their experience. Also after each successful job they will receive a rating. This rating will help us land new jobs from other people.
We have also covered the case of bark clone in this post. And also basically is the same idea as construction contractor estimation software case, which we have covered here.
How to make a website like thumbtack?
You should start with something cheap like a ready made script or a custom solution that is cheap, like a wordpress theme or a php script. And from there after you get the MVP then start developing even futher. And obviously add your unique features to make a difference from the real thumbtack website. You also should hire a web agency or a software agency to get these things setup with minimum cost. We can be available to offer services for custom or bespoke projects. Just contact us.
Plus our team can also create a thumbtack app type of site and app. Or even nextdoor app. The prices for doing a customised website and app like thumbtack are around $10,000 – $15,000
Launch apps like thumbtack
With our custom web development services you can launch apps like thumbtack or any other type of site like that. Where service providers can be booked or chosen for their services to satisfy customer needs. Just get in touch with us and build the best app like thumbtack or similar.
Taskrabbit clone
To create a TaskRabbit clone for WordPress, you can use a plugin or a theme that provides the necessary functionality and customization options. Some popular TaskRabbit clone plugins for WordPress include Taskerr, Pricerr, and HireBee, which offer features such as task posting and bidding, payment processing, and user profiles. Alternatively, you can use a WordPress theme that is specifically designed for task outsourcing marketplaces, such as the TaskHive theme, which includes features such as task categories, user profiles, messaging, and reviews. With the right plugin or theme, you can quickly and easily set up a TaskRabbit clone for WordPress and start building a community of users who are interested in buying and selling services online.
Similar types of clones we can build on WordPress: envato clone, themeforest clone, handy clone. For a price quote just contact us.
Here is how the implementation was done for a particular customer: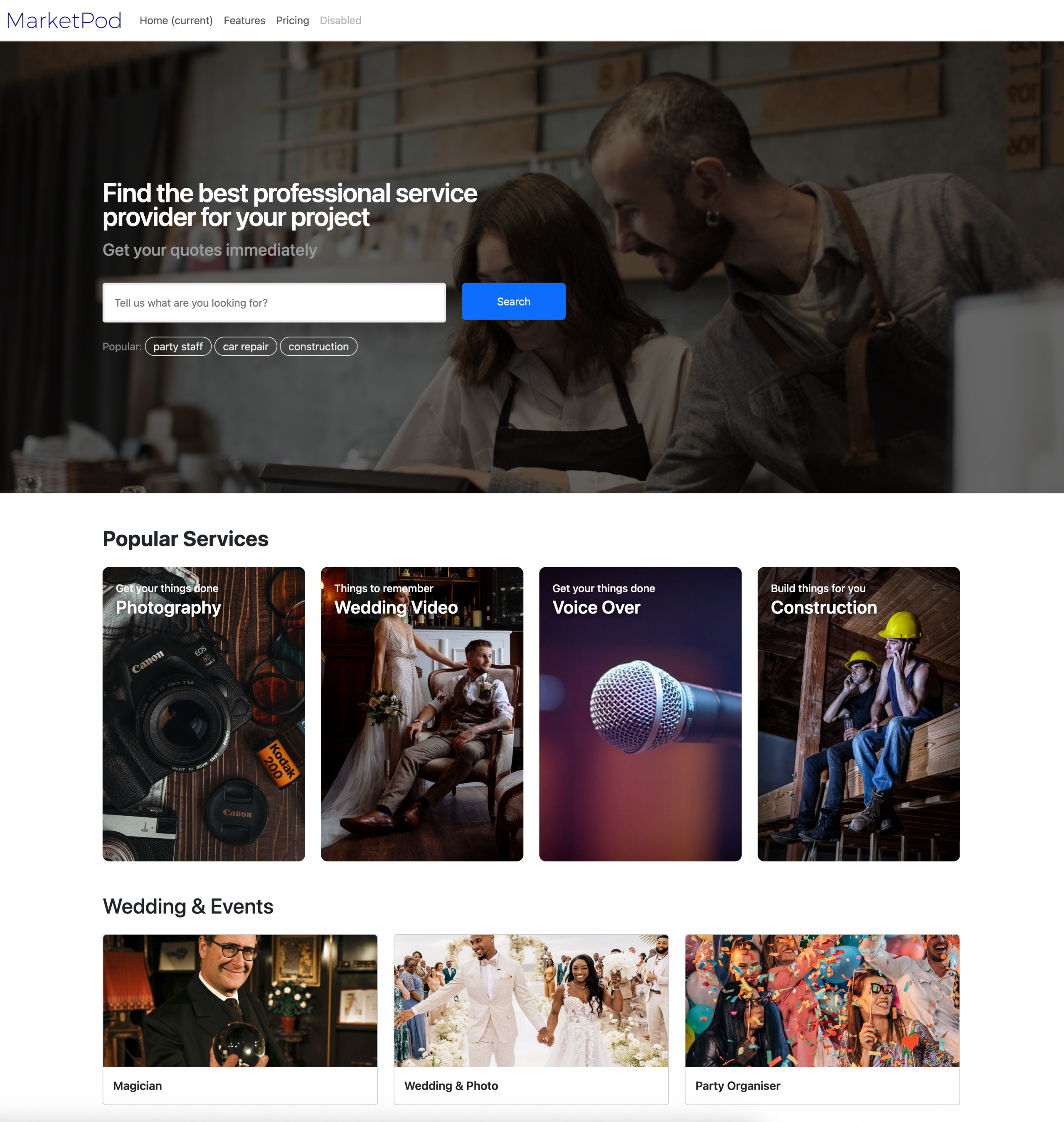 Hire service providers from the local market
With a marketplace website like a thumbtack clone app , service providers will create a profile and mark the services they can offer. Then when someone as a customer, comes to the site and searches for a certain service they want to get done, they get recommendation with the service providers and their prices. And within that specific category. Thats how this online service marketplace works. And its great for the local service marketplace where you can hire a plumber, a mechanic, an electrician, an event planner or a freelancer and so on.
How many apps are in the thumbtack clone script ?
When we design the thumbtack like website for you, we do 3 areas. First one is the service provider app (as in the case of bark app) where the companies can accept requests or see the scheduled tasks, the second one is the customer app, that the customer will search for service providers for their task. And the third one is the admin dashboard for the platform owner. And by the way, we offer you real native apps that will be launched into AppStore and Google Play Store. That is way better than what other offers are on the market where for a low fee, you end up buying literally junk. And with no support on top.
Can a clone of thumbtack be launched with WordPress ?
As we talked before, you can pretty much do anything with wordpress. We have covered here a basic wordpress setup and how you can start with your own wordpress website. That guide will tell you how you can start with wordpress.
Giving that, you can be confident that you can create a thumbtack clone with wordpress and launch it. Even if you do as an mvp , there is still the best option to do. Because its easy to use and it inexpensive. And if you want a mobile app too, like the thum btack app, we can offer a native iOS and Android apps. Contact us for an exact price quote to include the thumbtack app clone too.
What theme do I use ?
As you know, wordpress will need one theme to run. The wordpress theme you will use, will give the functionality of your entire website. There are so many themes in the world, both free and paid. We are offering both, but today we are talking about a paid wordpress theme. The theme that can create a thumbtack clone is called the project freelancer directory. You can find more information about it on this page. We know this will require a bit of customisation, but we are sure that our packages seen in the pricing list, can cover everything (we actually need to propose a custom work that is done on top of the default theme). You need to contact us for obtaining a price quote for the thumbtack clone. So if you do wish to have a thumbtack clone or similar, be sure that you can do this with wordpress and we have the solution. We can say if you want to know bark vs thumbtack then, they are pretty similar, and all can be done with our theme.
As described in another post, where we check how you can create an upwork clone with the wordpress freelancer theme, we can see that this theme is pretty versatile. And we can also add a booking scheduler feature as seen in the article.
A little overview about our process of creating clone like sites
We excel in crafting unique on-demand service marketplace platforms. Our solutions are inspired by successful platforms like Thumbtack. However, we don't just create Thumbtack clones. We design each platform to fit our clients' unique needs.
Our designs focus on connecting customers with local professionals. This is done through our robust local service marketplace platform. It's more than just a local professional finder. It's a tool that uplifts local businesses and simplifies hiring.
We've woven a service bidding feature into our platforms. This allows service providers to bid on projects. It also gives customers the flexibility to choose their perfect match. Essentially, it's a service quote comparison tool that promotes transparency and competitiveness.
We also deliver a home services app. This tool lets customers find and hire professionals on the go. It's a powerful find-a-pro app. It allows customers to compare quotes and choose the best professional for their needs.
Our offerings include a customizable Thumbtack clone interface. It can be tailored to match your branding and functionality needs. Whether you need a freelance service marketplace, a handyman services app, or a customer-to-professional platform, we've got you covered.
In today's digital world, online local service marketplaces are the norm. We're proud to provide a compelling Thumbtack alternative platform. Our platform offers functionality, usability, and aesthetic appeal. This commitment to quality and satisfaction sets us apart in the web design and development industry.
Remember, while we use the term "Thumbtack clone", our products are not exact replicas. They're custom solutions that draw inspiration from successful platforms. Our goal is to build effective platforms that drive success for our clients.
Other thumbtack alternatives are Upshift, thumbtack, wonolo, amazon home services.
What other features can I add in custom web development ?
There are a number of features that are quite popular among people wanting a thumbtack clone site. And while building the THUMBTACK CLONE SCRIPT for you, we can add any of these features. Read below the main features list for our custom web development project and after lets talk about building a clone site for you with your own specification.
Customer Invoice
The clone site could come with the customer invoice capability. Where local taxes and commission can be added to the invoice. And that way, the customer and service provider have access to a detailed receipt of the completed job.
In-App Chat
Within the clone site, we can develop a live chat. Where you can chat with your service providers to exchange specific information regarding the job at hand. And that way the freelancers and customers stay connected.
View Jobs & Status
From the account dashboard, the customer and services providers can view the various service bookings opted and their individual job status. Complete admin dashboard as well for this.
Scheduling
When purchasing a service, the customer can choose their booking type from on-demand, scheduled or weekly schedules. And each service provider will have a calendar, synced with google calendar and other features.
Job Bidding
Once the job is posted on the app/site there can be job bidding. That way the service providers will be able to bid their desired amount, and the customer can choose the professional they want and assign a job to them. In the end the commission to the platform is paid. And that is how you make money out of your thumbtack clone site.
Customer Real-Time Job Status & Timer and Job Timer
When a job is assigned a timer is started. And customer and also service provider will have access to this job timer. Service professionals can pause the job timer during breaks. The timer stops once the job is completed.
On-Demand Service Live Tracking & Status
During the time of a job, live track feature can be available for service provider and for customer. In-app notifications are provided for each job status update. Plus there is an in-app timer for job duration. All these can be realised within the web development process.
Service Provider Profile
This feature allows your platform to have a profile page for each service provider. Your customers can view profile details of each service professional bidding. And also they can see their past reviews and whatever services they provide.
In-App Wallet
There is also a nice idea to have: an in-app wallet integrated into the service booking script. And this serves two functions: to be used on job bidding, where you can charge a small fee for each bid. Or even charge for selling the lead. And also pay for the purchase of a job, the commission to the platform. This is called a e-wallet feature, and can even be used for escrows.
Service provider management
From the admin dashboard you will manage various on-demand service providers. That way you can accept or reject various home care professionals registering on your platform. Thus keeping your tailored Taskrabbit clone safe from any bad people.
Conclusion
The shortest and more concise conclusion for this article is that the wordpress cms is very powerful and in the hands of some professional people it will shine, and you can do pretty much everything with it. If you have an idea of any type of website or a website clone, like a thumbtack clone WordPress, please contact us. And we will give you a free price quote for custom development. We do think a clone of this type of site can be between 5,000-15,000$ with all that is needed. This because we offer services of web design agency. So you should build a thumbtack clone app with us.
Also we have refreshed this article as of 2023 and written a fresh new article about releasing a thumbtack clone website with wordpress.
Do you need a thumbtack clone app or a thumbtack clone wordpress ? Launch your own service marketplace website with the best thumbtack clone script.
Frequently Asked Questions
1. What is the cost of developing a Thumbtack clone app?
The cost for building a Thumbtack clone app is between $5,000 and $15,000 but can be even higher depending on the features that you want included into the mobile app and in the web app. Get in touch with us and get a fair price quote.
2. How much do you offer customizing the app like Thumbtack?
Our platform is versatile enough to accommodate many use case scenarios but upon request we can do any type of custom development.
3. Do you offer tech support for the business?
Yes, we offer tech support for 12 months, as provided in our software development package. And also we can work with you for long term as your business grows.
Do you need a thumbtack clone app and website ?