Classifieds script, online classifieds software or even a php classified script is the hot thing right now. You are here probably because you need to create some kind of listing website or a classifieds website. Because these classifieds sites make money and thats what we are all here for.
To make money.
So lets dive in and see what is the best classifieds script to create your website. And ultimately create a revenue stream out of the hobby that you have. Or even if you are a professional entrepreneur and looking for a web development agency or a ready made script, we can help you set everything up. With an experience of over 12 years, you know you are in good hands. So lets dive in and build the best classified cms because this wont be free classifieds php script to download.
Download the classified script/theme today
With our wordpress theme, you can be sure you get the best php classified ads script because its based on PHP and the support and features are amazing. We really think this is the best classifieds software to use it in your website.
What is classifieds software?
Classifieds software refers to specialized software or scripts designed to create and manage classified websites. It provides a framework and essential features to easily set up an online platform where users can post classified advertisements for various products, services, or job opportunities.
The software typically includes functionalities such as:
Ad Listing Management: Allowing users to create, edit, and delete their classified ads, including features like descriptions, images, contact information, and other relevant details.
Category Organization: Structuring the ads into different categories and subcategories to help users navigate and find relevant listings easily.
Search and Filtering: Enabling users to search for specific items, services, or jobs using keywords, location filters, price ranges, and other criteria.
User Registration and Profiles: Allowing users to create accounts and manage their profiles, which may include contact information, preferences, and past listings.
Messaging and Communication: Providing a messaging system for users to interact with each other securely, especially when inquiring about listings or negotiating deals.
Payment Integration: Optionally incorporating secure payment gateways to facilitate paid features or premium listings on the website.
Reporting and Moderation: Offering tools for administrators to monitor user activities, manage reported content, and ensure the platform's integrity.
Classifieds software simplifies the process of building a classified website, as it comes with pre-built templates and customizable settings. It is a popular choice for individuals or businesses looking to create niche-specific classified platforms without requiring extensive web development expertise.
Main features of the classified theme and script
Professional Classifieds Software
SiteMile's classifieds software is professional-grade, designed to cater to a wide range of classifieds needs.
PHP Classified Script
Our software is built on PHP, a robust and flexible scripting language, ensuring high performance and reliability.
Mobile Apps Integration
SiteMile's classifieds script is compatible with both iOS and Android applications, allowing users to manage their classifieds on the go.
SEO-Friendly Features
Our software is designed with SEO in mind, featuring SEO-friendly URLs, meta tags, and more to help your classifieds site rank higher in search engine results.
Flexible and Customizable
Our classifieds script is highly flexible and customizable, allowing you to add new ad types, categories, and fields as per your business needs.
Monetization Features
SiteMile's classifieds software is ready to be monetized, with pre-integrated payment gateways and other monetization features.
Regular Updates and Professional Support
We provide regular software updates and upgrades, along with professional support to ensure smooth operation of your classifieds site.
Content Import Capabilities
Our software allows you to easily import content from other sites and dealers in various formats, making it easy to populate your classifieds site with ads.
Unencrypted Source Code
SiteMile's classifieds script comes with 100% unencrypted source code, giving you full control over customization and modifications.
Free Branding Removal
Our software allows for free branding removal, letting you maintain a unique and independent identity for your classifieds site.
Feature-rich CMS
SiteMile's classifieds script comes with a feature-rich CMS, making it easy to manage and update your classifieds content.
Classifieds script and the digital world
Classified script software and classifieds software are indispensable in today's digital world. They're the power tools behind robust, user-friendly classified ads websites. Let's delve deeper into these essential tools. And if you want to explore why would you build a classified ads website, is simple because classified ads website make money.
Do you need a classified website and a classifieds script ?
Get in touch with us
so we can discuss developing a complete and fully featured classified ads website.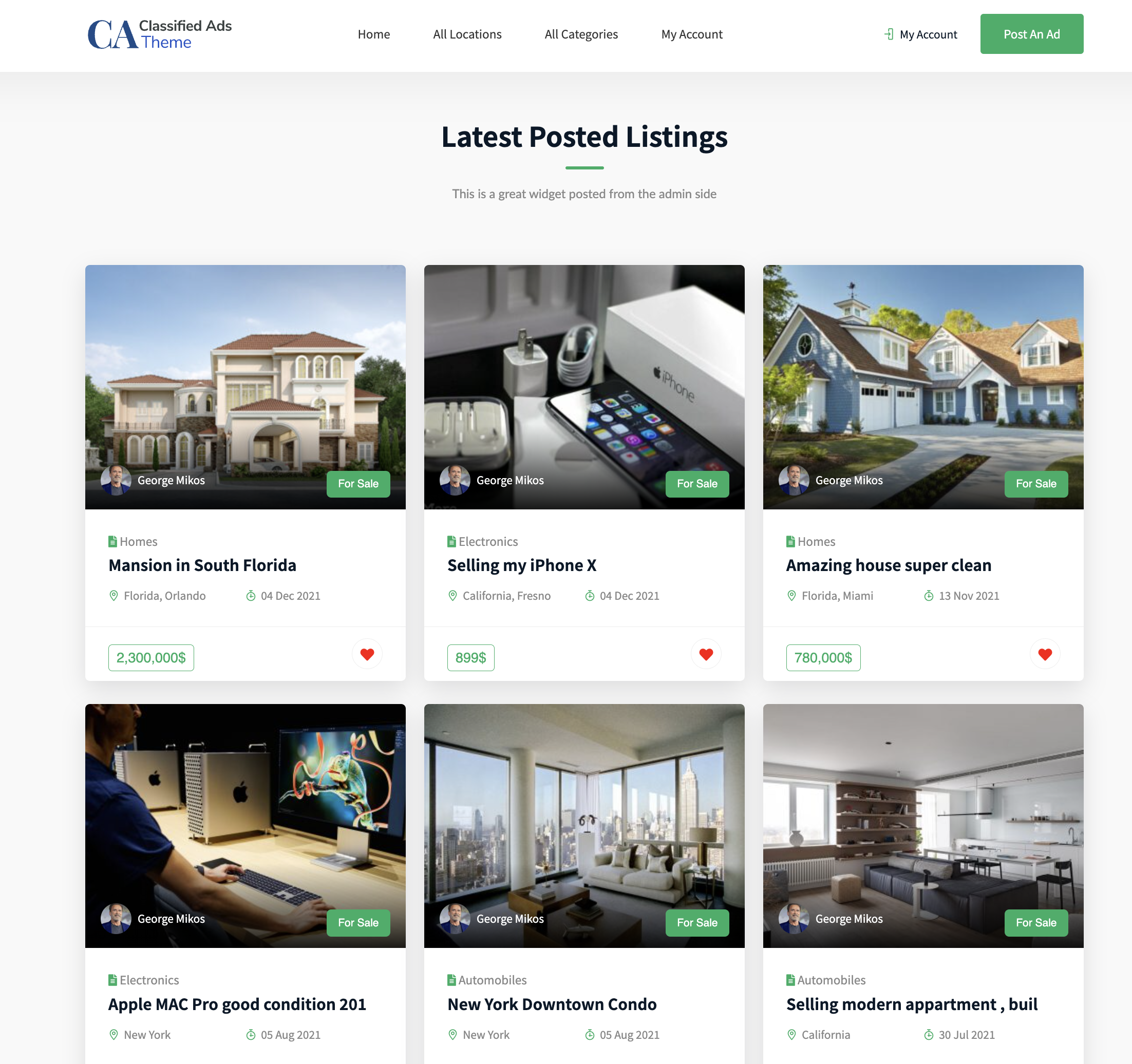 What is a Classifieds Script?
A classified script is essentially a pre-coded software solution. It's the magic wand that transforms your idea into a fully functional classified ads website. Most scripts are written in popular, flexible programming languages like PHP. This makes them highly customizable to fit various needs.
These scripts come packed with features. They handle user registration, ad posting, ad management, and even payment processing. Some advanced scripts go the extra mile. They offer messaging systems, rating systems, and even social media integration.
The Impact of Classifieds Software on Classified Ads Websites
Classifieds software is the driving force behind successful classified ads websites. It's a comprehensive platform that marries all the necessary elements of a classified ads site. It ensures everything from the user interface to the payment gateways works in harmony.
The beauty of classifieds software lies in its simplicity. It offers a ready-made solution for building a classified ads website. This approach saves time and resources. Plus, it guarantees your site is feature-rich, enhancing the user experience.
Further more, classifieds software is built with growth in mind. It can easily adapt as your site attracts more users. This ensures your site remains fast, efficient, and reliable, no matter its size.
In a nutshell, getting to grips with classified scripts and classifieds software is your first step towards success. These tools lay the groundwork for your site. They ensure it's equipped with the necessary features and functionality to meet user needs. Plus, they help your site stand out in the competitive online marketplace.
Why not try our wordpress classified theme, because our solution is a very nimble classified ads script. Not to mention the good support and set of features you will get.
Unleashing PHP's Potential in Classifieds software
PHP, a widely-used programming language, is a powerhouse in classified scripts. Let's unpack its influence and understand why developers favor it.
PHP Classified Scripts: A Snapshot
PHP classified scripts are pre-built software solutions. Developers write them in PHP to create classified ads websites. PHP's flexibility and simplicity make it a go-to choice. It allows for extensive customization, adapting scripts to various needs.
These scripts are feature-rich. They manage everything from user registration to ad management. Some even extend their functionality to include messaging systems and social media integration.
Why Choose PHP for Your Classifieds Software and Classifieds Script?
Opting for PHP in your classifieds software brings several perks. PHP is open-source, which means it's free and regularly updated by developers worldwide. This keeps your classifieds software up-to-date and secure.
PHP also stands out for its speed and efficiency. It processes data faster than other languages, a crucial factor for classified ads websites where users demand quick interactions.
Moreover, PHP is highly scalable. It can easily handle growth as your classified ads website expands and attracts more users. This ensures your website stays responsive and reliable, regardless of its size. And why not get something as good or better than Laraclassified.
In short, PHP's role in classified scripts is significant. It offers the flexibility, efficiency, and scalability needed for a successful classified ads website. By opting for PHP in your classifieds software, you're paving the way for your website's success.
Exploring Top Classified Script and Classifieds Software
Flynax Classifieds Software
Flynax Classifieds Software stands out in the market with its feature-rich PHP solution. It's packed with over 80 powerful plugins and offers responsive themes, making it a flexible choice for any classified ads website.
Sitemile Classified Theme – best classified script
SiteMile Classified Theme is a premium WordPress solution that offers a comprehensive platform for creating a classified ads website. It's known for its clean design, easy customization, and robust functionality. With features like responsive design, monetization options, and SEO-friendly structure, SiteMile provides a solid foundation for any classified ads project.
Osclass Classifieds
Osclass Classifieds is a free open-source PHP script that allows you to create your own marketplace in just a few minutes. It's a one-stop solution for building a classifieds website, making it a popular choice among users.
CodeCanyon's Classified PHP Scripts
CodeCanyon offers a wide variety of classified PHP scripts, catering to a range of needs. From simple ad posting scripts to more complex solutions, CodeCanyon has something for everyone. But not as good as our sitemile classifieds script.
OpenClassify
OpenClassify, built with Laravel, is an advanced open-source classified platform. It's modular and highly customizable, making it a great choice for real estate classifieds, auto, e-commerce, and more.
Classified clone script
Our web design company offers the classifieds software, to create the perfect classified ads website, so get in touch with us and build the best classified site.
Choosing the Right Classifieds Software for Your Needs
Key Features to Look for in a Classified Script
When choosing a classified script, it's essential to consider the features it offers. Look for a script that provides user-friendly ad posting, efficient ad management, and secure payment processing. Advanced features like a built-in messaging system and social media integration can also enhance the user experience.
Evaluating the Best Classifieds Software for Your Business
Evaluating the best classifieds software for your business involves understanding your specific needs and goals. Consider factors like scalability, customization options, and the software's track record in terms of security and updates. Remember, the best software is the one that fits your business model and can grow with you.
The Future of Classified Scripts and Classifieds Software
Emerging Trends in Classified Ads Scripts
The world of classified ads scripts is constantly evolving. Emerging trends include increased mobile optimization, AI integration for better user experience, and enhanced security measures. These advancements aim to make classified ads websites more user-friendly, secure, and efficient.
How Classifieds Software is Evolving to Meet User Needs
Classifieds software is also adapting to meet changing user needs. Developers are focusing on creating more intuitive user interfaces, integrating more payment options, and improving search functionalities. The goal is to provide a seamless experience for users, making it easier for them to navigate, post ads, and make transactions.
Get in touch with us for the best classifieds script out there, and build a classified ads website with our web development team. We do offer mobile apps too. So why not get the best php classified script with our theme.
Hire our developers to build your classifieds website
If you want to develop a professional classifieds website like kijiji or craigslist or other very popular websites (olx), then you need to hire a web development agency like our agency. Because we have 12 years of experience in developing bespoke websites, web apps, mobile apps and SEO, then you will want to work with us. You can contact us and get into a live call with our expert developers and build the best open classifieds.
Why not build a craigslist clone app ? Well if you want you can get in touch with us and build the best advertising website with our script.
FAQ
What is the difference between marketplace and classifieds?
Marketplace: A marketplace is a platform where buyers and sellers come together to conduct transactions. These transactions are often facilitated by the platform itself. Marketplaces can be either physical (like a farmer's market) or digital (like Amazon or eBay). In a digital marketplace, the platform often provides services like payment processing, dispute resolution, and sometimes even shipping. The platform usually takes a commission or fee from the transactions.
Classifieds: Classifieds, on the other hand, are more like advertisements. They are often used for selling second-hand goods, renting out property, job postings, etc. Classifieds can be found in newspapers or online platforms like Craigslist. In a classifieds scenario, the platform does not typically facilitate the transaction. Instead, it simply provides a space for the seller to describe the item or service and provide contact information. The buyer then contacts the seller directly, and they arrange the transaction details (payment, shipping, etc.) between themselves.
In summary, the main difference lies in the level of involvement of the platform in the transaction. Marketplaces are more involved, often providing transaction facilitation services, while classifieds are more of a space for advertisement and less involved in the actual transaction.
Is classified ads website profitable?
Yes, a classified ads website can be profitable, but it depends on several factors including the business model, the size and engagement of the user base, the competition, and the specific niche or market the website serves.
Here are a few ways that classified ads websites can generate revenue:
Advertising: This is the most common way that free websites (including classifieds) make money. This can be through display ads (like Google AdSense), sponsored listings, or direct ad sales.
Premium Listings: The website can offer a free basic service, but charge for premium listings. Premium listings might include features like being displayed at the top of search results, having a highlighted or featured ad, or being able to include more photos or text.
Membership Fees: Some classified ads websites charge a membership fee for access to certain features or sections of the website. For example, a job classifieds site might charge employers a fee to post job listings or access resumes.
Transaction Fees: While less common in classifieds (more common in marketplaces), some websites might charge a small fee for each transaction made through the site.
Affiliate Marketing: The website can earn commissions by referring its users to related products or services.
However, it's important to note that running a classified ads website also involves costs, such as website development and maintenance, marketing and advertising to attract users, and potentially staff costs for larger sites. Furthermore, building a large and engaged user base can take time and effort.
So, while a classified ads website can certainly be profitable, it's not guaranteed and depends on a variety of factors. It's important to do thorough market research and have a solid business plan before starting such a venture.
Read more about creating a classified ad websites here.