When it comes to an online auction or silent auction, you can either have an online auction website or better an auction app. This will ensure your auction will run on computers, laptops, tablets, mobile phones. Basically the cloud will be synced between devices and give you the online auction functionality on every device.
What is a silent auction ?
A silent auction is a type of auction in which bids are written down on a sheet of paper rather than spoken aloud. It is a common fundraising technique used by charities, non-profit organizations, and schools to raise money for a particular cause or event. The name "silent auction" refers to the fact that participants are not required to call out their bids in a traditional auction setting, but instead place them on a bid sheet or bid card that is displayed next to the item up for auction.
Silent auctions typically feature a wide range of items that have been donated by businesses or individuals. These items can include anything from gift certificates to local restaurants and shops, to high-end electronics or vacations. Each item is displayed on a table or in a designated area, along with a bid sheet that includes the item's description, retail value, and minimum bid. Bidders can then write down their name, bid amount, and any other information required on the bid sheet.
Ending a silent auction
The auction typically lasts several hours, and the highest bidder at the end of the allotted time period wins the item. Silent auctions can be very effective fundraising tools, as they allow organizations to generate revenue from multiple items simultaneously. Additionally, because participants are not required to speak out loud, the event can be less intimidating for those who are uncomfortable with public speaking or traditional auction settings. Overall, a silent auction is a fun and interactive way for organizations to raise money while engaging their supporters in the process.
Read more about find the best auction script out there.
Looking for fundraising auction software
You are probably looking to move your fundraising events to online, so more people can participate. Not to mention that when the system is online, you will be able to send out invites very easy through social media and email. This will attract a lot of bids from people that were harder to be reached when in person. And all in real time and online, using for raising money.
We are proposing a cheap solution and a hosted solution, in the form of a wordpress auction theme. For the average buyer and business owner, the fact that is based on wordpress, doesnt matter at all. The auction software looks and behaves just like any other auction website or auction app. Plus we do offer the app in the entrepreneur version. Check the pricing list here. You can read the article about wordpress and launching an auction site if you want to learn more. Plus these auction platforms come with escrow feature too and they can be used as reverse auction.
What is the difference between this solution and others ?
Most premade auction solutions out there let you use their cloud based auction system, but there is a twist there. They will own all your customer base and everything your site has. Because it runs on their server, you will also be restricted on changing and improving the features of the website or the auction app. Also these guys will charge you a commission on each sale you make on your auction app. The auction experience cant be easier than using this auction fundraising software.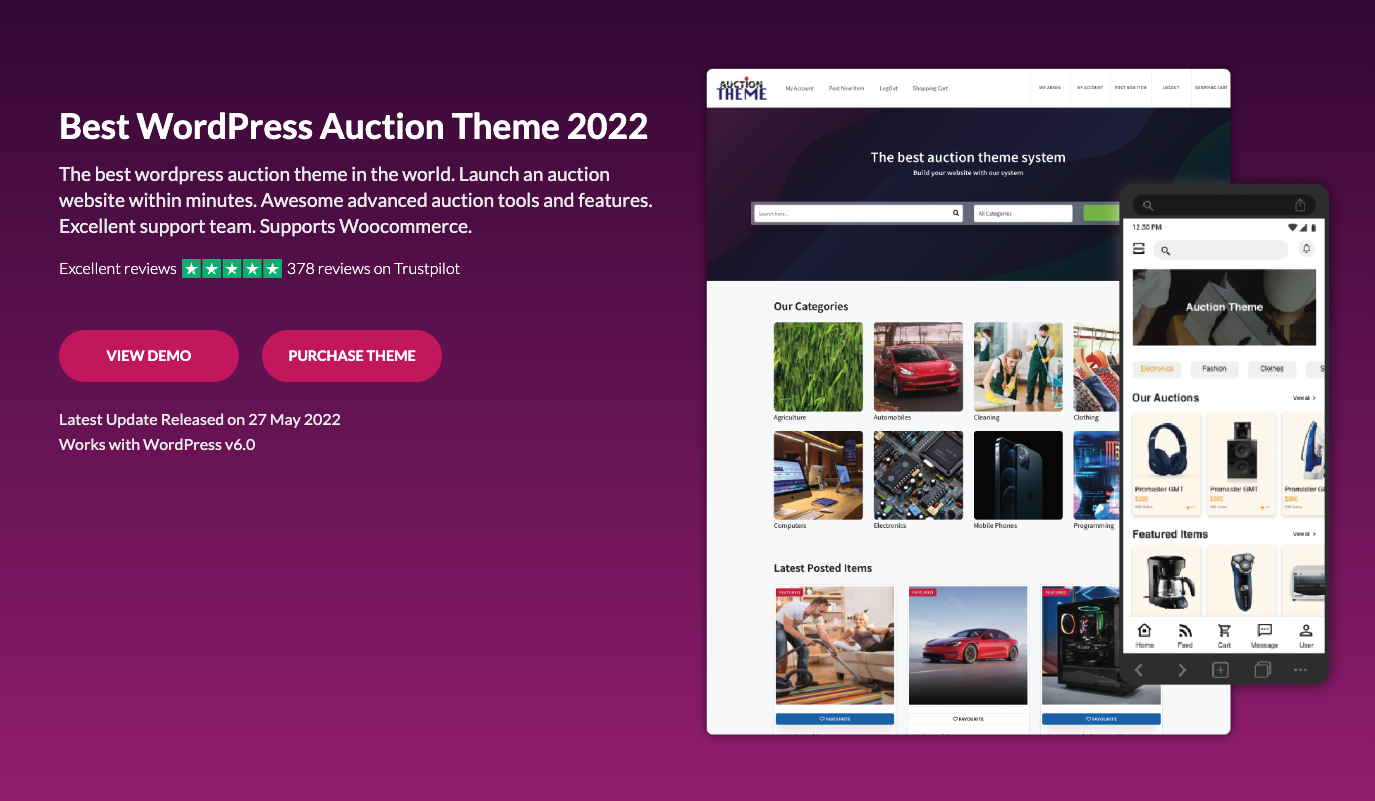 Our wordpress theme solution proposes a way where you own your website, and own your mobile auction app. You will not depend on any other third party, and we do not take any commission out of your sales. There will no be any better solution for this other than our wordpress auction theme. And as a bonus among other features, you can even have a real estate auction type of platform.
A little more about the
silent auction app
Our wordpress theme has many other features, like bid options, auction items and mobile bidding. And also the web design is responsive and works well on any mobile device. Auction events also are triggered too in the silent auction software. And on top of that it has live auction too. So the fundraising tools can be also added. You will see more information about purchase in our pricing page.
And during the software development we can do, we can do push notifications and event management for this software after we install in your site. So if you need an Online Silent Auction App just contact us, and get into a discovery call with us.
We do custom silent auction online software
We also do custom web development and our agency is ready to build any custom auction website for you , custom tailored to your needs. So do not hesitate and get in touch with us and schedule a discovery call to build something great.
Let's talk
Schedule a discovery call with our team