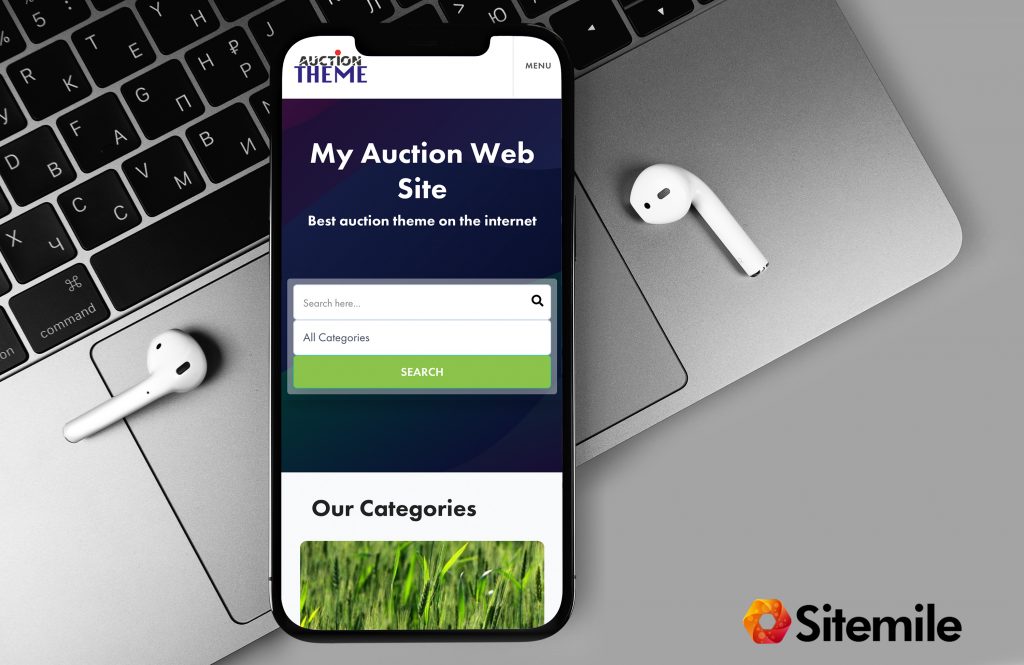 Introduction to Reverse Auction Sites
Reverse auction sites allow buyers to post their requirements for a product or service, and multiple sellers can bid on the project. The concept of reverse auctions is becoming increasingly popular in the eCommerce industry because it allows buyers to choose from a pool of sellers, resulting in more competitive pricing. In this article, we will discuss the process of creating a reverse auction site and the best WordPress theme to use. Read about the differences between reverse auction and regular auction.
Reverse auction websites is the subject we will develop today in our WordPress How To series.
SiteMile is specialized in creating and developing auction software, mainly in WordPress, but we can also do it only in PHP or Laravel.
What is a reverse auction?
A reverse auction (also called Dutch Auction) is the exact opposite of a standard auction, meaning that buyers and sellers exchange roles. Buyers show their intention to procure something at a certain price, and sellers have the opportunity to make an offer. More info about reverse auction sites. And everything can be done with the auction themes and woocommerce.
What are the benefits of a reverse auction?
The benefits of using this type of auction are various, among which we remind:
– Cost saving through increased competition;
– Time saving in collecting bids;
– A more transparent and honest bidding process through setting up an auction that every supplier can see.
All the above help you get a better result in a shorter period of time. See below a list of possible reverse auction types that our reverse auction script can solve:
english reverse auction
reverse auction in procurement
reverse auction renewable energy
If you're interested in creating a reverse auction website, you can use our Reverse Auction WordPress Theme.
Why should you choose one of our Auction software products (Auction Theme)?
Firstly, we have been developing our Auction Script since 2010 and it is the most complete. Recently, we launched an update that we worked on for 2 years. Our focus was to develop an auction software packed with functionalities and we created one unique on the market. You can discover more here.
Secondly, we do not only sell Auction scripts. If the client asks, we help him build a unique website based on his needs using our software products. You won't find on any marketplace the possibility to work with the developer. This is something about auction scripts in general and using theme.
Creating a Reverse Auction Site
Creating a reverse auction site requires several steps, and it's important to follow them carefully to ensure a successful launch. The first step is to define your target market and the type of products or services that will be sold on the site. Once you have a clear idea of your target audience, you can start designing the site's layout and functionality.
The next step is to choose a reliable hosting provider that can handle the site's traffic and performance. You will also need to choose a domain name that is easy to remember and reflects the site's purpose. After that, you can install WordPress and select a theme that fits your requirements.
Selecting a WordPress Theme
There are many WordPress themes available that can be used to create a reverse auction site. However, some themes are more suitable than others, depending on your requirements. The best theme to use for a reverse auction site is the Auction Theme by Sitemile. This theme has been specifically designed for auction sites and comes with all the necessary features to create a successful reverse auction site.
The Auction Theme by Sitemile has a user-friendly interface that allows buyers and sellers to bid and track their auctions easily. It also includes features such as a feedback system, messaging system, and escrow payments to ensure a safe and secure transaction process. Additionally, the theme is fully customizable and can be modified to fit your brand's identity.
Looking for reverse auction software ?
If you are looking to build a reverse auction platform, then for sure you need some software for it. Then look no further as our wordpress auction theme is the perfect solution for your reverse auction software needs. And it has all needed feature to have the buyer and seller roles reversed. Plus it includes a way to send out offers to the person looking for a quote or for an offer. Its basically an all in one solution when you need software for reverse auction.
Conclusion
Creating a reverse auction site requires careful planning and execution, but it can be a profitable venture if done correctly. To create a successful reverse auction site, you will need to define your target market, choose a reliable hosting provider, select a suitable domain name, install WordPress, and select the Auction Theme by Sitemile. By following these steps, you can launch a professional and user-friendly reverse auction site that meets the needs of both buyers and sellers.
If you have any other questions, feel free to contact-us. And if you read more about what is a reverse auction you can do there. And you can understand how the auction sites make money.
Do you need a web developer to build an auction website ? Or you are looking for the best reverse auction software. You can check our offer and hire our amazing software development agency.