When it comes to building an auction website, you have a few main options. Either go with the easier and cheaper route. Thats the wordpress route and we have explained about it here. Or you can go with an auction script. Specifically the most popular is a php auction script. Because php is a very popular programming language, and is supported by 99% of webhosts. Even wordpress is written in PHP.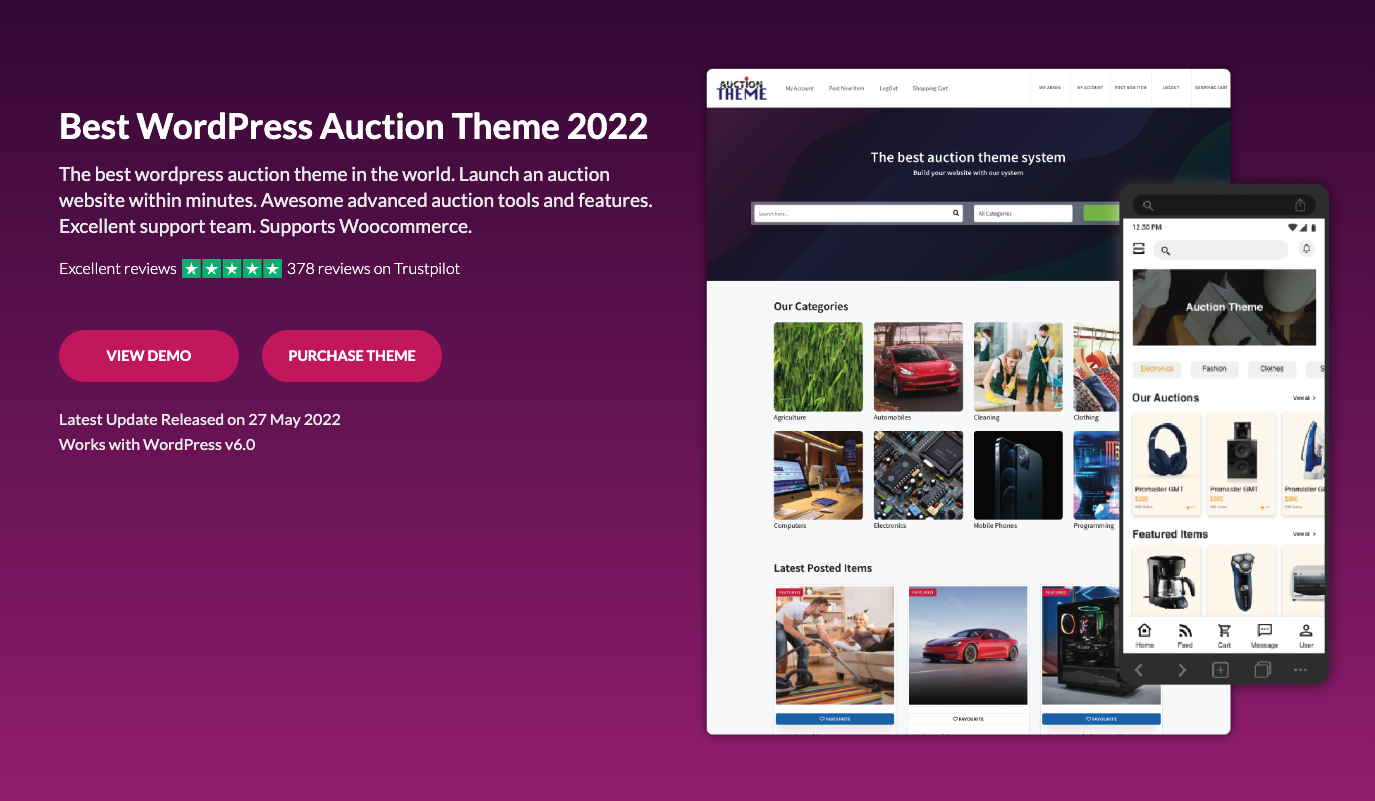 What is an auction script ?
An auction script, is simply a piece of software that is installed in your website. With it , you can run your own auction site. A team of programmers will post write code to make this possible. Usually the most common auction script is a php auction script. Its popular because php is very well known is supported by 99% of all web hosts in the world. The best auction php script there is.
Ideally all auction scripts should have a set of main features that will help you run the auction website properly. A list of the main features would need to contain:
posting page of new items by sellers
seller and buyers separate registration page
shop page, or seller profile page
commission fees out of all winning bids
listing fees, advertising fees
membership feature, or subscription feature
coupon feature
seller dashboard
buyer dashboard
anti snipping feature
last minute bidding feature
reserve bid feature
incremental bidding feature
ability to pay with paypal, or major credit cards
Is the auction theme an auction script ?
Our wordpress auction theme can be called like that. That because is in the form of a classic php auction script, and it can be installed in any webhost that has php support. It also works with mysql database system. Altogether we really recommend the wordpress auction theme to use like any regular script.
Is this auction script free ?
The wordpress auction theme isnt a free auction script. Although our wordpress theme is not free, that is a good thing. And this is because you will know that is someone behind it that will release constant updates, and great support. Usually the free auction scripts or any kind of free script lack of constant updates. And they also lack of proper support. You can find the pricing list here.
You will not find a free script that is also good and has proper support. When in fact is better to spend a little extra and have your back covered. Support is very important when it comes to a business. You never know when your site will go down. And that way you have someone to rely on. If you want to know more information about our auction theme, please contact us. So this is a really good phpauction script.
Looking for reverse auction script ?
If you are looking for a reverse auction script, then thats great. Because you have the reverse auction functionality as well with our theme. And to be clear on reverse auction, you will have the reversed roles of the buyer and seller. This works more for quote or estimation type of websites. Something like upwork or similar.
What if I am looking for a laravel auction script ?
We really think that our wp auction theme (which is written in php) is the best choice when it comes to auction scripts. And it will easily support 100-500.000 users and products with one proper server. Do not expect to run an auction website with hundreds of thousands of users and still be on a 5$/month hosting. But in the case you wish you have a laravel auction script, or any other more complex solution, we can do a custom script. Please check our web development agency and contact us for a price quote.
What if i need custom edits or editing ?
We got you covered. So if you need custom modifications and want to new features or modify the existing features, we have you covered. Our services start from 55$ an hour, depending on the complexity and urgency of your task the price per hour could go up. So please contact us and request a free price quote for any wordpress related project.
Conclusion
When using an auction script you will have to keep a few things in mind: to have enough features for the buyers and seller, to have good admin features, and to have good support. The most important thing on an online auction script, is the support you get through the usage of that product. It is great to finally have an alternative to phpauction script