We are continuing our WordPress Developer saga with another city: Chicago. And this is an important part of Web Design Chicago services. We want to see what kind of wordpress developer Chicago services we can offer for you. As you know we are a wordpress website development agency and we serve a lot of customers nationally and internationally.
Check our our services for WordPress web development and design.
WordPress website development Chicago
Do you need WordPress development services for your business ? Well we are here to help! With our great experience of over 12 years in this WordPress industry, we can say we have done it all. From custom WordPress websites, to working with premade templates , themes and plugins, we handle everything. So why not get back to us and lets schedule a discovery call and the most affordable web design in Chicago.
Let's talk
Schedule a discovery call with our team
Proficiency in Essential Development Languages
Our team of skilled WordPress Developers in Chicago excels in the utilization of core development languages. We have experts in WordPress, PHP, and JavaScript, with a focus on creating versatile and robust websites tailored to your needs. Our team is also proficient in HTML and CSS3, ensuring that your website is always aligned with the latest web standards and practices.
Front End Design & HTML5 Expertise
Our services go beyond basic development; we specialize in Front End Design, crafting visually engaging and user-friendly interfaces for your WordPress site. Leveraging the power of HTML5, our team designs responsive websites that offer seamless performance on any device, from desktop to mobile.
Making Websites Interactive with jQuery & Git
We're not just developers; we're innovators. By incorporating jQuery, a robust JavaScript library, we enhance the interactivity of your website, delivering an engaging user experience. Additionally, our use of Git for version control ensures efficient project management and progress tracking.
Back End Development & SEO Optimization
At the core of our WordPress services is our expertise in Back End development and MySQL. We build a solid foundation for your site, ensuring stability and improved performance. But we don't stop there; we also enhance your site's visibility with our Search Engine Optimization skills, driving more traffic and potential customers to your business.
Communication & Troubleshooting: Key to Successful Collaboration
We believe that effective communication is essential to a successful project. Our team prioritizes transparency, keeping you informed at every stage of the project. We're also adept at troubleshooting, ready to tackle any issues to keep your website running smoothly at all times.
User Interface Design & WooCommerce for E-Commerce Businesses
Our WordPress services include User Interface Design, creating aesthetically pleasing and easy-to-navigate interfaces that retain users. For e-commerce businesses, our proficiency in WooCommerce, a WordPress-specific e-commerce platform, can boost your online store's efficiency and user-friendliness.
English Proficiency for Clear Communication
Our team of WordPress Developers in Chicago is proficient in English, ensuring clear and effective communication with all our clients. We strive to deliver comprehensive WordPress development services that cater to all your web development needs. We're more than just a service provider; we're your partner in achieving online success.
Top WordPress Developers in Chicago, IL
You can easily hire the sitemile web design agency to do any type of work. That is because we work remotely and we cover almost all the timezones in the world. And we can get into the chat with you in a matter of minutes. So you can easily schedule a discovery call. We serve customers from Miami, New York, Chicago, California, Denver. And we have written a lot more in detail about wordpress developer in Denver. But now we want to present you what kind of services we can offer and how you can obtain a free price quote.
SiteMile Web Design Agency Story
At sitemile we have got into contact with WordPress for the first time in 2009 and since then we have breathed and lived WordPress. Because it is so great, and you can achieve so many things with it, that is impossible to ignore it. And we know for a fact that over 35% of the websites in the entire world are based on WordPress. So that has to mean something. read below some considerations before you choose a WordPress developer or a web design agency for your project.
Hiring the right WordPress developer
When it comes to building a WordPress website, hiring the right developer is crucial for the success of your project. A skilled and experienced WordPress developer can help you create a website that is both functional and visually appealing, while also ensuring that it is secure and optimized for search engines. However, finding the right WordPress developer can be a challenge, as there are many factors to consider.
One of the first things to look for when hiring a WordPress developer is their experience with the platform. Ideally, you want to work with someone who has a solid understanding of WordPress and its features, as well as experience working with the various plugins and themes that are available. A good developer should also be familiar with coding languages such as HTML, CSS, and JavaScript, as these are often used in customizing WordPress websites.
WordPress Developer's Portfolio
Another important consideration is the developer's portfolio. Look for examples of websites that the developer has built in the past, and make sure that they are of a high quality and visually appealing. You should also consider whether the developer has experience working on projects similar to yours, as this can give you an idea of their capabilities and how well they might be able to meet your specific needs.
Communication is also key when working with a WordPress developer. Make sure that the developer is responsive and easy to communicate with, and that they are willing to answer any questions you may have. A good developer should also be able to provide regular updates on the progress of your project and be willing to work with you to make any necessary changes along the way.
In summary, hiring the right WordPress developer or the right WordPress web agency requires careful consideration of their experience, portfolio, and communication skills. By taking the time to find the right developer for your project, you can ensure that your website is built to your exact specifications and is set up for success.

What is WordPress ?
WordPress is a free and open source CMS system. It is powering over 33% of the websites in the entire world so its pretty popular. Since is very popular you can find a lot of good developers and also resources you can benefit off. This cms system comes with many free themes and plugins, but also premium paid themes and paid plugins from different vendors. Here is a list of premium themes we sell here.
Looking for the best Chicago WordPress Developer ?
You are on the right track to find the best wordpress developer chicago, and not only from there but internationally too. We have great services for website development and our wordpress freelance developers are here to help with any type of website design and wordpress development. In order to better understand what kind of professional web development services we offer see the next list:
wordpress design
wordpress development
wordpress theme editing
create wordpress themes from scratch
create wordpress plugins from scratch
work with other themes: divi, astra
work with woocommerce
seo and contat writing
seo audit
See our services list and get a free price quote
Do you do wordpress design and development ?
Our online agency does wordpress design and development from scratch or work with existing wp websites. And our design company will guide you and offer consultancy services on what you can do. Just request a free price quote from here. Because our website development agency is ready to help you with the most complex wordpress projects you will have.
What if I need a custom theme ?
That is not a problem for our web design agency. Because we have the best wordpress freelance developers out there and we stay in close contact with you, the customer. And we discuss and offer consultancy and virtual assistant services too. Our developers are top skilled that can transform any boring website into a masterpiece.
What if I need to clone a website, like etsy or ebay?
Making a similar marketplace website like the main ones (fiverr, upwork, etsy, ebay or any other big site out there) isnt an issue for us. Of course we need to discuss the budgets and have some project specification written down. You will get a fair and correct price quote based on the list of features that you need. We are fully capable of doing such websites or web apps. Prices for these bigger projects can be between $5,000 and even $50,000 based on your needs. Thats why is very important for us to discuss on case by case basis with the customer before drawing up any price or time frame.  So do not hesitate to contact us for a price quote, totally free!
What about mobile apps ?
Yes, our agency is even a mobile app agency, and we can do any type of app. We work with react native, and we deliver real native apps and we even help you to deploy to App store and Google Play. We have great experience with mobile apps as well. Prices range between $10,000$ and 60,000 for mobile apps. But again it really depends on your needs and specification of the app, before giving you an exact price. Get in touch with us and obtain a price quote today!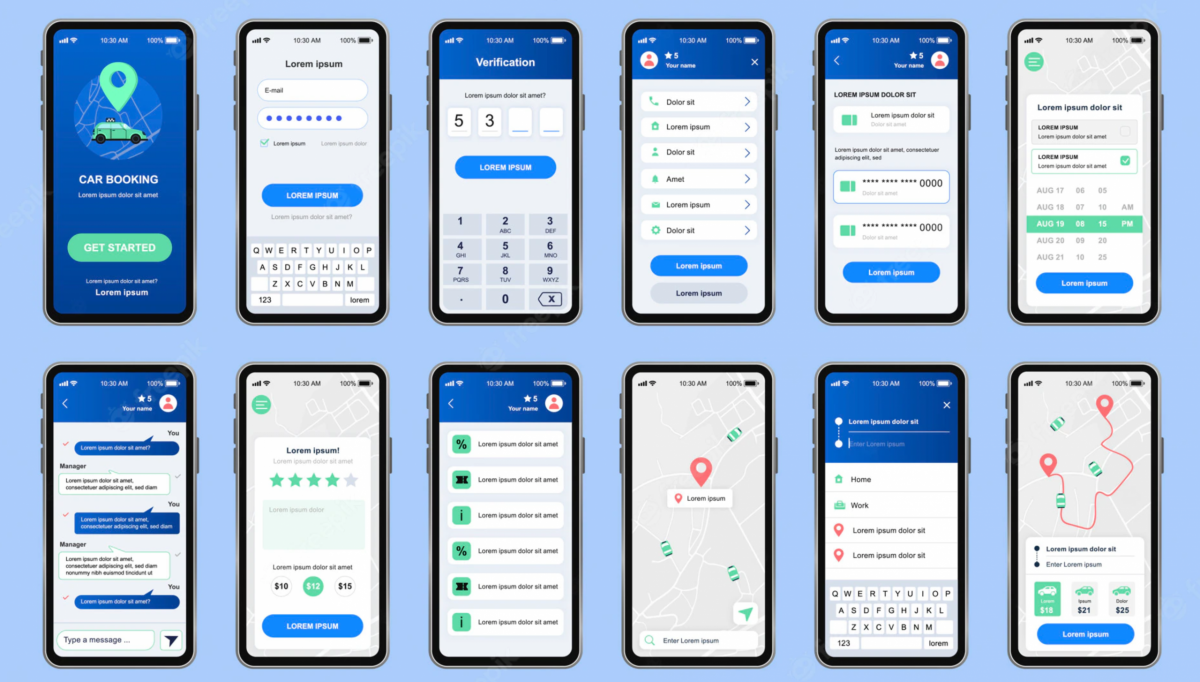 I am a newbie ? What is the process to get a quote ?
If you are a beginner or simply not knowing much about programming, but you are a business owner or want to build your MVP and just want things done, here are the steps you can follow to get a free price quote and eventually start the project with us:
You get in contact with us, touching base or explaining the purpose of the project
Depending on your needs we can continue chatting via email, or phone or zoom/video
Once we got everything written down as per the project specification, our team will give you a price quote and a timeframe for the job
We split everything into milestones (usually 5-10 milestones)
We set a timeframe and payment for each milestone
As the project progresses we keep constant communication with you to ensure you are aware on whats happening while we develop the project
We deliver and test everything alongside with you
We keep providing support (even paid long term support) after lunch
Disadvantages on working with WordPress freelancers
While there are many advantages to working with freelance web developers, there are also some potential disadvantages that you should be aware of. Some of the main disadvantages of working with freelance web developers include:
Lack of consistency: Freelancers are often working on multiple projects at the same time, which can lead to inconsistencies in their availability and communication. This can make it difficult to maintain a consistent working relationship, especially if you have tight deadlines or require frequent updates.
Limited skillset: Freelance web developers may have expertise in a particular area, but they may not be as well-rounded as a full-time employee or agency. This could limit their ability to provide a wide range of services or tackle more complex projects.
Reliability: Freelancers may not always be as reliable as full-time employees or agencies, particularly if they have other clients or commitments. This could lead to delays or missed deadlines, which could be detrimental to your project.
Security: Freelance web developers may not have the same level of security measures in place as a larger organization or agency. This could put your project at risk, particularly if you are dealing with sensitive information or confidential data.
Quality control: Without a dedicated quality control team or process, there may be a higher risk of errors or mistakes in the development process. This could result in additional costs and delays down the line.
Overall, while working with freelance web developers can be a cost-effective and flexible solution for some projects, it is important to weigh the potential risks and disadvantages before making a decision. It may be worth considering other options, such as hiring a full-time employee or working with an established agency, depending on the specific needs of your project.
FAQs
How much does it cost to hire a WordPress developer?
The cost of hiring a WordPress developer can vary depending on their experience, location, and the complexity of the project. On average, freelance WordPress developers may charge between $25 to $150 per hour, while agencies could charge higher rates. For a fixed-price project, costs may range from $500 to $5,000 or more, again depending on the scope and features required.
Are WordPress developers still in demand?
Yes, WordPress developers are still in high demand as WordPress remains one of the most popular content management systems globally. Businesses and individuals continue to seek skilled WordPress developers to create and maintain their websites. The demand is driven by the platform's ease of use, flexibility, and large user base, even as other website builders and CMSs emerge.
How do I find a good WordPress developer?
To find a good WordPress developer, consider the following steps:
1. Look for experienced developers with a strong portfolio.
2. Check reviews and ratings on freelancing platforms or agency websites.
3. Conduct interviews to assess their skills and communication.
4. Verify their expertise in WordPress, themes, plugins, and customization.
5. Consider referrals from trusted sources or industry peers.
6. Ensure they understand your project requirements and can deliver on time and within budget.
How many hours does it take to build a WordPress website?
The time required to build a WordPress website can vary widely based on the project's complexity and features. A simple brochure-type website may take around 20-40 hours, while more complex sites with e-commerce functionalities or custom designs can take 100+ hours. Efficient planning and a clear scope of work can help streamline the development process.
How much should I pay for WordPress hosting?
The cost of WordPress hosting depends on the hosting provider and the type of hosting you choose. Shared hosting can start at around $3 to $10 per month, while managed WordPress hosting can range from $25 to $100+ per month. Factors like website traffic, storage, and support level can influence the price. Consider reputable hosts that offer good performance, security, and customer support.
How much does it cost to pay a developer for a website?
The cost to pay a developer for a website varies based on factors like the developer's expertise, location, project complexity, and hourly or fixed-rate pricing. For a basic website, you could expect costs in the range of $500 to $5,000. Custom or e-commerce sites may cost $5,000 to $20,000 or more. It's essential to have a detailed discussion with the developer to get an accurate quote.
When should I hire a WordPress developer?
You should hire a WordPress developer when:
1. You want to create a new WordPress website or redesign an existing one.
2. You need custom features or functionalities beyond standard plugins.
3. Your current website requires maintenance or troubleshooting.
4. You want to optimize performance, security, or SEO.
5. You lack the technical expertise to handle WordPress-related tasks effectively.
How much does a developer cost?
The cost of hiring a developer can vary widely depending on factors such as their skill level, experience, location, and the type of project. Freelance developers might charge between $25 to $150 per hour, while experienced developers or specialized experts may command higher rates, ranging from $100 to $250 per hour or more.
How much does a WooCommerce developer charge?
The cost of hiring a WooCommerce developer depends on the complexity of the project, the developer's experience, and the specific requirements. WooCommerce developers often charge rates similar to other WordPress developers, ranging from $25 to $150 per hour for freelancers and higher rates for agencies or experts. Customizing and optimizing a WooCommerce store may require an investment ranging from a few hundred dollars to several thousand dollars.